Tech the Halls: A Christmas Gift Guide for the Gadget Geek
As winter's embrace tightens, and the season of merriment draws near, we find ourselves standing at the intersection of tradition and innovation, ready to unwrap a trove of technological wonders that promise to make this Christmas unforgettable. Welcome to the ultimate techmas gift guide," where the twinkling lights of the tree are rivaled only by the luminosity of cutting-edge gadgets waiting to be discovered. In this festive enclave of bytes and joy, we invite you on a journey through the latest and greatest tech treasures, curated to elevate your holiday gifting experience. So, fasten your seatbelts and get ready to embark on a yuletide adventure where innovation meets celebration, and each gift is a portal to a world of endless possibilities.
Transform your work-from-home experience with the Logitech Casa Pop-Up Desk—an all-in-one solution designed to bring comfort and style to your tech-loving friends this Christmas. Unfold the possibilities as Casa seamlessly integrates a wireless keyboard, touchpad, and a laptop stand into a chic book-like case, providing the ideal workspace wherever you go. Whether you're typing away on the ergonomic keyboard, enjoying the smooth touchpad, or elevating your laptop for better posture, Casa ensures your workday is as efficient as it is comfortable.
Dive into the details of Casa's features, from its customizable function keys to its sustainable design. The wireless range of 32.8 feet gives you the freedom to work untethered, while the rechargeable battery ensures your Casa experience lasts—up to 5 months for the keyboard and 3 weeks for the touchpad. Embrace sustainability with Casa's recycled plastic construction and FSC™-certified paper packaging, making it a thoughtful gift for the eco-conscious tech enthusiast. Whether your loved one is using Windows, macOS, ChromeOS, or iPadOS, Casa seamlessly connects to multiple operating systems, ensuring a hassle-free setup. Unwrap the gift of efficiency, comfort, and style this Christmas with Casa Pop-Up Desk—where work meets relaxation in a beautifully crafted package.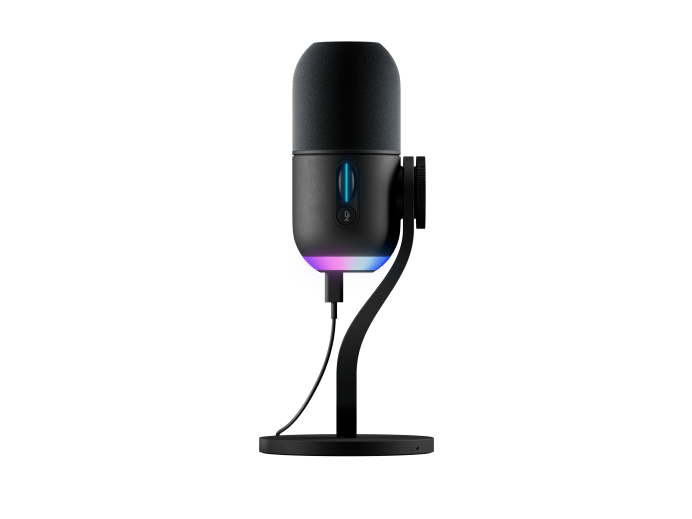 Elevate the tech lover's Christmas experience with Logitech's Yeti GX Microphone, a premium RGB gaming mic that stands out for both its cutting-edge features and commitment to sustainability. Tailored for game streamers, this USB microphone integrates seamlessly into your setup, providing crystal-clear audio quality and a visually stunning lighting display powered by LIGHTSYNC technology. Designed with a custom dynamic capsule and advanced software, the Yeti GX rejects background noise and key clicks, ensuring that your voice takes center stage during streams. The supercardioid pickup pattern captures broadcast-style sound, delivering a polished and professional audio experience. Blue VO!CE filters and effects, along with the SMART AUDIO LOCK feature, protect against clipping and ambient noise, allowing you to focus on refining your unique sound.
Beyond its exceptional performance, the Yeti GX Microphone takes a bold step towards sustainability. Crafted with a minimum of 68% certified post-consumer recycled plastic, it reflects Logitech's commitment to reducing environmental impact. The packaging follows suit, sourced from FSC-certified forests, supporting responsible forest management. Moreover, the Yeti GX is certified CarbonNeutral, signifying Logitech's investment in carbon offsetting projects, making it a gift that not only delights the tech enthusiast but also aligns with their values of environmental responsibility.
Transform your tech lover's holiday into a season of advanced security with the Toucan Wireless Video Doorbell Plus & Security Camera Bundle. Elevate home protection to new heights with the Wireless Video Doorbell, offering a 180° ultra-wide angle view that leaves no corner unchecked. The upgraded 6500mAh built-in rechargeable battery ensures easy, wire-free installation, while the included Doorbell Chime adds a festive touch with six selectable chime sounds. With no hub or base station required, connecting to any 2.4gHz Wi-Fi network allows seamless control through the Toucan App.
Experience peace of mind with instant notifications on your smartphone for detected motion or when someone presses the doorbell. The two-way talk feature enables remote communication from anywhere, and the PIR sensor ensures prompt alerts. Navigate day and night with clarity, thanks to night vision capabilities. The Toucan Smart Home App provides comprehensive control, including free 24-hour video history and the option to share camera access with an additional user. With six pre-recorded messages to obscure your voice and compatibility with Alexa and Google Home, this bundle is the ultimate gift for tech enthusiasts who value both innovation and security.
Embark on an electrifying Christmas journey with the perfect gift for any tech lover—the Crash Bandicoot 4: It's About Time game for PS5. Dive headfirst into a time-shattered adventure, as Neo Cortex and N. Tropy launch a multiverse assault. The beloved marsupials, Crash and Coco, take center stage, armed with the mission to reunite the four quantum masks and defy the rules of reality.
This latest Crash Bandicoot installment is a thrilling concoction of new abilities, more playable characters, and alternate dimensions, all topped with the trademark Ridonkulous bosses. Join Crash, Coco, and friends in a quest that spans time and space, attempting to thwart the villains from dominating not just this world but the entire multiverse. With the power to don the Quantum Masks, Crash and Coco gain the ability to bend reality, adding a layer of excitement as they conquer challenging obstacles. Immerse yourself not only in the wumping, jumping, marsupial duo but also experience the adventure from different perspectives, including the brilliant but misunderstood Dr. Neo Cortex. Plus, with the Totally Tubular and Time-shattering skins, your gaming experience reaches a new level of visual delight. The game's enhanced features on the PS5, including unparalleled visuals, fast loading, adaptive triggers, and 3D audio, ensure a truly immersive gaming experience that will have any tech enthusiast jumping for joy this Christmas. Continue the adventure seamlessly by transferring save data from PS4 to PS5, preserving every gem, skin, and character unlocked on the quest to save the multiverse.
Immerse yourself in the future of tech gifting with the TCL 40 NXTPAPER 5G, a marvel designed to redefine visual experiences. The 6.6″ HD+ 90Hz NXTPAPER Display ensures a feast for the eyes, delivering vivid visuals and silky-smooth refresh rates. This isn't just a phone; it's a journey into innovation. Its paper-like touch, anti-glare feature, and low blue light certification ensure not just advanced eye protection but also a touch of the joy of real paper. Delight in the comfort of a device that cares for your eyes as much as it does for your need for space. With a massive 256GB memory and 6GB + 6GB RAM expansion, the TCL 40 NXTPAPER 5G caters to every storage demand, from holding 110+ movies to seamlessly running multiple apps simultaneously.
The NXTURBO visual processing power accelerates image rendering by up to 30%, providing an unparalleled gaming and browsing experience while reducing power consumption by 17%. Capture your world in stunning detail with the 50MP AI triple camera, featuring AI Color Video, One Shot Vlogs, and 8MP Selfies that are always ready to capture the best of you. The sleek Starlight Black design adds elegance to its functionality, and with NFC, fingerprint sensor, and face unlock, convenience is at your fingertips. Give the gift of innovation this Christmas with the TCL 40 NXTPAPER 5G, a present that goes beyond expectations, delivering joy in every glance and touch.
Delight your tech-savvy loved ones this Christmas with the remarkable Doro Tablet designed specifically for seniors. Imagine gifting them not just a device, but a portal to a world of seamless connectivity and entertainment. With its user-friendly interface, this tablet transforms the ordinary into the extraordinary, allowing users to effortlessly browse the web, make video calls, organize cherished photos, and indulge in their favorite series, all on a large, luminous screen with crystal-clear sound. Step into the future of user-friendly technology with the Doro Tablet's innovative EVA interface, built on Android. Boasting large icons and text, this tablet ensures readability while simplifying actions for seniors, from sending emails to exploring the digital realm. Stay connected with loved ones through easy-to-use video call apps like Skype, Zoom, Facebook Messenger, or Google Duo, all neatly organized in a convenient menu.
The tablet's inclusive stand offers a hands-free experience, letting users relax during virtual conversations with family and friends. Moreover, the Doro Tablet's enhanced sound system, featuring four speakers, ensures a rich audio experience for music, movies, and video calls. Experience the joy of a visually stunning display with the Doro Tablet's extra bright, high-contrast screen, perfect for browsing, gaming, and social media interaction. Tailor the tablet to individual preferences by choosing the menu icon and font size that best suits your needs. For added functionality, consider accessories like an easy-to-attach keyboard for efficient home admin tasks and a sleek protective case, ensuring the device stays safe from accidental bumps. This Christmas, gift not just a tablet but a bridge to a world where technology meets simplicity, designed to empower and enrich the lives of tech-loving seniors.
In the realm of Christmas gifts for tech enthusiasts, the Zvox ACCUVOICE AV157 TV Speaker stands out as a game-changer. Packed with cutting-edge AccuVoice hearing aid technology offering 12 levels of voice boost, this sleek speaker transforms the way we perceive sound. Unlike conventional solutions that simply amplify volume, the AV157 focuses on clarity. Its SuperVoice technology effectively diminishes background noise, setting a new standard in audio refinement. With three 2″x3" high-output full-range speakers and a 24-watt Class D digital amplifier, the AV157 ensures a concert-like experience for music, movies, and TV shows.
The PhaseCue virtual surround sound adds a three-dimensional depth to the audio, a feature hailed as "remarkably ingenious" by Sound & Vision magazine. What truly sets the AV157 apart is its ability to enhance dialogue. With twelve levels of dialogue boost, including six stages of AccuVoice boost and six stages of SuperVoice technology, users can tailor the sound to their specific needs, making every word crystal clear. Installation is a breeze, and its compact size allows for versatile placement options. Whether above, below, left, or right of your TV, the AV157 seamlessly integrates into your entertainment space. The disappearing display behind the speaker grille adds a touch of sophistication, providing feedback on volume, bass, treble, and virtual surround settings. Say goodbye to the struggle of understanding dialogue on TV – the AV157 is not just a speaker; it's a gift of unparalleled audio clarity, setting a new standard for the auditory experience.
Embark on a sensory journey with Shokz's OpenFit, a revolutionary open-ear experience that transcends traditional audio boundaries. OpenFit introduces a paradigm shift in tech gifting, seamlessly blending cutting-edge innovation with all-day comfort. Its ultra-lightweight, open-ear design, powered by DirectPitch™ technology, allows users to indulge in their favorite tunes, podcasts, and audiobooks while staying attuned to the world around them. The flexible ear hook design ensures stability, offering the freedom to relish every moment without compromise. In the realm of comfort, OpenFit's ergonomic construction stands out. The ear cushion core, crafted from dual-layered liquid silicone, embraces diverse ear shapes with a pliable fit. The Dolphin Arc Ear Hook, featuring a 0.7mm ultra-fine flexible memory wire, adapts effortlessly to the natural contours of your ear. Weighing a mere 8.3 grams, OpenFit achieves the perfect balance between compactness and comfort, making you forget you're even wearing it.
OpenFit is not just about audio; it's about maintaining situational awareness. Whether at home, in the office, or engaged in sports, the open-ear design keeps you connected to your surroundings. The AI Call Noise Cancellation technology ensures crystal-clear calls, even in bustling environments. MultiPoint Pairing simplifies connectivity across devices, enhancing productivity seamlessly. With up to 28 hours of listening time, IP54 water resistance, and Bluetooth™ 5.2 connectivity, OpenFit is a versatile companion for tech enthusiasts on the move. Customize your experience further with the Shokz App, offering MultiPoint Pairing, EQ modes, and touchpad controls. OpenFit is not just a gift; it's an invitation to a harmonious blend of comfort and cutting-edge technology.
Experience the perfect fusion of cutting-edge technology and comfort with Beats Fit Pro, the true wireless noise-canceling earbuds designed for the tech enthusiast in your life. These earbuds redefine the audio experience with features that cater to both Apple and Android users, making them the ideal Christmas gift for anyone who values high-quality sound and seamless connectivity.The Beats Fit Pro boasts a design focused on comfort, featuring secure-fit wing tips that flex to your ear's unique shape, ensuring they stay in place during your busiest days or intense workout sessions. With three soft silicone ear tip options, finding the perfect fit becomes a breeze. The earbuds' immersive sound quality is further enhanced by Spatial Audio support, providing a multi-dimensional experience that transports the user into the heart of their favorite music, movies, or games.
Not just about style, these earbuds offer practicality with active noise-canceling capabilities and transparency mode, allowing users to either immerse themselves in their chosen audio or stay aware of their surroundings. The on-device controls, managed by the 'b' button, offer convenience for managing music, adjusting listening modes, taking calls, and activating voice assistants.
Powered by the Apple H1 chip, Beats Fit Pro delivers seamless connectivity for iOS users, with features like Automatic Switching between devices, Audio Sharing, and hands-free "Hey Siri." Meanwhile, Android users can enjoy effortless Bluetooth® connectivity, enhanced by the Beats app, providing additional features like one-touch pairing, customized controls, battery monitoring, firmware updates, and a Fit Test for optimal sound and fit. With up to 24 hours of combined playback and a pocket-sized charging case, Beats Fit Pro ensures that your tech-loving friend or family member stays connected and entertained throughout their day. This Christmas, gift them not just earbuds but a gateway to an unparalleled audio experience.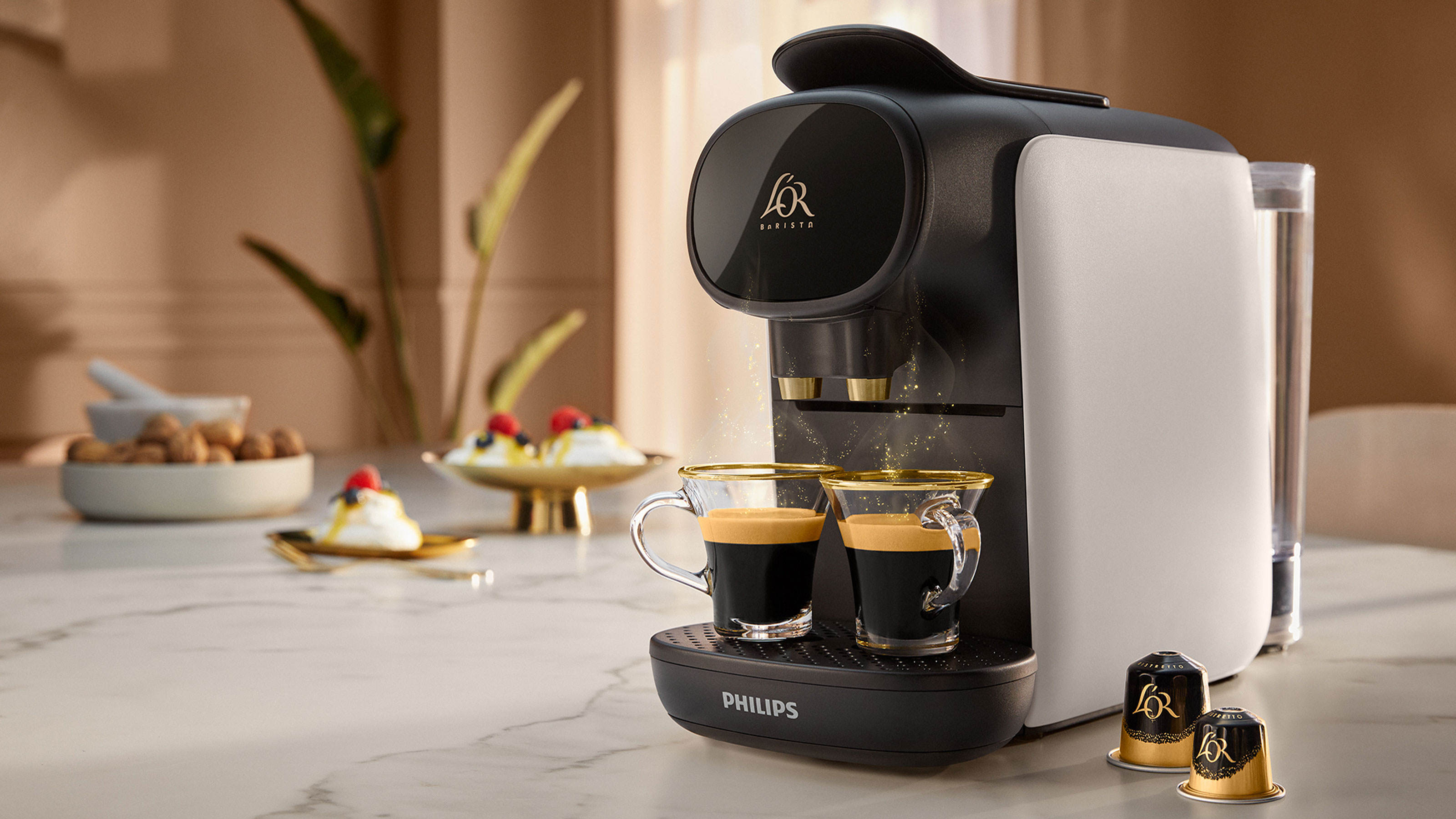 Indulge the tech enthusiast in your life with the L'OR BARISTA®, a cutting-edge coffee machine that seamlessly blends innovation with the joy of brewing the perfect cup. Compatible with L'OR classic espresso capsules and L'OR BARISTA® XXL capsules, this sleek device caters to the preference of a single robust espresso or the luxury of two espressos simultaneously. Harnessing up to 19 bars of pressure, the L'OR BARISTA® guarantees an impeccable espresso experience, ensuring that every drop is infused with the rich flavors and aromatic nuances coffee lovers crave. The airtight aluminum capsules, a hallmark of this machine, lock in freshness and preserve the integrity of each blend, whether it's the signature L'OR classics, Nespresso®* capsules, or other compatible brands found in your local supermarket.
In a stroke of brewing brilliance, the L'OR BARISTA® lets you effortlessly brew two coffees at once or craft a double coffee masterpiece in a single cup. With intuitive technology, the machine automatically recognizes the type of capsule in use, whether it's a classic espresso or an XXL L'OR BARISTA®, delivering the perfect amount of water to ensure consistently flawless espressos, cup after delightful cup. Elevate the gifting experience this Christmas with the L'OR BARISTA®, where technology meets the artistry of brewing.
In the soft glow of twinkling lights and the embrace of festive cheer, our journey through a wonderland of innovation comes to a close. As we navigate the digital landscape of endless possibilities, let us remember that the true magic of the season lies in the joy of discovery and the spirit of giving. Whether it's the thrill of unboxing the latest tech marvel or the delight of sharing a quiet moment with loved ones, let this holiday season be a celebration of both the cutting-edge and timeless treasures that bring us together. May the sparks of innovation continue to illuminate our paths into the coming year, and may every tech enthusiast find the perfect blend of technology and tradition beneath the tree. Wishing you a season filled with warmth, connection, and the joy of exploration