Radiant Wishes: A Thoughtful Christmas Gift Guide for the Women You Adore
As the holiday season approaches, a sense of warmth and anticipation fills the air. It's the time to express your love and appreciation for the remarkable women in your life, be it your mother, sister, wife, or best friend. In the spirit of giving and spreading joy, we've curated a gift guide that celebrates the art of thoughtful gifting. Inside, you'll find a treasure trove of unique and heartfelt present ideas, carefully selected to make this Christmas unforgettable. From elegant and luxurious to practical and sentimental, these gifts are designed to convey your deepest affection and gratitude, ensuring that the women you adore feel truly cherished during this magical time of year. So, join us on this festive journey, and let's explore the radiant wishes that will light up their hearts and make this holiday season one to remember.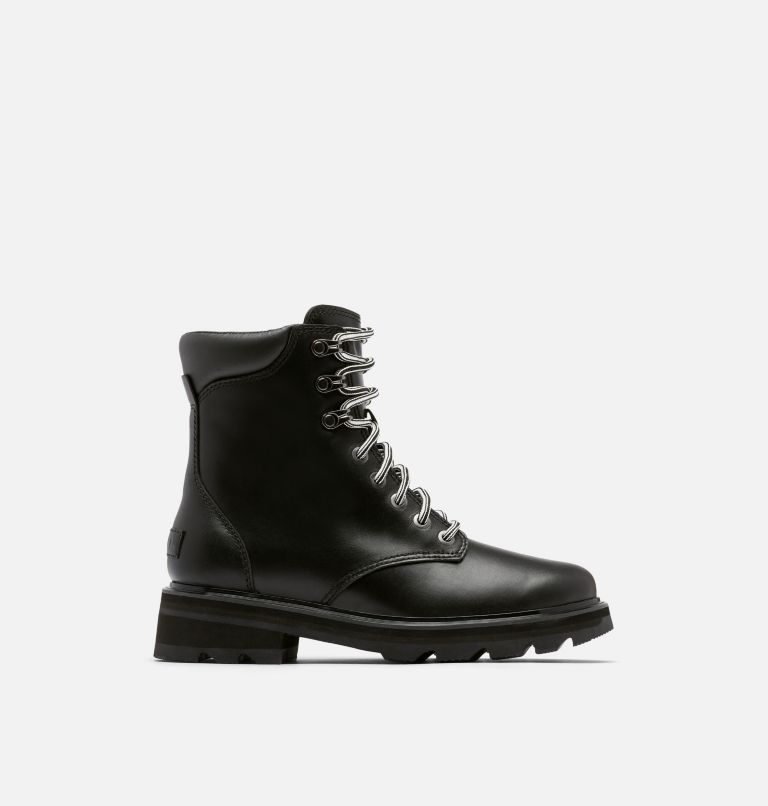 In the world of footwear, the Women's Lennox Lace Stacked Waterproof Leather Boot stands as a timeless testament to classic style and modern functionality. This urban boot embodies the perfect blend of sophistication and resilience, making it an ideal gift for the special women in your life.Crafted from high-quality waterproof full-grain leather, the Lennox boot exudes an air of urban sophistication. Its metal hardware detailing on the eyestay adds a touch of rugged charm, while the synthetic leather lining ensures both comfort and durability.
What truly sets these boots apart is their seam-sealed waterproof construction, guaranteeing that your loved ones will stay dry and cozy even in the face of light rain or unexpected urban adventures. The removable molded EVA footbed offers unmatched comfort, while the EVA midsole ensures every step is cushioned with care. The outsole, made of molded rubber with a leather stacked heel, not only provides excellent traction but also completes the classic look of these boots. Whether it's for urban activities or facing a drizzle of rain, the Women's Lennox Lace Stacked Waterproof Leather Boot is the perfect companion, offering both style and protection for the remarkable women in your life. This holiday season, gift them a pair of these boots, and watch as they confidently stride through their urban adventures in timeless elegance.
In the pursuit of the perfect Christmas gift for the extraordinary women in your life, Wintour's Moritz emerges as a paragon of elegance and utility. It transcends the ordinary, a token of love and thoughtfulness meticulously crafted from the finest vegan leather, symbolizing opulence with an unwavering commitment to environmental consciousness. Unveiling the secrets hidden within, the Moritz travel jewelry case is more than a mere receptacle; it's a testament to refined storage and safeguarding of cherished treasures. Whether venturing on a spontaneous weekend getaway or adorning oneself for a grand soirée, Moritz is the embodiment of organized luxury.
Delving into its interior reveals a meticulously designed layout with dedicated compartments for earrings, necklaces, and rings. Each piece is bestowed its own sanctuary, ensuring that they remain unscathed, untangled, and readily accessible. What truly sets this gift apart is the innovative hard-case design, ingeniously set at a unique slanted angle, which allows it to seamlessly and discreetly nestle into any bag, all the while cocooning your jewelry collection in the utmost security. Wintour's Moritz isn't just a Christmas gift; it's a work of art, a harmonious fusion of elegance, organization, and a touch of extravagance, destined to brighten the holiday season for the extraordinary women who hold a special place in your heart. It's a testament to the essence of luxury and care, a treasure she'll cherish during every journey she embarks on.
Looking to light up the holiday season for that special woman in your life? The GEL-KAYANO™ 30 running shoe is the perfect gift to make her Christmas extra special. This remarkable shoe isn't just footwear; it's a journey into pure comfort, support, and style. As she unwraps this gift, the magic of the season will come alive. The GEL-KAYANO™ 30 is not just any running shoe; it's a masterpiece of technology and design. With its 4D GUIDANCE SYSTEM™ technology, this shoe offers adaptive stability, ensuring she can run further and longer without a worry.
The new PureGEL™ technology and soft FF BLAST™ PLUS ECO foam guarantee each step is a heavenly experience, reducing the impact on her joints and providing incredible cushioning. But what truly sets this shoe apart is its commitment to comfort and sustainability. The OrthoLite X-55 sockliner enhances comfort and moisture management, while reflective details ensure visibility even during low-light conditions. The AHARPLUS outsole rubber ensures maximum durability, so she'll cherish this gift for years to come. Furthermore, the shoe's bio-based foam and 100% recycled polyester mesh upper reflect a dedication to the environment. It's a gift that's not only good for her but for the planet as well. And with its vegan-friendly design, you can be sure it's cruelty-free too. This Christmas, gift her more than just a shoe – gift her the promise of comfort, stability, and a brighter future.
Embark on a culinary journey with the KitchenAid 193 Artisan stand mixer – a gift that transcends the ordinary and transforms cooking into an art. With its striking design and a spectrum of over 20 premium colors, including the exclusive Empire Red and Imperial Grey, this iconic mixer becomes a personalized masterpiece. Choose the hue that resonates with her style, and for that extra touch, add an engraving that makes this appliance uniquely hers.
The 4.7L Mixer is a powerhouse in the kitchen, boasting original planetary action and 10 speeds for precise control. The tilt-head style ensures easy access, allowing you to effortlessly switch between the three stainless steel mixing accessories. From delicate cake batters to hearty bread dough, the mixer's versatile capabilities bring every culinary creation to life. With a 5-year guarantee, it's not just a gift; it's a commitment to years of joyful cooking experiences.Cleaning up is a breeze with the Artisan stand mixer. The tilt-head construction simplifies installation, while the wipe-clean surface ensures a quick post-cooking cleanup. The stainless steel accessories are dishwasher-safe, adding a touch of convenience to the artistry. Whether she's whipping up a quick batch of cookies or preparing a complex feast, the 4.7L brushed stainless steel bowl provides ample space, allowing her to knead up to 2 kg of bread dough or mix 9 dozen cookies in a single batch.
Crafted with reassuring solidity, this mixer is more than just a kitchen appliance – it's a legacy. Built to last with a zinc metal construction and durable enamel coating, the mixer stands the test of time. The robust motor ensures fast and reliable mixing, echoing the stories of early KitchenAid stand mixers still thriving after generations. The enduring appeal lies not just in its functionality but in its ability to become a cherished family heirloom. Personalization takes center stage with the Artisan mixer. The vast array of colors lets her choose one that suits her taste, while the option to engrave adds a personal touch. Your life, your words – a sentiment etched on the trimband makes this mixer truly one-of-a-kind. As a bonus, the multipurpose hub at the front opens up a world of possibilities with over 15 exciting attachments, allowing her to explore culinary realms she never thought possible. From fresh pasta to diced salads, this mixer is a gateway to a realm of gastronomic creativity. Open up the possibilities, and let the culinary adventure begin.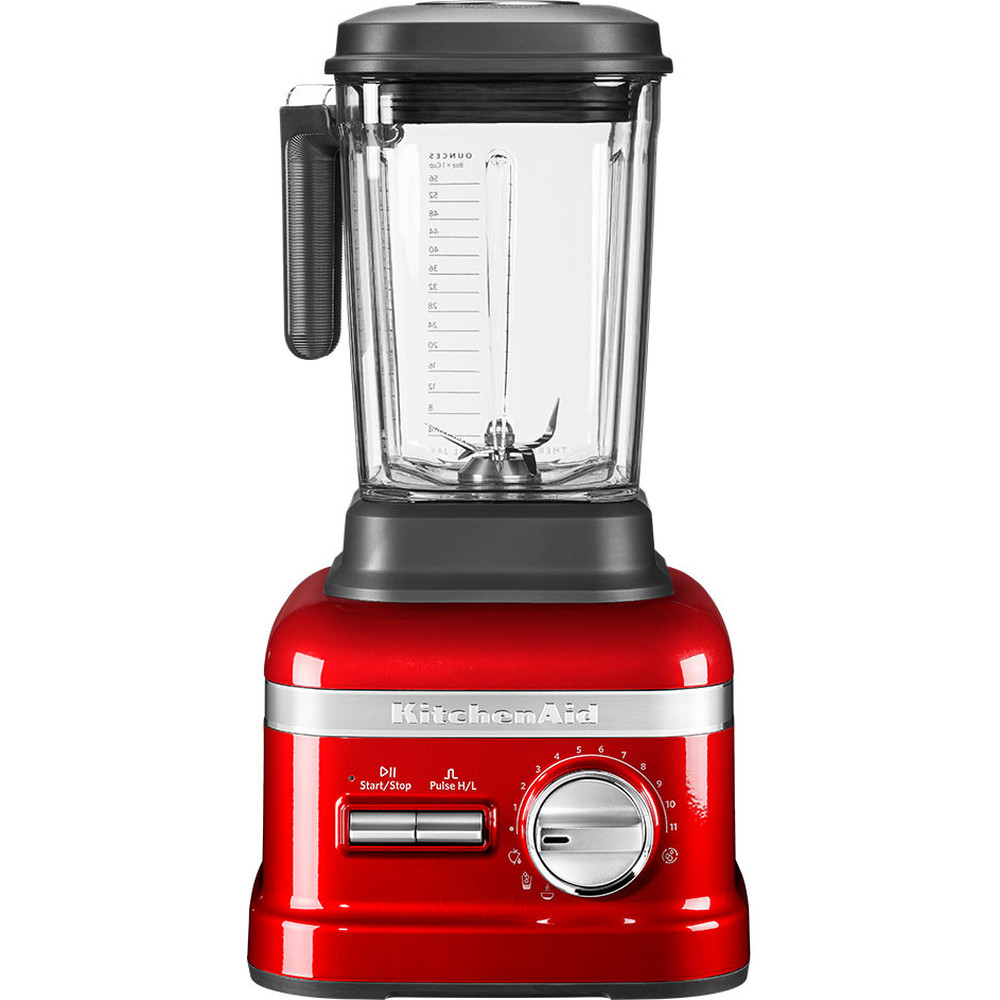 Elevate your culinary adventures with KitchenAid's Blender Power Plus, a powerhouse of innovation and performance. Unleash the potential of the largest and most powerful blender in the KitchenAid lineup, featuring a robust 3.5 Peak HP Motor⁽¹⁾ and an asymmetric stainless steel blade that effortlessly transforms your kitchen into a hub of creativity. This blender is not just a kitchen tool; it's a culinary companion ready to tackle anything from refreshing smoothies to hearty soups. The 1.75 L BPA-free plastic Thermal Control Jar maintains the temperature of your creations while the 11 speeds, Pulse function, and 3 presets offer unparalleled control over your blending experience. The tamper ensures that even the most stubborn ingredients succumb to the blending vortex, resulting in consistently smooth and exceptional results.
Embark on a journey of culinary delights as you witness the blender's maximum power effortlessly crush nuts, seeds, and frozen foods into velvety textures. The die-cast metal base adds a touch of durability and elegance to your kitchen, promising a decade of reliable performance backed by a 10-year guarantee. Immerse yourself in the joy of creating hot soups in minutes⁽²⁾, thanks to the Soup program and the insulated dual wall of the thermal control jar. The intuitive design, including volume marks and beveled corners, simplifies the blending process, while the self-cleaning cycle ensures easy maintenance. Whether you're a culinary enthusiast or a seasoned chef, the Blender Power Plus is your ticket to a world of culinary possibilities.
Elevate your gift-giving game this Christmas with Misia Mae's Audrey gold chunky hoop earrings—an embodiment of timeless elegance and meticulous craftsmanship. These exquisite creoles are meticulously handcrafted from 14 karat gold vermeil, a layer of 925 Sterling silver plated with a 2.5-micron thick coat of 14k solid gold. The result is not just jewelry; it's a piece of art that seamlessly merges luxury and comfort. What sets these earrings apart is their thoughtful design. The hollow interior, carefully crafted to reduce weight, transforms these hoops into feather-light accessories suitable for everyday wear and glamorous soirées alike. The stud post, intelligently centered for an optimal fit on the earlobe, showcases a commitment to both style and practicality.
Misia Mae's Audrey earrings go beyond mere adornment—they are a testament to the brand's dedication to creating pieces that are not only stunning but also comfortable, making them ideal for those with sensitive ears.With a drop of around 4cm (1.6 inches), these hoop earrings add a graceful sway to every movement, turning heads and sparking conversations. The versatility of Misia Mae's design shines through as they effortlessly transition from casual daytime chic to evening glamour, making them a perfect accessory for any occasion. Gift the special women in your life more than just jewelry this Christmas—gift them an experience of elegance and comfort with Misia Mae's Audrey gold chunky hoop earrings.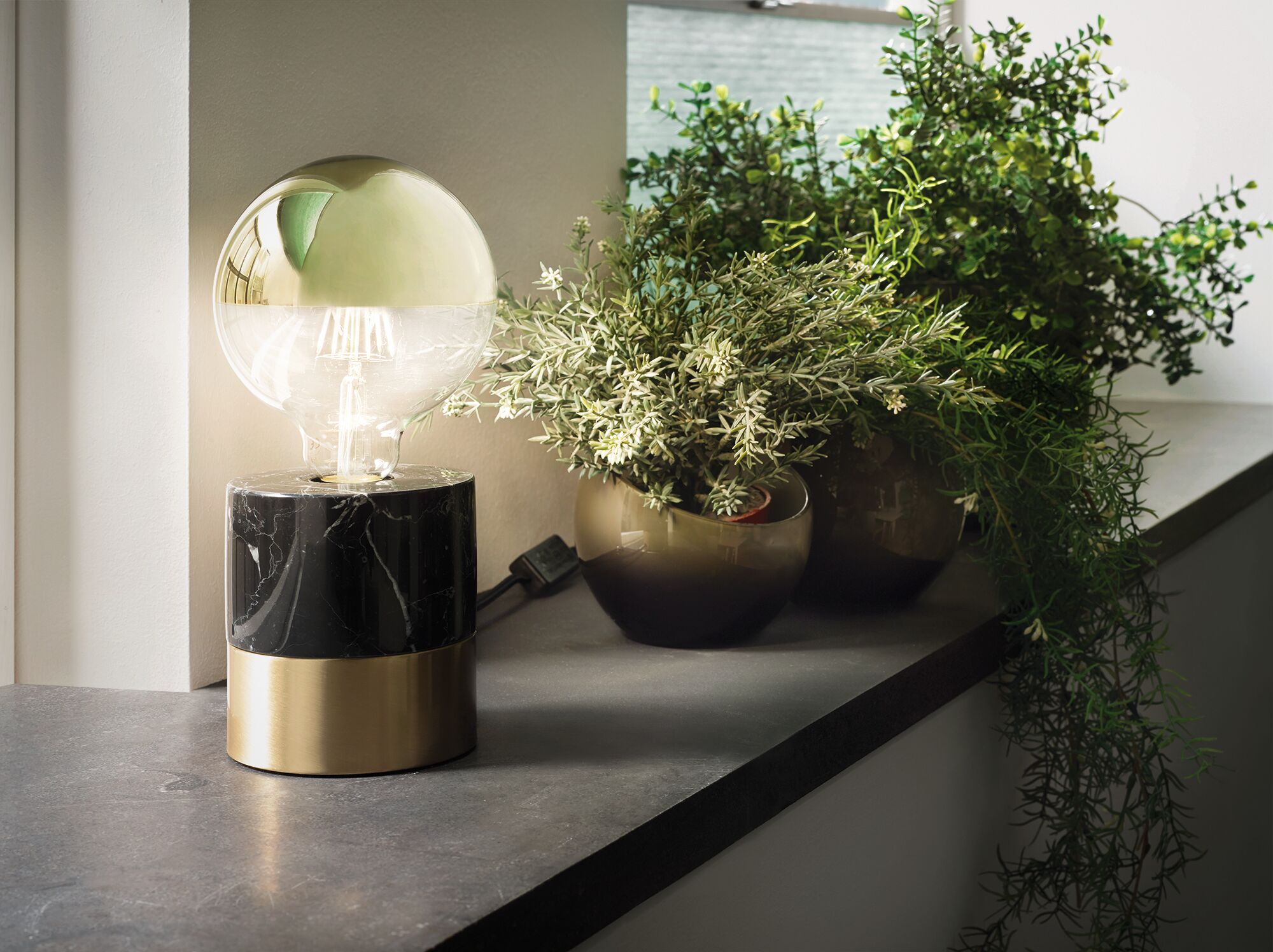 In the heart of your holiday celebrations, immerse the special women in your life in a realm of exquisite elegance with Paulmann's Neordic Table Luminaire Vala E27 Max. Crafted as a trendy fusion of black marble and brushed brass, this luminaire becomes a beacon of warmth and style, radiating a jungle-inspired glow. Picture the scene: a cozy living room bathed in the soft, inviting light of Vala, casting shadows that dance along the walls. It's not just a luminaire; it's a statement piece, a perfect gift to transform any space into a haven of comfort and sophistication.
The Vala table luminaire doesn't just illuminate—it elevates. Its "Urban Jungle" style captures the essence of nature, bringing a touch of the wild indoors. Versatility is its charm, seamlessly combining with other Neordic luminaires to let you curate your own personalized lighting symphony. The cable, ensconced in a fabric sheath, adds a tactile element to its allure, and the convenient On/Off cord switch grants you control over the ambiance with a simple touch. Remember to complete the experience by ordering compatible bulbs; consider the crown mirror lamps for a visual feast and the promise of glare-free illumination. This Christmas, gift not just a luminaire but a canvas for creating unforgettable moments bathed in the glow of Vala's timeless charm.
In the enchanting realm of Christmas surprises, behold the perfect gift to wrap your special woman in warmth and comfort—the Stoov's Ploov Heating Cushion. This ingenious creation seamlessly blends smart design with cutting-edge technology, making it a thoughtful and delightful addition to your holiday gifting repertoire. Immerse yourself in the magic of the Ploov's smart technology, featuring far infrared heating that provides a gentle, consistent warmth. The 12-watt built-in infrared heating element elevates the Ploov to a cozy 42°C, ensuring blissful moments of relaxation. Worried about overheating? Fret not! This cushion comes equipped with over-heating protection and an automatic switch-off feature, guaranteeing safety and peace of mind during those cherished cozy moments.
As you snuggle into the embrace of the Ploov, revel in the freedom it brings with its cordless design powered by a rechargeable 2600 mAh battery, offering 2.5 to 5 hours of uninterrupted warmth. The chic and stylish Original covers, crafted from a blend of 80% polyester and 20% acrylic, not only provide comfort but also withstand the test of time, maintaining their beauty even after intensive use. Plus, the convenience continues with machine-washable outer covers, ensuring easy maintenance. Delve deeper into the innovation behind Stoov's products, featuring long-waved infrared technology that not only warms you directly but also contributes to sustainability. By opting for this cozy cushion, you're not just embracing warmth but also making a mindful choice for your energy bill. Stoov is on a mission to bring coziness into every corner of your life—whether you're nestled on your couch, savoring a fresh spring morning outdoors, or capturing the last glimmers of autumn daylight. Gift the warmth of the season with Stoov's Ploov Heating Cushion, a true embodiment of comfort and joy.
Delight the special women in your life this Christmas with the unparalleled gift of Jabra's Elite 10, a true testament to the fusion of cutting-edge technology and sophisticated design. Elevate their auditory senses with a fully immersive audio experience powered by Dolby, transporting them into a world of crystal-clear sound and dynamic richness. Uninterrupted listening becomes a reality with 2x stronger noise cancellation from Jabra Advanced ANC, ensuring a tranquil escape from the hustle and bustle of daily life. The revolutionary Jabra ComfortFit technology takes comfort to new heights, offering a fit so snug that it relieves in-ear pressure for all-day wear. These earbuds are not just an audio accessory; they are a companion for both work and life.
The Elite 10 is not merely a pair of earbuds; it's a sophisticated audio ecosystem. Boasting 10mm speakers with Dolby Head Tracking, users can immerse themselves in a fully three-dimensional Dolby Atmos experience. With Jabra Advanced ANC™, the earbuds deliver a 2x stronger performance than standard ANC, ensuring a cocoon of serenity in any environment. The 6-mic call technology ensures clear calls in various conditions, while real buttons provide precise control on the go. Wireless and USB-C charging options, Bluetooth Multipoint for seamless device connectivity, and powerful magnets securing the earbuds in the case all contribute to an unparalleled audio experience.
Elevate the Christmas spirit for the special women in your life with the luxurious CaffeExperto Bean To Cup Coffee Machine featuring a built-in steam wand. Introducing CaffeExperto, a top-of-the-line coffee masterpiece designed to turn every coffee moment into a celebration. This premium model brings the ultimate in-home barista experience to your fingertips with an intuitive touch screen menu that simplifies the art of crafting the perfect cup. The machine's seamless integration of a steam nozzle ensures a delightful foamy finish on your favorite coffee beverages, be it a flat white, latte, or a cappuccino. The advanced Dual Nozzle feature takes your coffee experience to the next level, allowing you to brew two coffees simultaneously. Imagine the joy of sharing a cup of freshly brewed coffee with a loved one, effortlessly prepared with the touch of a button.
Enhance your coffee journey with the Color Touch Control Display, providing easy navigation through the machine's features. Explore a world of coffee possibilities with five pre-set options, from the classic Americano to the indulgent Lungo, expertly crafted to cater to your unique taste preferences. The powerful 19-bar pressure ensures that every cup is a barista-style masterpiece, rivaling the quality of professional coffee shops. But the magic doesn't end there. This CaffeExperto model includes a cup warmer, capable of holding up to six cups at once, ensuring each cup is warm and ready for your enjoyment. The versatility of this machine shines through its ability to accommodate both ground coffee and beans, with an adjustable grinder for a customized brewing experience. The auto-cleaning function adds a touch of convenience, with automated programs ensuring worry-free maintenance, cup after cup. For the special women in your life, unwrap the joy of the holiday season with the CaffeExperto Bean To Cup Coffee Machine, a gift that promises to turn every coffee moment into a cherished memory.
As the festive season approaches, let Radiant Wishes be your guiding star in creating moments of joy and warmth for the extraordinary women in your life. Embrace the spirit of giving with thoughtful gestures that speak volumes, making this Christmas a tapestry of shared laughter, cherished memories, and the timeless glow of love. Whether it's a heartfelt expression or a small token of appreciation, let each carefully chosen gift be a testament to the love and admiration you hold for the women who bring radiance to your world. May this holiday season be adorned with the sparkle of connection and the magic of thoughtful gestures, ensuring that the gifts you share become cherished emblems of the profound affection you hold for the women you adore.