Fall Fitness Essentials: Gear Up for a Season of Gains
As the leaves begin to change and the air gets crisper, it's time to transition your workout routine and gear for the autumn season. Fall offers a unique opportunity to embrace the outdoors while staying active, and the right gym gear and accessories can make all the difference in keeping you motivated and comfortable. Whether you're an avid gym-goer, a trailblazing runner, or simply someone who enjoys staying active, we've curated a selection of must-have fitness essentials to help you crush your fall fitness goals and look great while doing it. From versatile layers to high-tech gadgets, get ready to elevate your workout game this fall.
When the leaves start to turn and the air gets crisp, it's time to revamp your workout wardrobe for the fall season. And if you're in search of the perfect companion for your autumn fitness routines, look no further than the Reebok Alura Sports Bra for Women. This sports bra isn't just a piece of workout clothing; it's a game-changer. With its round neck collar featuring a stylish cut-out detail and a wide elasticated chest band, it provides a snug and comfortable fit that ensures you can move freely during your light workouts. But what truly sets it apart is the thoughtful incorporation of a mesh insert at the top, which not only adds a touch of flair but also enhances breathability, keeping you fresh as you break a sweat.
With moisture-wicking technology to keep you dry and Reebok branding proudly displayed on the chest band, the Alura Sports Bra combines style and functionality for an unbeatable fall workout experience.
The Reebok Alura Sports Bra offers a range of features that cater to your workout preferences. Whether you prefer underwire or non-wired support, this bra has you covered. The options for padding types, including foam padding and removable pads, allow you to customize your comfort level. Plus, the bra's strap design offers flexibility, with both standard and adjustable straps available to suit your specific requirements. Say goodbye to the hassle of clasps and hooks; this sports bra is designed with a convenient pull-over style for easy on-and-off. Made from high-quality polyester, it's not only durable but also soft against your skin. With light support and a stylish bralette-style, the Reebok Alura Sports Bra is the ultimate addition to your fall workout wardrobe, offering both comfort and style without compromising on performance. Elevate your workouts with the perfect blend of fashion and function.
As the leaves start to change and the air gets crisper, it's time to elevate your fall workout routine with the mymonX original smart wearable. This groundbreaking device is not just a fitness tracker; it's a comprehensive health monitoring solution that will take your autumn fitness journey to the next level. You can bid farewell to painful blood pricks and cumbersome continuous glucose monitors. Thanks to its innovative AI models, mymonX offers non-invasive glucose measurements, making it a game-changer for those looking to manage their blood sugar levels effectively. By tracking your glucose levels throughout the day, you can identify trends and make informed adjustments to your diet and physical activity, ensuring your levels stay within a healthy range.
But mymonX doesn't stop there; it's your all-in-one health companion. Equipped with medical-grade sensors, mymonX monitors your heart rate, ECG, blood pressure, SPo2, breathing rate, sleep quality, activity levels, and more. It's like having a personal health assistant right on your wrist, providing you with a complete picture of your well-being. Whether you're out for a fall run or cozying up indoors, mymonX tracks your vital metrics, ensuring you're always in tune with your body's needs. The mymonX smart wearable isn't just about function; it's a fashion statement too. Its sleek and stylish design, available in a variety of colors and styles, ensures you'll look great while staying healthy. The high-resolution touchscreen display is easy to read and navigate, and the intuitive interface simplifies tracking your health metrics and reaching your fitness goals. Plus, with a battery life of up to a week and IP68 waterproof rating, mymonX is your reliable workout companion, rain or shine. So, this fall season, gear up with mymonX, the must-have wearable for a healthier, fitter you.

When autumn rolls around, it's time to take your workouts to the next level, and the Built For Athletes' Gym Backpack is your ultimate companion in this endeavor. Crafted with precision and designed for both everyday and elite athletes, this backpack is more than just a bag; it's a game-changer. Made from premium, ultra-durable materials, and equipped with industry-leading YKK zippers, it's ready to accompany you on your fall fitness journey. This backpack redefines convenience by offering a spacious 45L capacity, capable of holding everything from gym gear to work essentials. Say goodbye to juggling multiple bags, and hello to a streamlined and organized approach to your fitness routine. Whether you're heading to the gym, going for a run, or embarking on a weekend adventure, the Built For Athletes' Gym Backpack has got you covered.
What sets this backpack apart is not just its capacity but its construction. Reinforced YKK zippers ensure your belongings are secure, while ultra-strong rip-proof fabric guarantees longevity. It's not just a bag; it's a statement of your commitment to fitness. With dedicated pockets for your laptop, multiple compartments for organization, and even side bottle holders for your protein shaker and water bottle, it's the ultimate fitness companion. This backpack isn't just built for athletes; it's built by athletes, ensuring it meets every need of your fall season workout routine. Fall into fitness with the Built For Athletes' Gym Backpack, where convenience meets durability, and style meets functionality. Say goodbye to the struggle of carrying your gear, and hello to a workout experience that's seamless and hassle-free. Elevate your fitness journey this fall season with the backpack that's designed to keep up with your every move.
When the days grow shorter and darkness creeps in, don't let it dampen your enthusiasm for outdoor workouts. Enter Bodylite's Nigh tVision Jacket, a revolutionary garment designed to not only keep you comfortable during your fall workouts but also ensure you stand out, quite literally, when it matters the most. Crafted from a unique blend of 88% Nylon and 12% Spandex, this jacket offers unparalleled flexibility and comfort. But what truly sets it apart is its meticulous attention to detail. Featuring strategically placed underarm and side body venting, along with an additional vent on the upper part of the back, the Night Vision Jacket maximizes airflow. This means you stay cool and fresh even when you're pushing your limits during those evening runs or late-night hikes.
But that's not all. The Night Vision Jacket is your ultimate defense against unpredictable fall weather. Its water-resistant main body ensures that light rain and moisture won't disrupt your workout flow, keeping you dry and comfortable throughout. Plus, it comes equipped with cutting-edge night vision technology, thoughtfully positioned at both the front and back. This feature guarantees you'll be visible and safe during your twilight adventures, giving you the confidence to explore the night while looking sleek and stylish. So, whether you're hitting the trails, cycling through the city, or simply taking an evening stroll, the Night Vision Jacket by Bodylite is your must-have companion for this fall season. Don't let darkness limit your outdoor experiences—let the Night Vision Jacket illuminate your path to fitness and fun.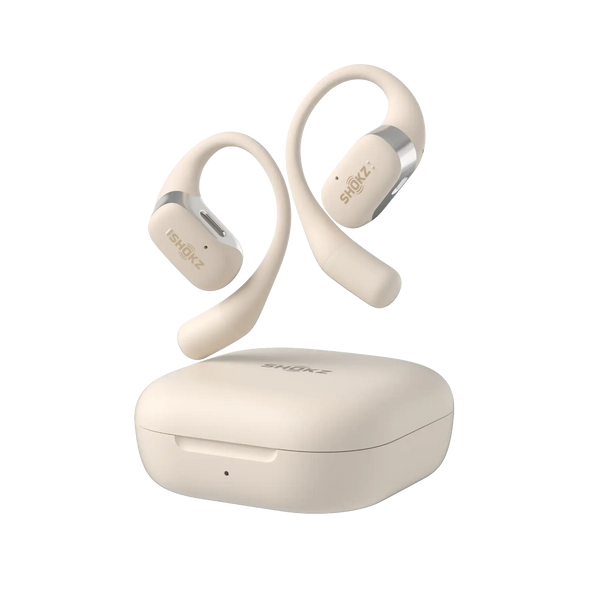 As the vibrant hues of autumn sweep across the landscape, there's an undeniable charm to fall workouts, where crisp air invigorates your senses and the world transforms into a natural masterpiece. To fully embrace this season, there's one indispensable companion that will elevate your workouts to an auditory adventure like no other: Shokz's OPENFIT. This groundbreaking innovation not only redefines your workout playlist but also keeps you connected to the symphony of life around you. OpenFit embodies the essence of liberation in its open-ear design, which harmoniously blends with the contours of your ear, leaving your inner ear free to dance to the rhythm of nature. Crafted with ultra-soft silicone and a dolphin arc ear hook, these earbuds nestle comfortably, so you feel nothing but the pure enjoyment of your workout. Whether it's an extended exercise session or a leisurely stroll amidst falling leaves, you'll cherish every moment in these sonic companions. OpenFit isn't just about audio; it's about experiencing the world without boundaries.
OpenFit's audio prowess transcends the ordinary, thanks to the revolutionary DirectPitch™ technology. It weaves a rich tapestry of sound that envelops you, from the bright highs to the deepest lows, ensuring that your favorite songs, podcasts, or audiobooks are a symphony of perfection. With an 18x11mm customized dynamic driver unit crafted from carbon fiber and a polymer surround, OpenFit delivers an immersive audio experience with unprecedented accuracy and depth. Imagine feeling the bass notes resonate within you, as if you're at a live concert tailored to your ears.
In addition to this auditory delight, OpenFit's situational awareness is its hallmark. It doesn't isolate you from the world but instead becomes your bridge to it, enhancing your safety during activities like commuting and sports. The innovative AI Call Noise Cancellation technology ensures crystal-clear calls even in bustling environments. MultiPoint Pairing simplifies your connectivity, letting you seamlessly switch between devices. And with up to 28 hours of listening time and IP54 water resistance, OpenFit empowers you to embark on your fall season fitness journey without hesitation. OpenFit by Shokz isn't just a pair of earbuds; it's a gateway to a multisensory experience that enhances your workouts, connects you to the world, and elevates your autumnal adventures to a crescendo of sonic delight. Embrace the season with the gift of Sonic Freedom – OpenFit.
Immerse yourself in the realm of auditory innovation this fall season with Creative's Outlier Free Pro+ Bone Conduction Headphones. These groundbreaking headphones not only redefine how you experience sound but also elevate your outdoor workouts to a whole new level. Crafted with precision and designed for versatility, these headphones are here to elevate your fitness journey. With bone conduction technology at its core, the Creative Outlier Free Pro+ channels sound vibrations directly through your inner ear bones, ensuring a surreal fusion of audio and awareness. Adjustable transducers provide a personalized listening experience, adapting to the unique contours of your ears. This groundbreaking technology ensures you catch every beat while staying fully attuned to your surroundings, making it the perfect companion for running, cycling, or any outdoor adventure.
But that's not all! Creative has gone the extra mile to ensure your fall workouts are truly invincible. With an IPX8 waterproof rating, these headphones fear no element. Rain, splash, or even a spontaneous swim – the Outlier Free Pro+ has you covered. What's more, it features a built-in 8 GB MP3 player, liberating you from the need for your phone or an internet connection. Run, cycle, or swim to the rhythm of your choice, anytime, anywhere. And with up to 10 hours of playtime on a single charge, your workout will never be cut short.
Intriguingly designed, the Creative Outlier Free Pro+ is available in two captivating colorways – Midnight Blue and Matte Black, or Midnight Blue and Fiery Orange, adding an extra pop of excitement to your fall adventures. Its snug fit, lightweight silicone build, and titanium memory alloy ensure maximum comfort and a secure fit during even the most vigorous workouts. So, this fall season, don't just exercise, experience the symphony of sound and the freedom of movement with Creative's Outlier Free Pro+ Bone Conduction Headphones. Your ultimate workout companion awaits!
Fall season brings a unique charm, but it can also bring the strains of life into sharp focus. As the leaves turn golden and the air grows crisper, our bodies yearn for rejuvenation. Enter the Lumi miniPRO™, a pocket-sized powerhouse that promises to be your ultimate fall season companion. It is a true marvel of design and engineering. Crafted with an exquisite, tough, yet lightweight aluminum shell, it defies the conventions of bulky massage guns. Weighing in at a mere 490g, it's the lightest and most nimble massage gun on the market. This means you can carry it effortlessly, whether you're hiking through colorful foliage or preparing for a cozy evening by the fireplace. But don't let its size fool you. Under the hood, a 4V & 70W High Torque Brushless DC Motor delivers an impressive 3600 percussions per minute. This rapid 15-60 Hz pulse action ensures that every muscle in your body receives the attention it deserves.
The Lumi miniPRO™ goes beyond the ordinary, boasting a massive 5 kg Stall Force. Imagine the sensation of deep, intense tissue massage that reaches areas you never thought possible. The device is designed for adaptability, featuring Pressure-Sensitive Intelligent Auto Mode. It learns from your body's cues, adjusting the pressure and speed to provide a personalized massage experience.
And let's not forget about endurance. With a 2900 mAh lithium-ion battery, this massage gun offers up to 16 hours of blissful relief on a single charge. That's an entire day of self-care, ensuring you stay relaxed and ready for whatever adventures fall has in store. The Lumi miniPRO™ also includes an array of interchangeable heads, from the soothing hammer to the precise bullet, making it a versatile companion for all your muscle needs. In the embrace of autumn, the Lumi miniPRO™ stands as a testament to innovation, delivering the gift of vitality. It's not just a massage gun; it's a key to unlocking your body's full potential. So, as you savor the crisp air and the colors of fall, don't forget to nurture your body with the Lumi miniPRO™—your trusted partner in wellness.
As the crisp autumn breeze sweeps through the streets and the leaves start to paint the sidewalks with vibrant hues, there's no better way to embrace the beauty of the fall season than by embarking on invigorating workouts with the Angell MINI E-Bike 1. This exceptional mobility object transcends the ordinary, offering a seamless blend of innovative design and intelligent technology. Let's delve into two key aspects that make this e-bike an absolute must-have for your fall fitness regimen. Picture yourself gliding effortlessly through the winding lanes of your favorite park, the Angell MINI E-Bike 1 beneath you, and the world at your fingertips. What sets this e-bike apart is its unparalleled mobility. Crafted with precision and ingenuity, it seamlessly melds sleek design with high-performance capabilities. Each Angell e-bike is meticulously manufactured in locations where expertise thrives, ensuring that you're not just purchasing a bike, but an artisanal masterpiece.
Asyou cruise along the scenic trails and streets draped in fall's resplendent colors, the Angell MINI E-Bike 1 becomes an extension of your persona, redefining mobility and setting new standards for elegance on two wheels. In the realm of fall workouts, safety is paramount. The Angell MINI E-Bike 1 takes your well-being seriously, making it the ultimate companion for your fitness journey. Your fall workouts deserve a partner that's as smart as you are, and the Angell MINI E-Bike 1 doesn't disappoint. It's not just a bike; it's an intelligent companion that simplifies your riding experience. The intuitive interface and user-friendly design ensure that you can focus on your fitness goals without distractions. With a wide array of built-in digital features, this e-bike is designed to evolve with your needs. The accompanying app complements your riding experience, offering real-time insights, updates, and customization options. As you embark on your fall fitness journey, the Angell MINI E-Bike 1's intelligence becomes your secret weapon, helping you achieve your goals with ease and precision.
As the autumn leaves paint the world with their fiery hues, it's time to gear up for a season of gains. Fall fitness essentials usher in a new era of health and wellness, where nature's beauty meets our determination. Embrace the crisp air, vibrant scenery, and the promise of a stronger, fitter you. Whether it's the invigorating workouts, nourishing foods, or the spirit of transformation that fuels your journey, fall is your canvas, and fitness your masterpiece. So, as the days grow shorter and the challenges beckon, remember, this season is your opportunity to shine, to push boundaries, and to harvest the gains that autumn bestows upon the dedicated. Let the season's energy propel you forward, and may your fitness journey be as vibrant and awe-inspiring as the fall itself.