Wilderness Wonders: Unveiling the Ultimate Camping Arsenal
In the heart of nature's embrace, where the modern world's hum is replaced by the rustling leaves and the whisper of distant streams, lies a realm of adventure waiting to be explored: camping. But every wanderer knows that the journey from basecamp to mountaintop is best navigated with the right companions – and we're not just talking about friends around the bonfire.
Step into a world where moonlit trails and starlit skies meet ingenious innovation, where sleeping under the canopy is as comfortable as a hotel suite, and where survival seamlessly merges with style. Welcome to the guide that unearths the zenith of camping gear, a meticulously curated collection that transforms rugged terrains into havens of comfort and transforms the great outdoors into your own personal playground.

So, whether you're an intrepid explorer or an amateur enthusiast, fasten your backpacks and ready your spirits – it's time to immerse yourself in the world of camping gear wonders that promises to make every adventure a tale told for generations to come.
Step into a realm of unprecedented comfort and performance with On Running's Men's Cloudultra 2 shoes, a pivotal addition to your camping gear. Crafted for the explorers, the trailblazers, and the wilderness enthusiasts, these shoes redefine the very essence of ultra-running. Equipped with the revolutionary Helion super foam, these all-terrain wonders ensure an unparalleled cushioning experience that cushions every step on rugged paths. A knitted sock upper, made entirely from 100% recycled polyester, not only promises comfort but also acts as a guardian, keeping dirt at bay while allowing the breeze to invigorate your journey.
Tackle any trail with unwavering confidence, thanks to the ingenious Missiongrip™ outsole and its updated stud arrangement, ensuring 50% more ground contact for impeccable traction on the trickiest terrains. Your feet will revel in the precision fit and durable upper, granting you a steadfast foundation to navigate roots, rocks, and all the surprises the trail unveils. The TPU Speedboard®, a beacon of energy, absorbs and releases power with each footfall, synergizing with the signature CloudTec® cushioning to provide unrivaled protection against impact. As you run that extra mile, conquer those last steps, and reach milestones on your ultrarunning journey, Cloudultra 2 ensures that every moment matters, propelling you forward, step after step, mile after mile. With a mere 295g weight, 6mm heel-to-toe drop, and built for all terrains, these shoes aren't just footwear; they're your accomplice in conquering the wilderness, making every camping expedition an unforgettable adventure.
Introducing the Thule AllTrail X hiking rucksack – a game-changing addition to your camping gear that promises to redefine the way you explore both the wilderness and the cityscape. Crafted from 50% recycled waxed polyester canvas, this backpack embodies the perfect blend of rugged durability and eco-conscious sensibility, proudly bearing the bluesign® systems partner logo as a testament to its commitment to sustainable production. As you embark on your journey, the AllTrail X adapts effortlessly, boasting a remarkable 10 cm/4 in of torso adjustability, ensuring that it fits you like a tailored glove. Beyond its striking aesthetics and eco-friendly construction, the Thule AllTrail X is ingeniously designed for the modern nomad. Seamlessly transitioning between outdoor escapades and urban excursions, this versatile companion features a hydration sleeve that ingeniously doubles as a laptop compartment, offering snug accommodation for up to a 15″ MacBook®. Swiftly access your essentials through the front shove-it pocket, which cleverly connects the inside and outside of the bag, while the hipbelt pockets keep your phone and snacks conveniently close at hand.
Venture forth with comfort and confidence, as the breathable backpanel guarantees a cool, refreshing journey even on the hottest of treks. The Thule AllTrail X doesn't just carry your gear; it enhances your experience. Lash additional equipment to the exterior using side compression straps and daisy chains, and secure your hiking poles or ice axe using the attachment loops. Should a sudden downpour threaten your adventure, fear not – the high-visibility rain cover ensures that your gear remains dry and ready for action. With quality that stands the test of time, the Thule AllTrail X isn't merely a backpack; it's an emblem of your unquenchable thirst for exploration, ready to accompany you on every step of your journey, be it across mountains or through bustling streets.
When it comes to crafting the perfect camping gear ensemble, Salomon's X ULTRA 4 Women's Hiking Shoes stand as an absolute necessity. Designed to conquer the wild with finesse, these shoes are the ultimate companion for single-day routes, versatile hiking endeavors, and traversing a medley of trails, from the rugged to the technical. Engineered with cutting-edge features, including strategically placed sorcery-like materials around the collar and heel, a low-density chassis, and a meticulously crafted women-specific last, these shoes redefine comfort and performance in the great outdoors.
Dive into the heart of the journey with the confidence of the all-terrain Contagrip outsole. Its steadfast grip grapples the terrain, holding firm even on slippery or wet surfaces, delivering unparalleled control – a game-changer, particularly during descents. As you explore, the advanced chassis masterfully targets articulations along the outer foot, flawlessly balancing stability and mobility, so you can venture without constraint. It's the harmony between science and adventure, crafted to elevate every step you take. Salomon's dedication to a women-specific design ensures more than just comfort.

It's a revelation in form, featuring a softer cuff that gently embraces your ankle, an anatomical design that cradles your foot's contours, and a lower density Advanced Chassis™ that enhances stability without compromising freedom. As you tread the paths less traveled, the X ULTRA 4 empowers you with its grippy outsole, ready to tackle steep uphills and daring descents. With each stride, these shoes encapsulate the spirit of exploration, ensuring that you're not just walking – you're embracing the thrill of your journey from every angle. Conquer nature on your terms, with the X ULTRA 4 Women's Hiking Shoes leading the way into a world of limitless adventure.
Embark on cycling escapades like never before with the Hammerhead Karoo 2, a game-changing addition to your camping gear that promises to redefine your cycling experiences. This GPS cycling computer is not just a device, but a powerful companion that brings innovation and convenience to every pedal stroke. With its intuitive features, the Karoo 2 empowers you to forge your own path, quite literally, by offering a seamless route-building experience. Whether you prefer to import routes from your favorite apps or craft your own journeys, the Hammerhead web dashboard makes it a breeze. With a couple of taps, you can chart your course and even add custom points of interest, ensuring your adventure is uniquely tailored to your desires.
But the Karoo 2 doesn't stop there; it truly shines as the beacon of best-in-class navigation. Never miss a turn again with its cycling-specific navigation, designed to keep you on track. And even if unexpected detours arise, instant automatic rerouting guarantees you're never lost. Keep your focus on the road ahead with beeper notifications that alert you to crucial information, from upcoming turns and traffic to training milestones and low battery warnings. As you conquer challenging climbs, the Karoo 2's CLIMBER feature becomes your strategic ally. It detects impending ascents, offering detailed gradient insights that empower you to pace your ascent intelligently. Crafted for durability and performance, the Karoo 2 boasts an anti-glare, waterproof screen with a high pixel density (292 PPI) for crystal-clear visuals. And the Karoo 2's Automatic, Predictive Path Technology with CLIMBER ensures a seamless ride, lightning-fast rerouting, and frequent feature releases to keep you ahead of the curve. Elevate your cycling adventures with the Hammerhead Karoo 2, the indispensable GPS cycling computer that transforms every ride into an unforgettable journey.
Equip your camping gear with the indispensable EZVIZ PS300 Portable Power Station and bid farewell to battery worries on your outdoor escapades. This essential companion ensures a seamless power supply for all your devices while camping, transforming your experience into a worry-free adventure. Crafted for convenience, the PS300 boasts a compact, lightweight design that effortlessly fits into your camping essentials, offering you the freedom to recharge multiple devices via its versatile array of ports, including rapid USB-C charging. Be it the thrill of the wilderness or the calm of a starlit night, the PS300 guarantees uninterrupted power, thanks to its dependable battery with up to 1,000 full charge cycles.
With a robust 313Wh total battery capacity, the PS300 stands ready to charge your essential electronics. Whether you need to power up your phone for 18 charges, keep your tablet running for 8 charges, capture the beauty of nature through your camera for 15 charges, or even enjoy 2 hours of projector entertainment, this power station has you covered. In moments of uncertainty like sudden power blackouts, the PS300 shines as a reliable backup, assuring tranquility during emergencies. Seamlessly fitting into your camping setup, it also lends its power to illuminate your campsite, letting you bask in the enchantment of nature even after the sun sets. Whether you're exploring the wilderness, relaxing in your backyard, or staying prepared for emergencies, the PS300 Portable Power Station is the definitive addition to your camping gear, underscoring the brilliance of modern technology in the great outdoors.
Embarking on an unforgettable camping journey requires more than just a compass; it demands the indispensable companion of the TomTom Go Essential 5″ Sat Nav with Lifetime Full Europe. A must-have addition to your camping gear, this sat nav isn't merely a device; it's the orchestrator of seamless roadtrips. Its quad-core processor ensures that from start-up to destination searches, every interaction is a swift dance of efficiency, making it your road-trip essential.
Crafted with an intuitive user-friendly menu, this sat nav becomes an extension of your navigation prowess. Equipped with lifetime full Europe maps, it transforms every unknown road into an opportunity for exploration. But its prowess extends beyond navigation – voice control and hands-free calling safeguard your journey by ensuring your focus remains on the scenic route ahead. And for a touch of personalization, TomTom Mydrive allows you to infuse your route with curated experiences. With the Mydrive app, discover and reserve the finest dining and lodging spots, fueled by TripAdvisor reviews that resonate with your road-loving spirit, seamlessly integrating them into your route. With features that include Lifetime Maps Full Europe, 6 Months Speed Camera trial, and Lifetime TomTom Traffic, this sat nav is more than a gadget; it's the heartbeat of your camping escapade. It holds within its 16GB internal memory the power to guide, inform, and transform your camping journey into an exploration of uncharted territories. All this, packaged within a sleek 5″ screen, and made even more irresistible by updates via Wi-Fi, rendering computer connections unnecessary. As you plan your next camping sojourn, the TomTom Go Essential 5″ Sat Nav beckons as the compass to turn mere travel into an essential experience, giving your camping gear the navigational edge it deserves.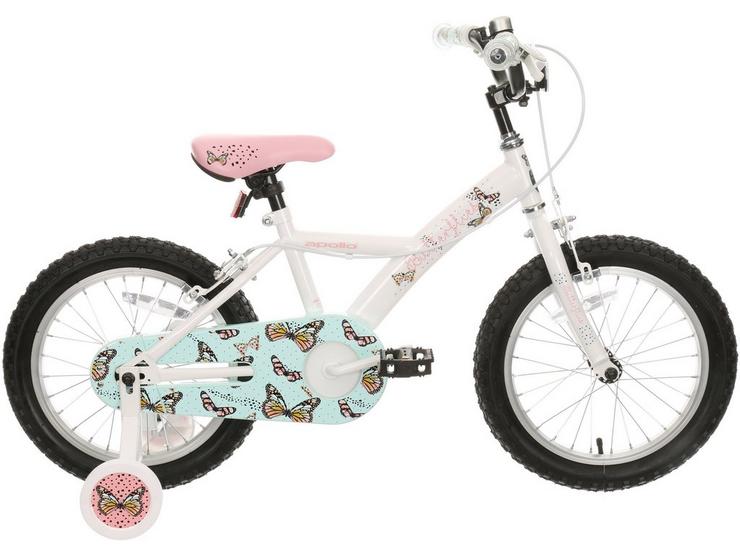 Transform your camping escapades into unforgettable adventures with the Apollo Butterflies Kids' Bike – 16″ Wheel, an indispensable addition to your camping gear for young adventurers seeking the thrill of the great outdoors. This bike isn't just a bike; it's a confidence-building companion that paves the way for your child's journey on two wheels. Sporting a charming cream hue adorned with captivating butterfly graphics, this bike effortlessly infuses joy into the learning process of riding. As your little one pedals through the campsite, their laughter harmonizes with the rustling leaves, creating cherished memories that resonate like campfire tales. Prioritizing safety, the Apollo Butterflies Kids' Bike features removable stabilizers, granting your child the autonomy to progress at their own pace while ensuring stability. The full chain guard, a guardian against accidental entanglements, shields tiny fingers and precious clothing from the chain's embrace, granting you peace of mind as your young explorer roves freely.
With front and rear caliper brakes as stalwart protectors, your child gains mastery over their movement, allowing them to navigate trails and open spaces with a newfound sense of control. As the sun dips below the horizon, the Apollo Butterflies Kids' Bike transforms into a vessel of adventure, carrying your child's dreams into the starlit canvas of the night. Campfire stories may fade, but the memory of your child's radiant smile as they conquer new terrain on their bike will forever remain etched in the tapestry of your camping experiences. Embrace the enchantment, embrace the journey – the Apollo Butterflies Kids' Bike is the compass that steers your young explorers toward boundless realms of excitement.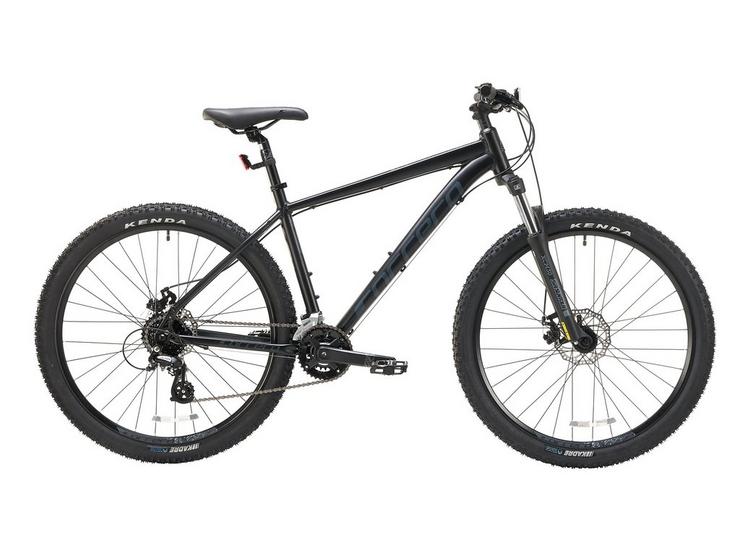 When it comes to perfecting your camping gear, the Carrera Vengeance Men's Mountain Bike stands as an indispensable companion for every rugged exploration. Crafted with a lightweight yet robust alloy frame, this bike effortlessly weaves through the wilderness, thanks to its Suntour XCM adjustable forks, offering 100mm of travel to conquer any terrain. Tackling steep inclines becomes a breeze with the 16-speed Shimano Altus gearing system, while the mechanical disc brakes ensure controlled stops, granting you the confidence to conquer new horizons. The Vengeance's prowess doesn't stop there. Its 27.5" double-walled rims guarantee durability, pairing perfectly with the puncture protection tires, equipped with an extra layer to defy thorns and challenges along the trail.
Thinking about your comfort? Carrera understands that comfort is key on those long journeys, outfitting the bike with a Carrera Memory Foam Saddle and knurled soft rubber handlebar grips, ensuring hours of blissful riding. As you venture forth, you're supported by Carrera's lifetime frame guarantee, a testament to the bike's enduring spirit. In the spirit of enhancing your camping experience, Carrera has reimagined the Vengeance to embrace efficiency and reliability. The transition to a 2x drive train streamlines your ride, while the inclusion of Carrera Puncture Protection tires empowers you to explore without hesitation. Confidently navigate trails with mechanical disc brakes, and relish in the comfort and thrill bestowed by Suntour XCM suspension forks. Carrera's commitment to quality ensures that the Vengeance isn't merely a bike; it's an essential part of your camping gear, igniting the flames of adventure and weaving unforgettable stories beneath the open sky.
In the heart of nature's embrace, as the stars twinkle above and the wilderness beckons, the journey into the realm of the ultimate camping arsenal becomes an enchanting odyssey. With each carefully selected tool and gear, a symphony of comfort, utility, and adventure harmoniously unfolds. From rugged tents that become havens under the open sky to compact stoves that kindle the spirit of culinary exploration, every piece is a brushstroke on the canvas of outdoor experience. The ensemble of versatile equipment and innovative essentials crafts not just a camping trip, but a tapestry of memories etched in the landscapes of untamed beauty. In the wilderness, where every moment is a treasure, this arsenal reveals itself as a key to unlock the door to nature's most profound wonders, leaving an indelible mark on the heart of every intrepid traveler.