Shokz's OPENFIT: The Ultimate Open-Ear Experience
Introducing Shokz's OPENFIT – where innovation meets liberation in the world of audio. In a realm dominated by closed-off headphones, OPENFIT breaks free, redefining the way we experience sound. It's not just a product; it's a sonic revolution that blends the symphony of life with your personal soundtrack. Prepare to be unburdened by the constraints of traditional audio, as OPENFIT unveils a new era of unadulterated auditory freedom, all while keeping you in tune with the world around you. Welcome to the future of open-ear listening, where every moment is an opportunity for immersion, connection, and pure, unfiltered sound.
Open-Ear Design for Ultimate Comfort
Shokz's OPENFIT introduces a groundbreaking concept that redefines comfort in open-ear headphones. Traditional earphones seal off the ear canal, isolating you from your surroundings, but OPENFIT takes a different approach. It features a remarkable open-ear design that allows you to hear your audio while staying connected to the world around you. This innovative construction is the key to the next level of comfort and situational awareness in personal audio.
Ultra-Soft Silicone: A Dual-Layered Liquid Silicone for Comfort
To achieve this unprecedented level of comfort, OPENFIT incorporates a dual-layered liquid silicone ear cushion core. This material is nothing short of a revelation in earbud design. The silicone provides a pliable, gentle fit for every ear shape, ensuring hours of wear without discomfort. Whether you're having an extended conversation or enjoying a musical feast, you'll experience a level of comfort that sets OPENFIT apart from the competition. The silicone's softness combined with its durability ensures that you can truly immerse yourself in your audio without distractions.
Dolphin Arc Ear Hook: Ergonomic Design for a Secure Fit
One of the standout features of OPENFIT is the Dolphin Arc Ear Hook. This innovative design takes inspiration from the natural curves of the human ear. The built-in 0.7mm ultra-fine flexible memory wire provides a secure and ergonomic fit that adapts to your ear's unique shape. The result is a comfortable, slip-free listening experience, even during rigorous activities like running or exercising. These ear hooks are so comfortable and secure that you'll forget they're even there, allowing you to focus solely on your music or podcasts without the inconvenience of constantly readjusting your earbuds.
Light and Balanced Design: Forget You're Even Wearing Them
OPENFIT's commitment to comfort extends to its overall design. Weighing just 8.3 grams, these earbuds are exceptionally lightweight. The combination of thoughtful engineering and carefully chosen materials results in a perfect balance that makes you completely forget you're wearing them. You can move freely, go about your day, and engage in activities without the sensation of having something in your ears. It's a level of comfort that not only enhances your audio experience but seamlessly integrates with your daily life, letting you enjoy your moments, big or small, to the fullest.
Unleash Sonic Brilliance with OPENFIT's Audio Prowess
Unlock the full potential of your audio with OPENFIT's groundbreaking DirectPitch™ Technology. It's not just about hearing your favorite songs; it's about experiencing them like never before. DirectPitch™ goes beyond conventional sound delivery, expertly balancing the crisp highs, rich mids, and deep bass, ensuring that every note and every lyric resonates with precision. Whether you're a fan of classical compositions, rock anthems, or podcasts that transport you to different worlds, this technology crafts a sonic journey that immerses you completely. With DirectPitch™, your audio becomes a three-dimensional masterpiece, turning your OPENFIT into a gateway to an extraordinary auditory realm.
Customized Dynamic Drivers: Precision in Every Vibration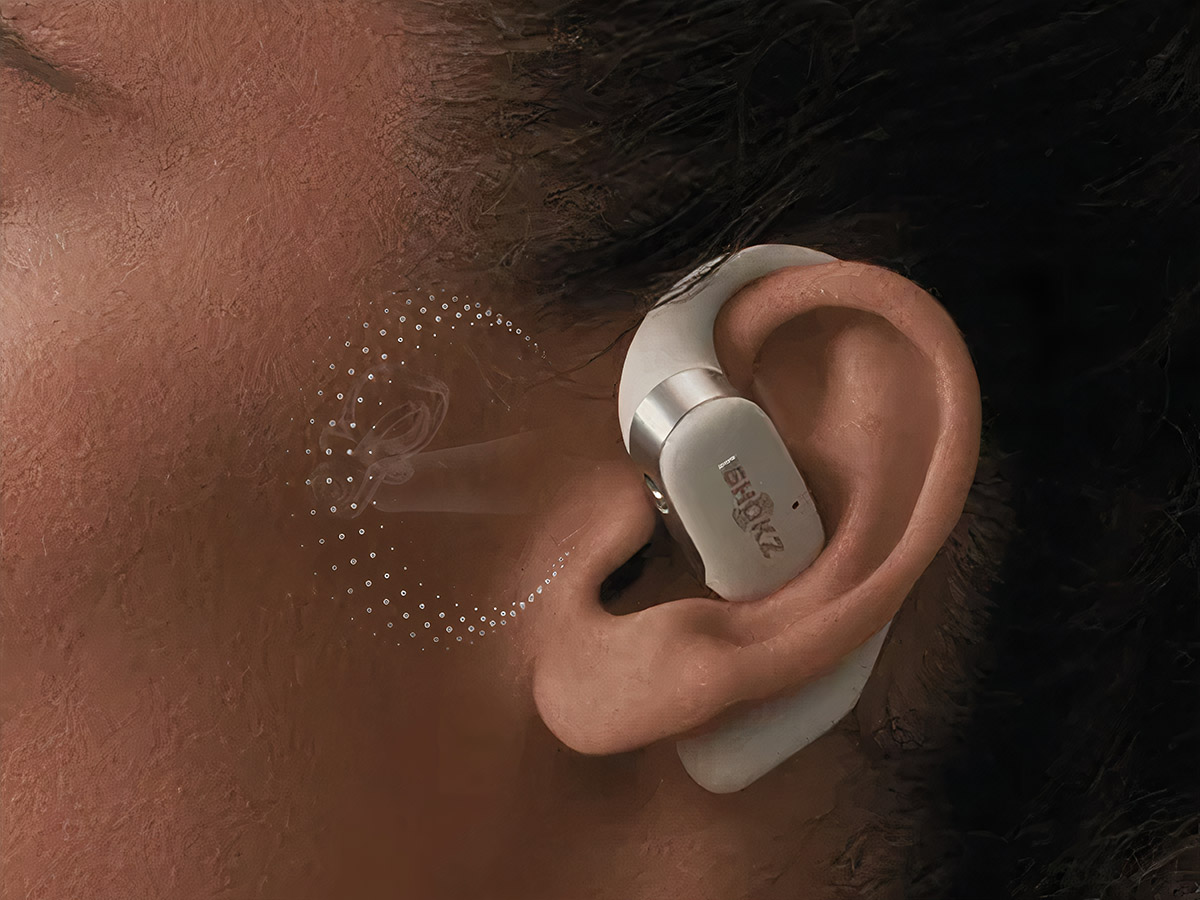 OPENFIT's audio excellence is not just a matter of chance; it's a result of meticulous craftsmanship. The heart of this acoustic brilliance lies in the 18x11mm customized dynamic driver unit. Crafted with an ultra-light composite diaphragm featuring carbon fiber and a polymer surround, these drivers ensure unparalleled clarity and depth in your audio. The dome-shaped cap, composed of high-strength, ultra-lightweight carbon fiber, directs sound vibrations with astonishing accuracy. The polymer surround complements this by amplifying the diaphragm's vibrations, creating an immersive audio experience that resonates with deep, resonant bass notes. Every beat, every rhythm, and every melody is faithfully reproduced, ensuring that your music is felt as much as it is heard.
Low-Frequency Enhancement Algorithm: Subwoofer-Grade Performance
Picture yourself at a live concert, with the bass reverberating through your entire being. OPENFIT brings this experience right to your ears with its proprietary Low-Frequency Enhancement Algorithm, OpenBass™. This ingenious algorithm channels low-frequency vibrations directly toward your ears without compromising on clarity or coverage. Dynamic Range Control continuously fine-tunes the equalization in real-time, guaranteeing that no matter the volume, your audio remains rich, natural, and awe-inspiring. Feel the pulse of the music, the rumble of cinematic explosions, and the immersive depth of your audiobooks as you journey through each chapter. OPENFIT's Low-Frequency Enhancement Algorithm delivers a concert-like experience, ensuring you don't just listen to sound; you feel it.
Adapting to Life's Rhythms with OPENFIT
In an increasingly fast-paced world, our ability to stay connected to our surroundings while enjoying our favorite audio content is paramount. OPENFIT has been meticulously designed to cater to a variety of life scenarios, ensuring that you remain in sync with the world around you. Whether you're immersing yourself in home entertainment, navigating the hustle and bustle of commuting, making strides at the office, or actively participating in sports, OPENFIT is your trusty companion, keeping you safe and aware without compromising on audio quality.
Home Entertainment: Harmonizing Audio and Family Time
When you're indulging in a movie night with your loved ones or enjoying some solo gaming, OPENFIT ensures that you're not isolated from the world. You can savor the richness of your favorite audio without missing important messages from family or friends. With OPENFIT, the boundaries between your entertainment and reality seamlessly blur, providing a holistic experience that brings everyone closer.
Commuting: Music and Awareness on the Move
Whether you're on a crowded subway or navigating busy city streets, OPENFIT allows you to immerse yourself in your preferred audio content while staying acutely aware of your surroundings. No longer do you have to compromise your safety for your music, as OPENFIT empowers you to make your commute a blend of rhythm and vigilance. Pedestrians and traffic become less of a concern when you have OPENFIT guiding you safely through your journey.
At the Office: Productivity with a Soundtrack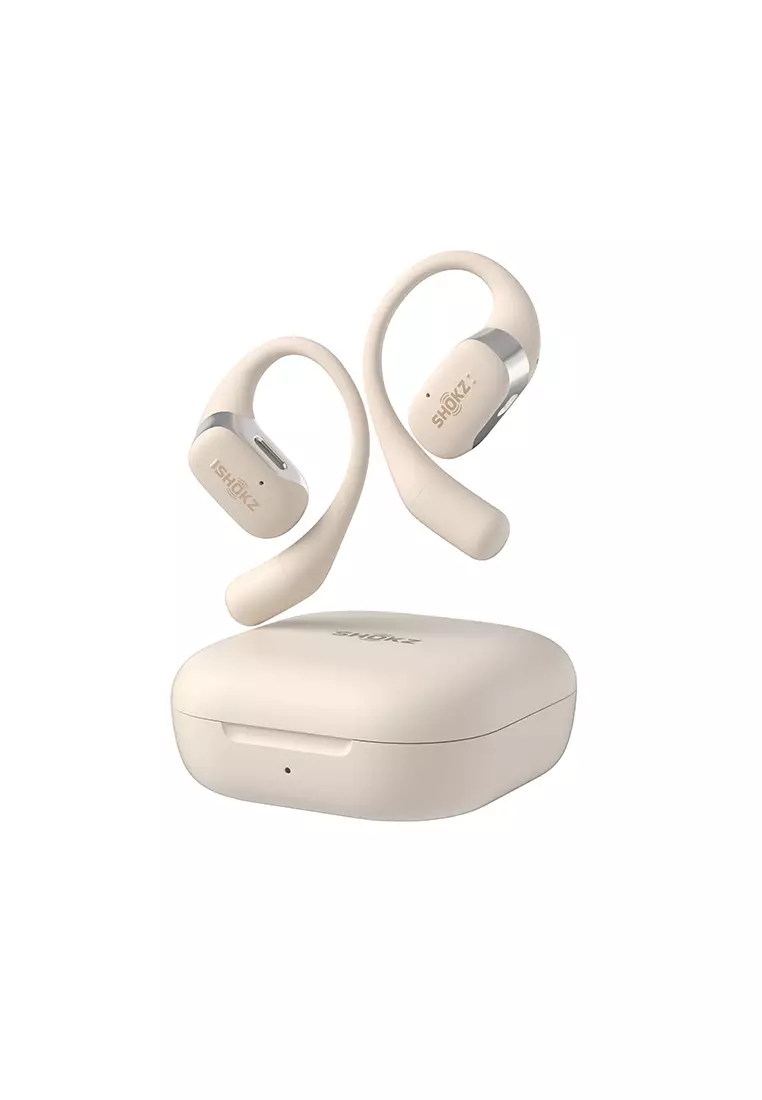 For those who balance work and play, OPENFIT offers the perfect solution. At the office, you can interact with colleagues, hear important announcements, and engage in meetings while still enjoying your favorite tunes. There's no need to second-guess if someone was trying to get your attention, making your workday both productive and enjoyable. OPENFIT seamlessly integrates the rhythm of your work life with your personal soundtrack.
Sports: Staying in the Zone, Staying Safe
Sports and physical activities are all about being in the zone, but safety should never be compromised. OPENFIT enhances your awareness during sports, allowing you to remain vigilant of your surroundings, whether you're jogging through a park or cycling on busy streets. With OPENFIT, you can keep pace with your workout regimen while ensuring your safety and that of others around you. It's the ultimate fusion of an active lifestyle and auditory pleasure.
Secure Fit, Crystal Clear Calls, and Seamless Connectivity
The science behind OPENFIT's secure fit goes beyond mere design—it's a meticulous fusion of comfort and stability. Through a comprehensive analysis of ear shape data from around the world, Shokz Lab has engineered an ergonomic and flexible ear hook that perfectly wraps around different ear curves. This provides not only a soft and secure grip but also ensures that OPENFIT stays in place, even during the most dynamic activities. Whether you're walking, running, or jumping, these earbuds remain comfortably snug, offering you a worry-free listening experience.
AI Call Noise Cancellation: Clear Conversations Amidst Chaos
In today's noisy world, staying connected through calls can be challenging. OPENFIT addresses this with its AI Call Noise Cancellation technology. By strategically placing dual microphones to form an Adaptive Beam forming effect, this feature excels at capturing the nuances of the human voice, even in the most cacophonous environments. With OPENFIT, you can enjoy crystal clear conversations without missing a word, ensuring that every call is as clear as if you were speaking face-to-face.
MultiPoint Pairing: The Art of Multitasking
Life is busy, and multitasking is the norm. OPENFIT simplifies your life with MultiPoint Pairing. Imagine effortlessly juggling between two devices with your OPENFIT earbuds. Thanks to the Shokz App, connecting to your favorite devices is as easy as a few taps. So whether you're toggling between your phone and laptop for work or switching from your music player to your tablet, OPENFIT ensures seamless connectivity. It's the key to enhancing your productivity while enjoying your audio experience. With OPENFIT, multitasking becomes second nature.
Uninterrupted Listening
In today's fast-paced world, your audio companion needs to keep up with you. OPENFIT offers an impressive battery life that's designed to match your daily adventures. With up to 28 hours of total listening time, including 7 hours on a single charge and the added convenience of a quick 5-minute charge providing an extra hour of music, you can enjoy your favorite tunes, podcasts, and audiobooks without the worry of running out of power.
Worry-Free Workouts with IP54 Water Resistance
OPENFIT is more than just a pair of headphones; it's a companion for active lifestyles. Whether you're hitting the gym or going for a jog in the rain, the IP54 water resistance ensures that your audio experience remains uninterrupted. The double-layer waterproof steel mesh and gauze provide not only protection but also enhanced sound performance. So, go ahead, break a sweat, and let the music be your motivation.
Seamless Connectivity with Bluetooth™ 5.2
*In the world of wireless audio, a stable connection is crucial for an enjoyable experience. OPENFIT doesn't disappoint, thanks to its Bluetooth™ 5.2 technology. With a 10-meter wireless range, you can stay connected to your device without any annoying dropouts. Whether you're on a crowded subway or moving around your home, you can trust OPENFIT to maintain a seamless and immediate connection.*
Power and Convenience in Your Hands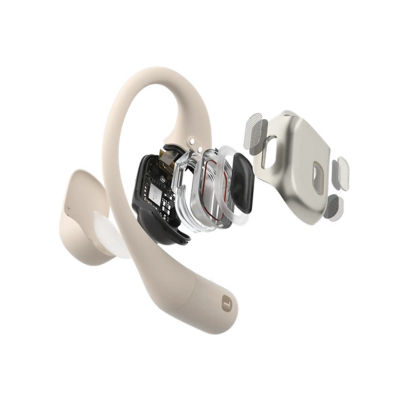 Managing your audio experience has never been easier. OPENFIT pairs effortlessly with the Shokz App, putting customization and control right at your fingertips. The app allows you to personalize EQ modes, configure button functions, and provides real-time power information and firmware updates. With built-in touchpad controls on each bud, you have the freedom to play, pause, skip tracks, and even take calls without reaching for your phone. It's the perfect blend of power and convenience, ensuring you never miss a beat.*
Enhance Your Listening Experience with the Shokz App
The Shokz App is your gateway to a personalized listening journey with OPENFIT. It's not just about listening; it's about curating your audio adventure. With this intuitive app at your fingertips, you have the power to shape your auditory world according to your desires. Whether you crave immersive bass for a music-driven workout or crystal-clear vocals for a podcast marathon, the Shokz App transforms your OPENFIT into a tailored audio masterpiece.
Easy Control at Your Fingertips
Navigate your audio universe effortlessly with the touchpad controls embedded in your OPENFIT earbuds. The intuitive interface responds to your every tap, double-tap, or press-and-hold command, ensuring that you have complete control over your playback. Adjust the volume, skip tracks, pause, or play with a simple touch. No need to reach for your phone; your OPENFIT earbuds become an extension of your musical preferences.
Personalize Your Sound
The Shokz App empowers you to fine-tune your listening experience. Customize your favorite EQ modes to match your music genre or mood. Whether you're craving the thunderous lows of a hip-hop track or the crisp highs of a classical symphony, the app lets you sculpt your audio landscape. With the Shokz App, your OPENFIT earbuds adapt to your unique tastes, ensuring every note is precisely as you desire.
Stay Updated and Connected
In a dynamic world, staying connected and up-to-date is crucial. The Shokz App provides real-time power information for your OPENFIT earbuds, so you'll never be caught off guard with a dead battery. Furthermore, the app keeps your OPENFIT earbuds current with the latest firmware updates, ensuring you always have access to the latest features and improvements. Stay connected to the ever-evolving world of audio technology with ease.
OpenFit – Your Gateway to Sonic Freedom
In a world filled with countless earbuds, OpenFit stands as an emblem of liberation, granting you the power to bask in your chosen soundtrack while staying attuned to the world around you. It's not just a pair of earbuds; it's your portal to a harmonious blend of personal indulgence and environmental connection. With OpenFit, every moment is a canvas for your unique symphony, ensuring you never miss a beat of life's grand composition. Welcome to a new era of sound, where OpenFit is your key to sonic freedom.

You can buy it now here