Smart-Start Essentials: "Unveiling the Ultimate Back-to-School Arsenal
Embark on an electrifying journey into the realm of academic readiness with "Smart-Start Essentials." Brace yourself for a whirlwind revelation of the most extraordinary back-to-school gear, meticulously curated to ignite your scholastic voyage like never before.

As you step into the world of learning, innovation takes center stage, and this carefully unveiled collection of tools is poised to transform your academic routine into an adventure of brilliance and creativity. From ingenious gadgets that sync seamlessly with your intellectual stride to ingenious stationery that whispers stories of inspiration, each item encapsulates the essence of a smart and stylish educational odyssey.

Get ready to explore the unparalleled fusion of functionality and flair, as "Smart-Start Essentials" readies you to conquer the upcoming school year with unparalleled gusto.
Elevate your back-to-school game with the absolute essential: Nike Tuned 3 for men. Unveiling a fusion of performance and trend-setting style, these sneakers are the embodiment of must-have footwear for the new school year. Embracing the lineage of innovation, the Nike Air Max Plus III brilliantly blends Tuned Air technology with a modern twist. The iconic color fade of the OG finds new life, harmoniously interwoven with plastic accents fused to the upper. Designed with the future in mind, yet rooted in the classics, the synthetic leather and mesh construction marries breathability with resilience, taking heritage aesthetics to a whole new level.
As you step onto campus, the Max Air unit in the heel and forefoot ensures every stride is cushioned with lightweight comfort. The rubber sole guarantees unwavering traction and durability, making these kicks perfect for both your academic adventures and casual hangouts. The distinctive plastic fingers pay homage to the legendary Air Max Plus, while the reflective design adds a touch of luminous allure to your style.Unleash the full force of the Nike Air Max origins – a legacy that began in 1978. With the revolutionary introduction of visible Air technology in the heel of the Air Max 1, a new era was born. It's more than just cushioning; it's a visual representation of innovation. Since then, each generation of Air Max shoes has captivated athletes and collectors alike, offering striking palettes and unwavering lightweight support.
Gear up for an academic odyssey that's as much about fashion as it is about function. The Nike Tuned 3 encapsulates your journey, bridging the past, present, and future with every confident step you take. Remember, this isn't just a pair of sneakers; it's a statement, a tribute, and a beacon of your unmatched style.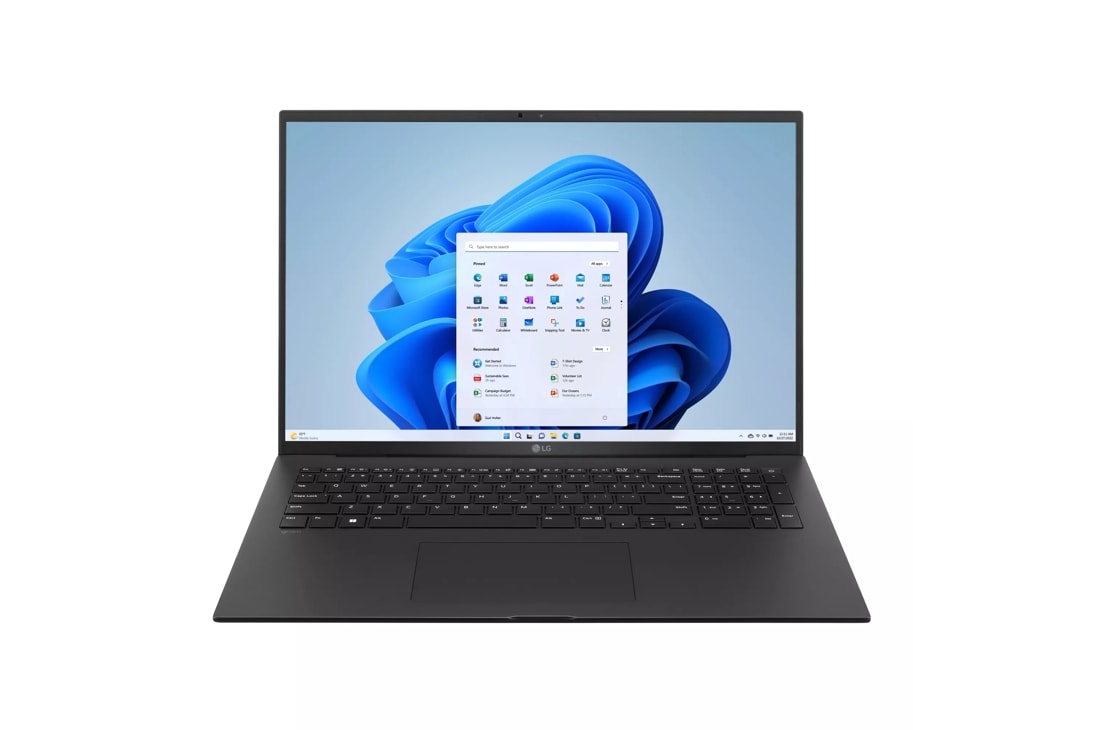 Elevate your academic journey with the essential LG gram 17Z90R laptop, a must-have for the new school year. Experience the dynamic synergy of Windows 11 as it bridges you to your passions with intuitive tools that boost multitasking, creativity, and connectivity. Harness the power of Intel's 13th Gen Core processor, delivering seamless multitasking, from tackling complex tasks to diving into immersive gaming experiences.
Dive into visual brilliance with the 17″ screen's cinematic 16:10 aspect ratio and a bold DCI-P3 99% color gamut that brings your work to life. Marvel at the mesmerizing Dolby Atmos sound, captivating your senses with immersive 360-degree audio. Seamlessly glide from projects to play with NVIDIA's RTX 3050 4GB GPU, providing tear-free, real-time rendering and 4K video editing. Enriched by LG Glance's intuitive gaze-sensing technology, security and usability become effortlessly intertwined.With a sleek, military-grade durability that defies the challenges of the day, this laptop accompanies you wherever your hustle leads. Thunderbolt™ 4 compatibility, abundant ports, and the redesigned compact power adapter enhance efficiency. Accomplish greatness backed by 16GB of lightning-quick RAM, 1TB storage, and a colossal 90Wh battery. Embrace learning, innovation, and style with the LG gram 17Z90R, your passport to scholarly success.
Triumph in Connectivity: Elevate Your Study Haven with RBK763 Orbi WiFi 6!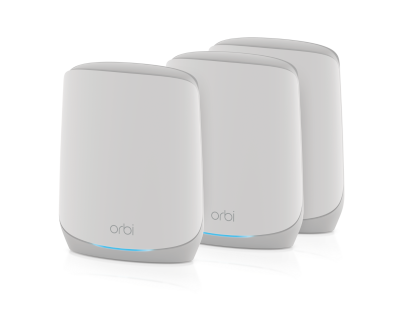 Step into the new school year with unwavering connectivity and seamless online learning with the RBK763 Orbi Tri-Band Mesh WiFi 6 System. This isn't just another networking gadget – it's your key to unlocking a world of uninterrupted virtual education. Bid farewell to lagging video calls, frustrating buffering, and dead zones that hinder your academic journey.
The RBK763 Orbi's cutting-edge Tri-Band technology blankets every corner of your home in ultra-fast WiFi, ensuring that every virtual classroom, research session, and collaborative project is as smooth as it is engaging. But it's not just about connection; it's about complete support. With the EarHead Support for Home, you have a dedicated lifeline for all your networking needs. From NETGEAR to non-NETGEAR devices, from desktops to notebooks, this support embraces your entire home network ecosystem. Need help with Windows Operating Systems, MS Office, Outlook, and beyond? Consider it covered. RBK763 isn't just a device; it's your steadfast study companion, ensuring that you're always at the forefront of online learning innovation. Equip your home with RBK763 Orbi and bid adieu to the stress of online connectivity challenges. Elevate your study haven with the latest in WiFi technology and 24/7 expert support – because this school year, nothing will stand between you and your academic triumphs.
Embrace the new school year with the OPPO Pad Air, a true marvel of technology that seamlessly integrates into your academic journey. With its exceptional features, this tablet is not just a device; it's a companion that enhances your learning experience. Immerse yourself in brilliance with the 26.31cm (10.36") 2K Eye-Care Display, offering vivid visuals that make studying a delight. The fusion of the Snapdragon 680 8-Core 6nm Processor and 4GB + 3GB Extended RAM¹ empowers you to multitask effortlessly, ensuring that your productivity knows no bounds. Seamlessly switch between apps and breeze through tasks with ColorOS's Smart Multitasking, elevating efficiency to new heights.
Crafted with precision, the OPPO Pad Air boasts an astonishing 6.94mm Ultra-Slim & Light Body that redefines portability. Its svelte form houses a mighty 7100mAh Battery, providing up to 15 hours of video call power. And when it's time to recharge, the 18W Fast Charge via USB-PD⁴ gets you back in action swiftly. Beyond its technical prowess, the OPPO Pad Air is a testament to artistic craftsmanship. Inspired by sun-kissed dunes, its surface features the mesmerizing OPPO Glow finish, a symphony of elegance and resilience. The immersive 10.36-inch display, framed by an ultra-narrow bezel, delivers breathtaking visuals, enriched further by Dolby Atmos Quad-Speakers. Experience comfort in every lighting scenario with its automatic brightness adjustments and low-light optimization, making even late-night study sessions a pleasure.
Innovative, powerful, and exquisitely designed, the OPPO Pad Air is your passport to a new dimension of learning. Elevate your academic journey today and make every moment count with this extraordinary companion.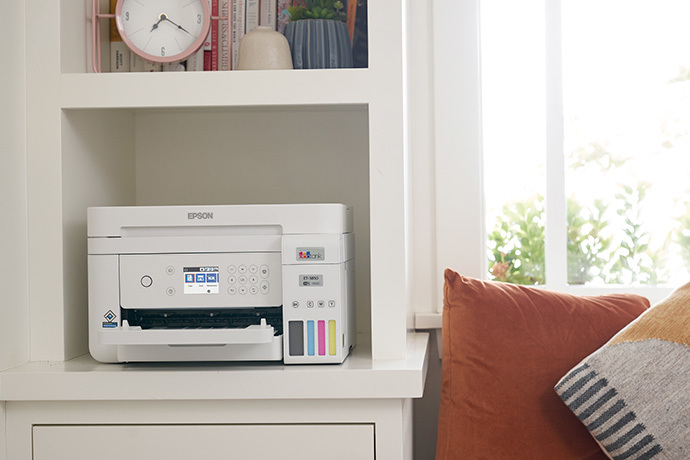 Gear up for the new academic adventure with the game-changing Epson EcoTank ET-3850 printer by your side. This innovation powerhouse is a must-have for the upcoming school year, redefining the way you print, save, and excel. Embrace a cartridge-free printing era like never before with the ingenious EcoFit® ink bottles, simplifying refills while ensuring worry-free printing. Witness the transformation as high-capacity ink tanks replace cumbersome cartridges, bringing both convenience and significant savings – up to a staggering 90% when compared to traditional ink cartridges. With each replacement ink bottle set equaling the output of approximately 90 individual ink cartridges, you can print up to 7,500 pages in black and 6,000 pages in color, all while reducing your carbon footprint.
Prepare to be amazed with up to 2 years of ink included right in the box, curbing those last-minute out-of-ink panics. Beyond the savings, this printer champions sustainability by minimizing cartridge waste in landfills, contributing to a better environment for future generations. Epson's PrecisionCore Heat-Free Technology™ guarantees sharp text and vibrant images on a variety of paper types, ensuring your documents shine. The ET-3850 also boasts an array of productivity-enhancing features, including auto document feeder, paper-saving auto 2-sided printing, and a capacious 250-sheet paper tray. Seamlessly navigate through tasks with the high-resolution flatbed scanner and the intuitive 2.4″ color display. Connect effortlessly via Ethernet or wireless, and experience the future with hands-free voice-activated printing. Empower your printing experience with the Epson Smart Panel™ App, allowing you to print directly from your smart device. With a worry-free 2-year limited warranty, Epson ensures both performance and peace of mind. Elevate your printing journey with the Epson EcoTank ET-3850 and embrace a greener, more efficient future.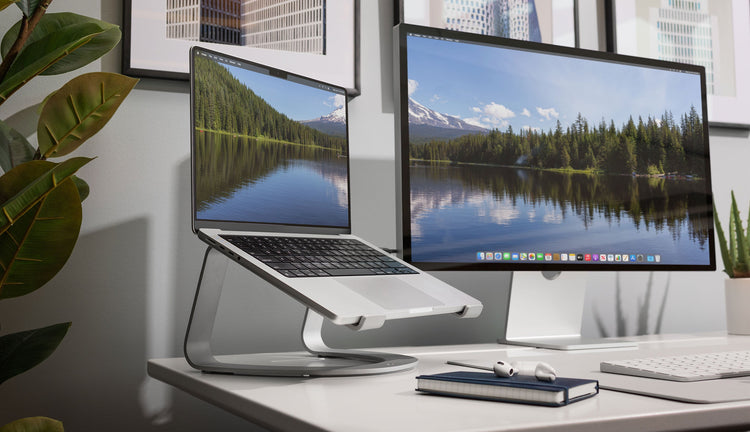 Discover the transformative power of Curve SE – the sleek silver aluminum stand that takes your laptop experience to new heights. Picture this: your laptop gracefully positioned atop Curve SE, a symbol of ergonomic excellence. Gone are the days of neck strain and uncomfortable angles. With a screen lifted to an ideal 6.5 inches off your desk, your posture naturally aligns, freeing your mind to unleash its brilliance.Curve SE isn't just a stand; it's your passport to an elevated realm of efficiency. Elevate your webcam to eye level and revolutionize your video calls – no more awkward angles or book stacks. Embrace the synergy of form and function as Curve SE effortlessly complements your laptop's aesthetics while ensuring maximum airflow to keep it cool.
This back-to-school essential is your ticket to a more comfortable and productive workspace. Embrace the future with Curve SE, where style and substance intertwine seamlessly, setting the stage for an academic year of elevated accomplishments.
Elevate your back-to-school essentials with the datAshur PRO+C – a true marvel of data protection and convenience. This PIN-protected, hardware-encrypted USB 3.2 (Gen1) Type-C flash drive redefines secure file storage. Its sleek exterior houses a world of innovation, starting with its easy-to-use, wear-resistant keypad that only grants access to those with the secret PIN.
Your data's security is taken to unparalleled heights with FIPS 140-3 Level 3 pending certification, while the tamper-proof design ensures no breach goes unnoticed. It's not just tough; it's smart, with ultrafast transfer speeds and compatibility across platforms – from Windows to macOS, Linux to Android. Incredibly rugged and crushproof, it can withstand the chaos of campus life. Water, dust, or accidental spills? No worries, the IP68 pending accreditation guarantees its survival. And should the unthinkable happen, the datAshur PRO+C's fail-safe measures include an intelligent brute force hack defense mechanism and the ability to reset the drive, all backed by a 3-year warranty and lifetime technical support. Your back-to-school journey just got a lot safer and smarter with the datAshur PRO+C.
Step into a new dimension of productivity and well-being with the innovative Tina Standing Desk. It's not just a desk accessory – it's your passport to a dynamic learning experience. Seamlessly resting atop any table or desk, this clever contraption instantly metamorphoses your conventional workspace into an ergonomic marvel. Picture yourself effortlessly switching between sitting and standing as your creativity and focus surge like never before.
Crafted for the forward-thinkers and boundary-pushers, Tina Standing Desk boasts an adjustable height feature that's your ultimate ally in combating the lethargy that often accompanies long study hours. Bid farewell to cramped postures and welcome in a world of flexible freedom. Fuel your imagination while nurturing your physical well-being – because the modern student deserves nothing less. Dive into the trend that's reshaping how we learn, empowering you to seize absolute control over your study rituals. Tina Standing Desk: where innovation meets education, and where your aspirations rise as you do.
Elevate your campus journey with the rhythmic pulse of the We. HEAR 1/HEAR 2 Outdoor Bluetooth speaker. Seamlessly combining style and sonic innovation, this portable powerhouse redefines how you experience music on the go. With an astonishing 60 watts of total power, immerse yourself in a symphony of rich audio quality that transforms any ordinary moment into an extraordinary auditory escape.
Step into a world where sound knows no boundaries. Fueling your day with up to 17 hours of battery autonomy and playback time, the We. HEAR 1/HEAR 2 ensures your melodies dance alongside you from sunrise lectures to late-night study sessions. Equipped with PX6 protection, it fearlessly withstands splashes and dust, amplifying the rhythm of life, rain or shine. Elevating convenience, the rapid 2-3 hour charging time guarantees your beats are never on pause for long. Ignite your senses, break the sound barrier, and journey through academia with the speaker that turns every corner of campus into your personal amphitheater.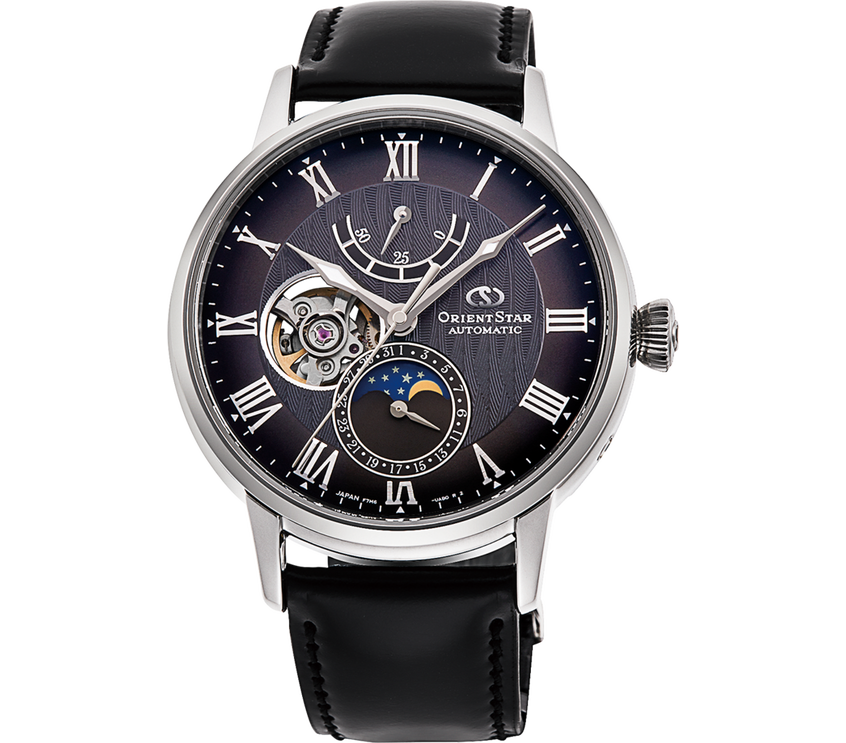 Flaunt your back-to-school style with the Orient Star Mechanical Moon Phase Watch – a captivating essential that merges tradition and sophistication. Unveil the celestial allure of the true Moon Phase, as the dial dances with intricate Japanese design, casting a spell of elegance that's perfect for both classrooms and campus hangouts.
Embrace the essence of refinement with the Mechanical Moon Phase masterpiece from Orient Star. Immerse yourself in the flowing water motif adorning the dial, a unique touch that adds an irresistible charm to your wrist. Japanese craftsmanship shines through the semi-skeleton aperture at 9 o'clock, the power reserve indicator at 12 o'clock, and the captivating moon phase with date display at 6 o'clock. A galaxy of diamond-shaped hands glitters like stars against the night sky, while the moon gently illuminates a serene river scene, encapsulating both functionality and timeless elegance. Make every moment count with a watch that's not just a timepiece, but a conversation-starter, an artistic statement, and an essential companion on your scholarly journey.
Embark on your academic adventure fully equipped with a symphony of innovation and style that promises to turn heads and fuel minds. These carefully curated tools of ingenuity fuse seamlessly to amplify your potential, giving you the head start you need for a remarkable journey ahead. From tech that redefines learning to fashion that mirrors your brilliance, this ensemble of essentials encapsulates the spirit of progress and sets the stage for an extraordinary school year.