Sizzling Hot: Unleash Your Summer Glow with the Hottest Gadgets and Products!
Get ready to turn up the heat this summer and unleash your inner glow with the ultimate collection of sizzling hot gadgets and products! Embrace the season with open arms as we reveal the secrets to achieving that radiant summer glow.

From innovative skincare devices that pamper your skin to cutting-edge tech gadgets that enhance your summer experience, we've curated the hottest selection just for you. Whether you're looking to achieve a sun-kissed tan, protect your skin from the scorching sun, or indulge in refreshing beauty rituals, our handpicked assortment will leave you feeling like a true summer sensation.
So, get ready to bask in the glory of the sun and elevate your summer style with these must-have products that will have you shining like never before. It's time to embrace the sizzle and let your summer glow steal the spotlight!
Get ready to unleash a radiant glow this summer with the ultimate secret weapon: Age Defy+ Liquid Gold Tanning Drops! These must-have drops are the key to achieving a flawless, sun-kissed tan without any streaks or hassle. With a gentle formulation that caters to all skin types, these nourishing tanning drops are here to transform your summer beauty routine.
Powered by a blend of skin-compatible tanning agents, including Dihydroxyacetone (DHA) and Erythrulose, these drops work their magic to develop a natural-looking tan within 12-24 hours of application. Say goodbye to orange hues and hello to a sun-kissed glow that lasts for up to 5 days! But it doesn't stop there – these drops are more than just a tanning solution. Packed with the goodness of seaweed and Green Tea, they also nourish and protect your skin from free radical damage, leaving you with a youthful and rejuvenated complexion.
The versatility of these drops is unmatched. Simply mix 1-5 drops with your favorite facial moisturizer or 6-10 drops with your go-to body lotion, and watch as your skin transforms into a golden canvas. With 85% certified organic ingredients, you can feel confident knowing that you're treating your skin to the best nature has to offer. So, get ready to glow this summer and experience the power of Age Defy+ Liquid Gold Tanning Drops – your ticket to a flawless and radiant complexion!
Introducing the CurrentBody Skin LED Eye Perfector, your ultimate weapon for achieving younger-looking eyes. This cutting-edge LED anti-ageing eye mask is here to revolutionize your skincare routine and bring back that youthful glow. With its powerful LED light therapy treatment, it's specifically designed to combat fine lines and wrinkles, giving you the confidence to take on the world.
Harnessing the power of four clinically proven LED wavelengths, this innovative device targets elasticity, dark circles, and eye bags with precision. Say goodbye to tired-looking eyes and hello to a refreshed, rejuvenated appearance. The best part? It's a hands-free treatment that takes just 3 minutes to work its magic. With 80 professional-strength LED bulbs, the Eye Perfector creates an optimized environment for your skin, which can be further enhanced with the CurrentBody Skin Eye Mask. Consistency is key, and by using this wonder device 6 times per week, you can stimulate collagen production and start seeing remarkable results in as little as 8 weeks. The effectiveness of the CurrentBody Skin LED Eye Perfector has even caught the attention of renowned individuals like Lauren Ridloff, Sigourney Weaver, and Letitia Wright, who have all experienced its incredible benefits. Elevate your skincare game and unlock the secrets to timeless beauty with this game-changing eye perfector.
Experience the power of Cloud Nine's 2-in-1 Contouring Iron Pro and unlock a radiant glow that will leave heads turning this summer. With its innovative Curved Plate Technology, this styling tool takes versatility to a whole new level. The uniquely designed rounded edges and interlocking arch shape allow you to effortlessly create flawless curls, waves, and flicks, all with the convenience of a straightener. Say goodbye to the days of struggling with multiple tools, as this 2-in-1 wonder does it all.
But it doesn't stop there. The Contouring Iron Pro features the game-changing Revive Mode, equipped with Axial Vibration technology. This revolutionary setting gently treats your hair while styling, minimizing friction and preventing drag or snag. Your locks will glide effortlessly through the vibrating plates, leaving them sleek, smooth, and undeniably healthy.With the inbuilt Variable Temperature Control, you have complete control over the heat settings, ensuring that your hair is styled at the perfect temperature for your unique needs. No more compromising between style and hair health – this intelligent tool ensures your locks stay in place while maintaining their vitality.
Packed with a range of carefully selected products, this must-have box is your key to unlocking the secrets of a youthful and vibrant appearance. Inside the Glow Box, you'll find a powerhouse combination of Marine Collagen Powder and Marine Collagen Capsules, known for their ability to promote skin hydration, reduce fine lines, and support joint health. The Ultra Omega 3 supplement further enhances your overall well-being, providing essential nutrients for a healthy body and glowing skin.
But that's not all – the Glow Box goes above and beyond by including a Collagen Whisk, allowing you to effortlessly incorporate collagen into your daily routine. To inspire your culinary creativity, the Collagen Smoothies Recipe Book offers tantalizing recipes that blend beauty and flavor. And with the Collagen Scoop and Welcome Pack, you'll have everything you need to embark on this transformative journey.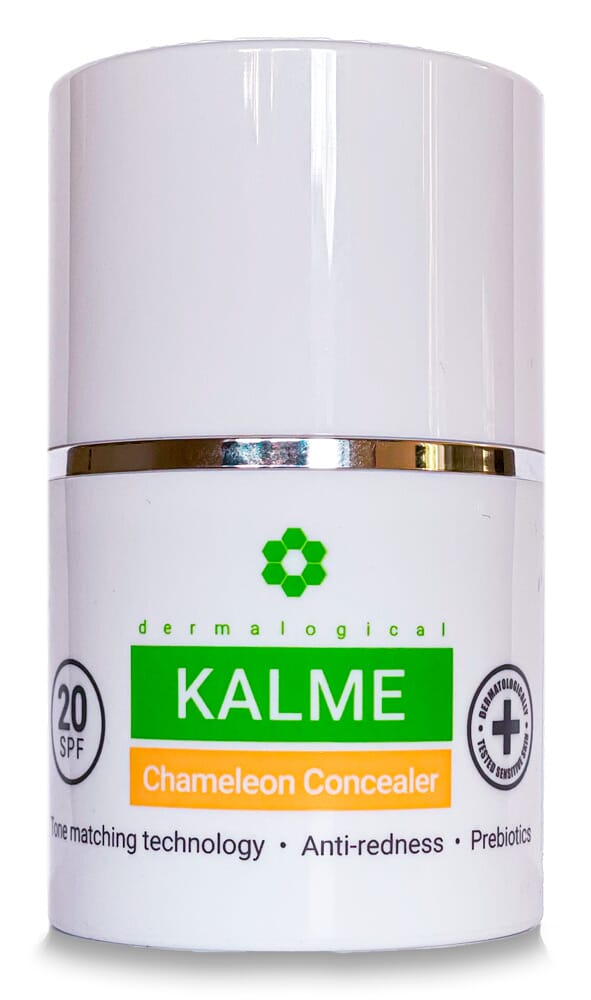 Get ready to embrace a radiant glow this summer with the must-have KALME Chameleon Concealer SPF20. This advanced tone-matching naturally-active smoothing concealer is your secret weapon against multiple symptoms of rosacea, ensuring a flawless complexion that exudes confidence. Dermatologically approved for sensitive skin, this concealer is a game-changer. Formulated with a powerful patented caper extract called Derma Sensitive, it has been clinically proven to reduce skin redness and sensitivity by up to 70%. Combined with the skin-repairing benefits of Biolin, a skin prebiotic, this concealer not only conceals uneven skin tones but also strengthens the skin barrier and improves moisture retention, leaving your skin feeling nourished and protected.
The velvety texture and advanced tone-matching technology of KALME Chameleon Concealer SPF20 provide the ultimate coverage for redness and uneven complexions. Watch in amazement as the green color transforms to perfectly match your skin tone, effectively concealing redness while maintaining a natural look. With the added benefit of a mineral SPF20, this concealer protects your skin from UV damage and helps combat pesky spots, making it an essential companion for a flawless and radiant summer glow.
Illuminate your summer with the must-have GetLit® LED Tri Colour Face Mask and say goodbye to wrinkles, blemishes, and dull skin. In just 15 minutes, this game-changing LED treatment will work its magic, leaving your skin glowing like never before. This lightweight and portable face mask will take your home facials to the next level, providing salon-quality results in the comfort of your own space.
Featured as the top choice for value and effectiveness by The Independent, GetLit® brings professional-grade LED skincare treatments within reach. No need to break the bank or book expensive appointments when you can indulge in this affordable at-home solution. So, get ready to radiate confidence and unveil your most luminous self this summer with the GetLit® LED Tri Colour Face Mask. It's time to shine bright and embrace your flawless glow!
Say goodbye to dull and lackluster skin this summer and say hello to a radiant glow with the XO Lights Out LED Tri Colour Cleansing Brush! This innovative beauty tool takes your daily cleansing routine to the next level by infusing the power of LED Light Therapy. With just a few simple steps, you can unlock the secret to luminous skin that will have heads turning wherever you go.
Designed with three different LED light treatments and micro-sonic vibrations, this cleansing brush effortlessly purifies your skin while treating it from within. Simply choose your desired light treatment, whether it's blue for targeting acne-causing bacteria, red for promoting collagen production and reducing the appearance of fine lines, or green for calming and balancing the complexion. As the gentle vibrations deeply cleanse your pores, the LED light works its magic below the skin's surface, rejuvenating and revitalizing your complexion.
No matter where your summer adventures take you, the XO Lights Out LED Tri Colour Cleansing Brush is a must-have companion for achieving that coveted radiant glow. So, get ready to let your skin shine like never before and embrace the beauty of a summer-ready complexion that will make waves all season long.
Experience the summer with confidence and radiance, thanks to Rosalique 3 in 1 Anti-Redness Miracle Formula SPF50. Specially crafted for those with hypersensitive and redness-prone skin, this miracle formula is a must-have in your summer beauty arsenal. With its unique micro-encapsulated technology, Rosalique provides an instant concealing effect, effortlessly masking any redness or uneven skin tone. But it doesn't stop there – this remarkable product goes beyond concealment.
Formulated with clinically proven ingredients like α-Bisabolol, Zeolite, Provitamin B5, Urea, and Shea Butter, Rosalique gently reduces redness and soothes your skin, leaving it looking and feeling calm and revitalized. And when it comes to protection, Rosalique has you covered. With its 5-star rated SPF50, it shields your skin from harmful UVA/UVB rays, ensuring long-term defense against sun damage.
For optimal results, simply apply Rosalique in the morning to clean skin, either as a tinted moisturizer, color-correcting concealer, or a primer under your makeup. Its buildable coverage allows you to customize the level of flawlessness you desire. Plus, its vegan, cruelty-free, non-comedogenic, dermatologically tested, and aesthetically graded qualities make it a conscious choice for skincare enthusiasts. So, embrace the beauty of summer while maintaining a radiant, even complexion with Rosalique 3 in 1 Anti-Redness Miracle Formula SPF50. Your skin will thank you!
Say goodbye to dull and lackluster skin this summer, and say hello to a radiant glow with Ringana's FRESH Overnight Body Treatment. This must-have intensive care product is specifically designed to target those "problem zones" on your body, revitalizing your skin while you sleep. It's time to boost collagen synthesis, enhance cell renewal, and kickstart the fat metabolism in your skin overnight.
Experience a smoother and firmer silhouette as cellulite and stretch marks fade away. Infused with a blend of rich natural plant oils, this treatment keeps your skin supple and velvety smooth. The powerful combination of vitamins A, B, and C works wonders, reducing dark spots and promoting a more even skin tone.With encapsulated retinaldehyde stimulating collagen synthesis, your skin will undergo a transformative regeneration process, reducing the depth of wrinkles. Gold-infused vitamin C shields your collagen framework from harmful free radicals, while Porphyridium purpureum alga fortifies the walls of your blood vessels. Caffeine provides a stimulating boost to your skin's microcirculation, and forskolin helps to diminish unwanted subcutaneous fat.
Elevate your skincare routine to a whole new level of radiance with Counter Culture's Juice Beauty Kate Hudson Revitalizing Cocktail Concentrates Kit. This summer, get ready to sip on the ultimate skincare cocktail that will leave your skin refreshed, revitalized, and glowing like never before. Inspired by the natural beauty and effortless charm of Kate Hudson, this kit is a must-have for those seeking a radiant summer glow.
Infused with a powerful blend of organic ingredients and cutting-edge technology, these concentrates work in harmony to nourish, hydrate, and rejuvenate your skin. Each droplet is packed with a potent dose of antioxidants, vitamins, and botanical extracts that penetrate deep into your skin, combating signs of fatigue and restoring a youthful vitality. With a lightweight and silky texture, the concentrates effortlessly absorb into your skin, leaving it smooth, supple, and irresistibly luminous. The Counter Culture's Juice Beauty Kate Hudson Revitalizing Cocktail Concentrates Kit is your ticket to a summer filled with a renewed sense of confidence and a luminous complexion that will turn heads wherever you go. Unleash your inner radiance and let your skin shine like a true summer goddess with this must-have skincare cocktail. Cheers to a summer glow that will leave everyone in awe!
As the sun sets on our journey through the hottest gadgets and products to unleash your summer glow, remember that the power to radiate beauty lies within you. From innovative gadgets that elevate your skincare routine to transformative products that enhance your summer experience, this curated selection has ignited a spark of excitement and self-expression. Embrace the sizzle, embrace the heat, and let your summer glow be an extension of your vibrant personality. With these must-have items by your side, you're armed with the tools to create unforgettable memories under the summer sun.
So go forth, bask in the warmth, and let your inner radiance shine through. It's time to sizzle with confidence and embrace the summer season like never before. Unleash your summer glow and let it be a testament to your uniqueness and vitality. Remember, you are the embodiment of summer's magic, and with the hottest gadgets and products, your glow will captivate the world.