Looking for gift ideas for kids this Christmas? Make your children's Christmas magical with fun presents ready to unwrap on Christmas Day. From award-winning coding robots to friendly fine motor skills toys to child-friendly science tools, unwrap this year's Christmas gift guide for kids.
Tamagotchi Pix Party
Tamagotchi Pix keeps everything you love about nurturing, raising, and playing with your Tamagotchi, but comes with exciting new features to make game play more interactive and variable. Take photos with your Tamagotchi Pix using the in-built camera! You can also now connect with friends and play with your Tamagotchi together! 

Buy Tamagotchi Pix Party from £49.99
LeapFrog Magic Adventures Globe
Let them tap anywhere using the stylus to hear and learn thousands of facts, interact with unique games and trigger videos that let kids visually experience the world. Featuring a 2.7″ LCD screen that displays video and animations with playful characters that guide children through games and activities, they will be able to explore countries, capitals, and learn about cultures, animals, habitats in no time!

Buy the LeapFrog Magic Adventures Globe from £70.00
SmartGames IQ Digits
If you're counting on a real challenge to get your kids stuck into, IQ numbers has you covered! Can you place all the puzzle pieces on the game board and make sure the numbers add up? IQ Digits is a unique game featuring 120 challenges, from easy to expert.

Buy The SmartGames IQ Digits from £12.99
Geomag MagiCube Magnetic Cubes 16 Piece Set 
Magicube is the new range of Geomagworld products that has revolutionised the Junior Construction category. This innovative toy is a building system made up of magnetic cubes that attach to each other on all six sides. By harnessing the invisible and magical properties of magnetism, children can give free rein to their imagination as they build colourful 3D models. By playing with the individual cubes, even the youngest of children begin to develop their first manual skills.

Buy the Geomag MagiCube from £33.00
Brainstorm Toys Night Sky
Transform your room into an outer space light show with this awe-inspiring projector! Learn about the night sky with four incredible projection discs. View the planets of the solar system, constellations, the moon or over 20,000 stars. Projects up to 3.65m wide with incredible projection quality giving ultra-sharp images. Images rotate on your wall or ceiling. The perfect gift for any kids obsessed with space!

Buy it from £39.99
LITTLE LIVE PETS – MAMA SURPRISE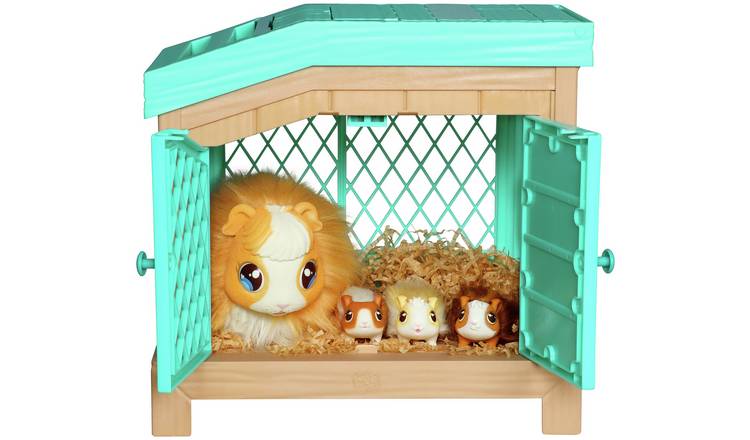 Just Like a Real Pet Mama Surprise teaches children to care for and nurture their pet. Just like a real pet, you can look after your Mama guinea pig by feeding, grooming and patting her.

This soft, interactive Mama guinea pig comes with a deluxe, interactive hutch. Care for Mama and when her heart glows, a baby is on the way. Place her inside her interactive hutch and wait patiently. Discover a new-born guinea pig baby and a special care package. Care for Mama again and you will find new guinea pig babies to complete your adorable, guinea pig family. This magical experience is repeatable, so that you can go through the surprise and delight of caring for Mama and discovering her babies, again and again.

Buy MAMA SURPRISE from £65.00
Bluey Lights & Sounds Ultimate Playhouse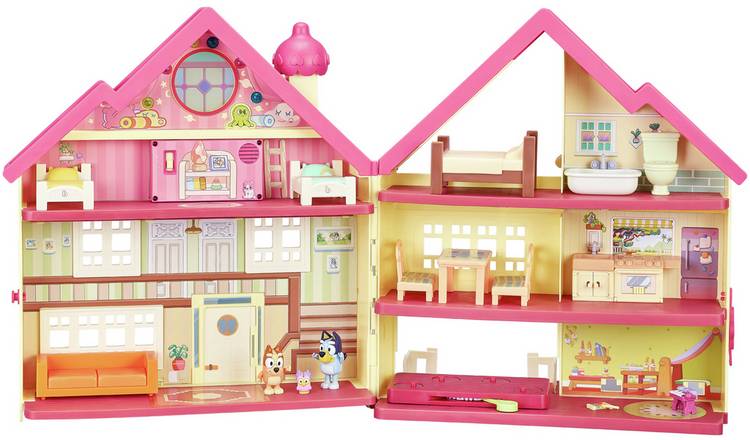 Recreate some of the most memorable moments from the show in the Bluey Ultimate Lights & Sounds Playhouse! Feature-packed, this Bluey playset comes fully furnished with the same furniture seen on the TV show.
There are three stories to explore, in the Bluey Ultimate Lights & Sounds Playhouse! These include bedrooms, a bathroom, kitchen, dining room and living room. Bluey's House comes to life when you press the Octopus in the kid's room to activate lights and over 50 sounds and phrases!

Buy the Bluey Ultimate Lights & Sounds Playhouse from £90.00
Spacetalk Adventurer Smart Watch Phone
Give your kids the confidence to seek out new adventures with the Spacetalk Adventurer. This all-in-one wearable smartwatch & phone comes with a 5MP camera for capturing photos and videos, heart rate monitor and step counter for tracking fitness, plus accurate GPS tracking and 4G mobile phone technology to keep kids connected to those who matter most.
Buy the Space Talk Adventurer Smart Watch from £149.00
Kidizoom Studio
Supplied with a green screen that can be used to create a host of special effects, this HD video camera kit comes with everything youngsters need to let their imagination run wild.
They can simply set up the included tripod ready to film their very own unboxing video, or use the flip-up lens and handle to start vlogging! They can pretend to host a show, give a tour, or get creative with disappearing illusions and trick shots. Kids can discover the 20 included animated backgrounds to set the stage for all kinds of video adventures. It's a must-have for any budding blogger, vlogger or TV presenter.

Buy Kidizoom Studio from £50.00