Grill-tastic Gadgets: Unleashing BBQ Bliss with the Hottest Accessories of the Season!
Get ready to fire up your grilling game and savor the sizzling taste of summer with Grill-tastic Gadgets! We're here to take your BBQ experience to a whole new level by introducing you to the hottest and most innovative accessories of the season. From unleashing mouthwatering flavors to making your outdoor cooking a breeze, these grilling essentials will elevate your culinary prowess and turn every backyard gathering into an unforgettable BBQ bliss.

So, grab your tongs, ignite the flames, and get ready to embark on a flavorful journey like never before with the must-have gadgets that will make you the grill master of the neighborhood!
Ignite your passion for outdoor cooking with the Diavolo Pizza Oven, the ultimate culinary accessory for this BBQ season. Embodying a perfect blend of elegance, style, and top-notch performance, this oven is poised to become your favourite cooking companion. Whether you're cooking for your loved ones during the week or hosting a backyard bash with friends on the weekend, the Diavolo promises to be the star of all your gastronomic adventures. Its generous capacity allows you to cook pizzas or other delicious dishes, making it ideal for parties, gatherings, and memorable outdoor feasts. Crafted from stainless steel and boasting a gas option, the Diavolo not only delivers restaurant-quality results but also exudes durability and easy maintenance. It also comes along with its own temperature gun to ensure precise temperature monitoring while cooking. We loved the sleek navy or green powder coat dome which will definitely add a dash of style to your outdoor setup.
Get ready to embrace the art of rustic cuisine with the Diavolo Pizza Oven, elevating your outdoor cooking game to extraordinary heights. Upgrade your BBQ season and embark on a flavorful journey where every dish becomes a masterpiece and every gathering is infused with unforgettable moments of culinary delight.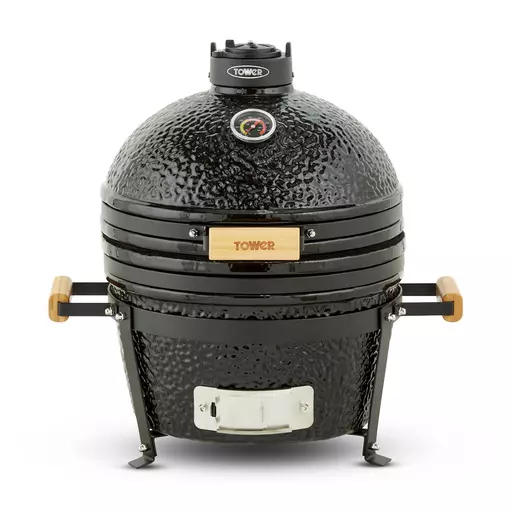 Get ready to set your taste buds on fire this BBQ season with the Kamado Maxi Ceramic Charcoal BBQ – the ultimate accessory for grill enthusiasts! Say goodbye to ordinary cookouts and embrace the extraordinary as this sleek and stylish BBQ takes center stage in your garden. With its multi-functional design, you'll be able to grill, smoke, bake, and sear a delightful array of dishes, delivering that authentic and irresistible BBQ taste that everyone loves.
Crafted with precision and innovation, the Kamado Maxi stands out with its egg-shaped ceramic body, offering excellent heat retention and rapid, even cooking. Whether you're hosting a family BBQ or entertaining guests, the generous 23.5cm grilling surface can cater to 3 – 5 people, ensuring no one goes home hungry. Achieve perfect results every time with the temperature control feature, while the wooden handles and lid damper add a touch of safety and convenience. Trust in Tower's quality, backed by a 5-year guarantee, and revel in the love for grilling that spans generations. Unleash your culinary creativity, embrace the charcoal goodness, and make this BBQ season one to remember with the Kamado Maxi Ceramic Charcoal BBQ!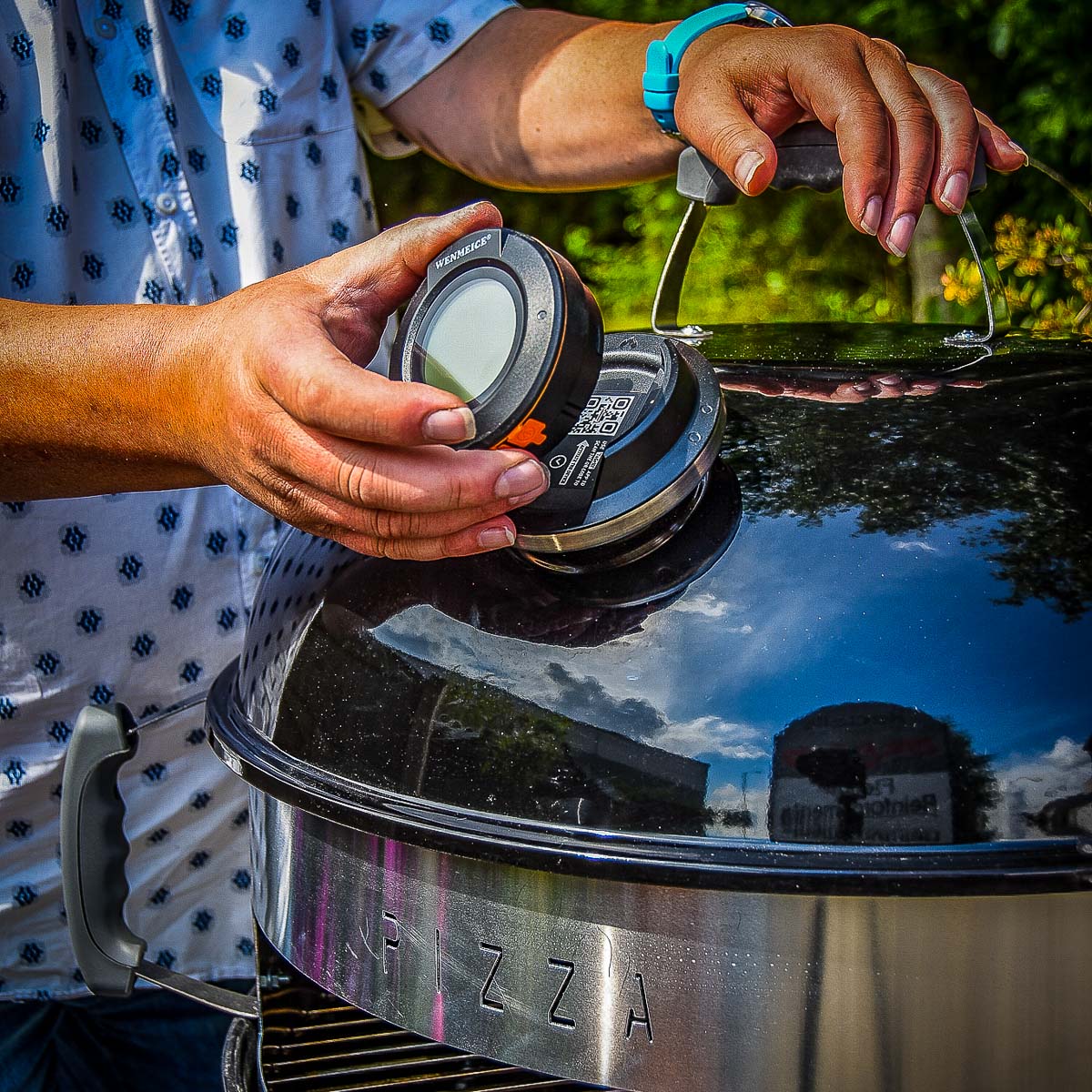 Embrace the BBQ season like never before with the ultimate grilling accessory – the ToGrill Smart Bluetooth Barbecue Thermometer! Revolutionize your outdoor cooking experience as this ingenious device takes the guesswork out of grilling and ensures perfectly cooked meats every time. Bid farewell to overcooked steaks and underdone chicken with the supplied Smart Thermometer that expertly measures the internal heat of your barbecue and comes with two separate meat probes for your delectable dishes. And the best part? You can expand your grilling prowess by measuring up to four pieces of food simultaneously with additional probes (available separately). Say goodbye to outdated thermometers and welcome the future of grilling!
But that's not all! The ToGrill Smart Bluetooth Barbecue Thermometer isn't just limited to the great outdoors. Take the main body inside and pair it with the intuitive 'ToGrill' app to achieve perfection with your kitchen oven's Sunday roast. This dynamic duo ensures your culinary creations come out tender, succulent, and bursting with flavor. The app is thoughtfully designed to make grilling a breeze, offering 12 preset food types and 5 doneness levels to cater to your individual tastes. Simply select your desired settings, and voilà! The app will keep you informed on your smartphone when your food reaches the perfect doneness. Oh, and don't forget to capture those mouthwatering moments and share them with your friends and family on social media. Plus, with the convenience of email-ready temperature records, you can effortlessly keep track of your culinary triumphs. So, whether you're grilling in the great outdoors or crafting a gourmet masterpiece indoors, the ToGrill Smart Bluetooth Barbecue Thermometer is your indispensable companion for a sizzling and stress-free cooking experience!
Get ready for the ultimate BBQ season with the game-changing accessory every grillmaster needs – the HORL®2 Knife Sharpener! Designed to bring out the best in your knives, this sharpener offers unmatched versatility to cater to all your sharpening requirements. Equipped with interchangeable grinding wheels, it gives you the power to sharpen with a delicate 15° grinding angle for filigree precision or a robust 20° angle for long-lasting sharpness. No matter the knife type or steel hardness, the HORL®2 ensures efficient and precise results with its diamond grinding disc and ceramic honing disc. But it's not just about functionality; it's about style too! The newly developed assembly design with smooth-rolling ball bearings guarantees a seamless sharpening experience, making you feel like a true culinary artist.
Witness the magic of precision in action as we compare the microscopic wonders – the ex-works grind of a standard high-quality kitchen knife versus the astonishing micrograph after using the HORL®2. Thanks to the HORL® standard diamond grinding disc, achieving a professional sharpening result has never been easier, and it doesn't require any water. The industrial diamonds embedded in the disc, harder than any knife steel, deliver an exceptional grinding pattern akin to the "ex works" grind of top-notch German kitchen knives. Follow it up with the ceramic honing disc, and experience an edge so smooth and clean that it's a delight to behold. Your knives will thank you, and your cooking will reach new heights of efficiency and precision. So why settle for anything less when you can have the HORL®2 Knife Sharpener – your one-stop solution for versatile sharpening, wrapped in elegance and style?
In this BBQ season, let your culinary prowess shine with the HORL®2 Knife Sharpener, and take your grilling game to a whole new level of precision and efficiency. Are you ready to unleash your inner grillmaster?
Step into a sizzling symphony of flavours and make this BBQ season one for the ages with the Swan Kansas 3 Burner Gas BBQ with Side Burner! Say goodbye to mundane grilling and unlock a world of culinary possibilities with this exceptional grilling accessory. Designed to ignite your passion for outdoor cooking, the Kansas BBQ is an absolute game-changer. Its spacious 570 x 420mm cooking area provides ample room to whip up a feast for your family and friends, turning every gathering into an unforgettable event.
Equipped with separate control knobs, cast iron cooking grill, and a built-in thermometer in the hood, the Kansas BBQ empowers you to masterfully control the heat for your culinary creations. Grill succulent steaks, perfectly charred vegetables, and juicy burgers to perfection, while the warming rack keeps your food at just the right temperature until it's time to serve. The stainless steel control panel exudes durability and elegance, a testament to its quality craftsmanship. With three burners and compatibility with both Propane and Patio Gas, this BBQ grill offers the flexibility you need to unleash your culinary prowess. Plus, with the included clip-on regulator and hose, you'll be up and grilling in no time. Embrace the art of outdoor cooking and elevate your BBQ gatherings with the Swan Kansas 3 Burner Gas BBQ – the ultimate partner for a sizzling and savory BBQ season!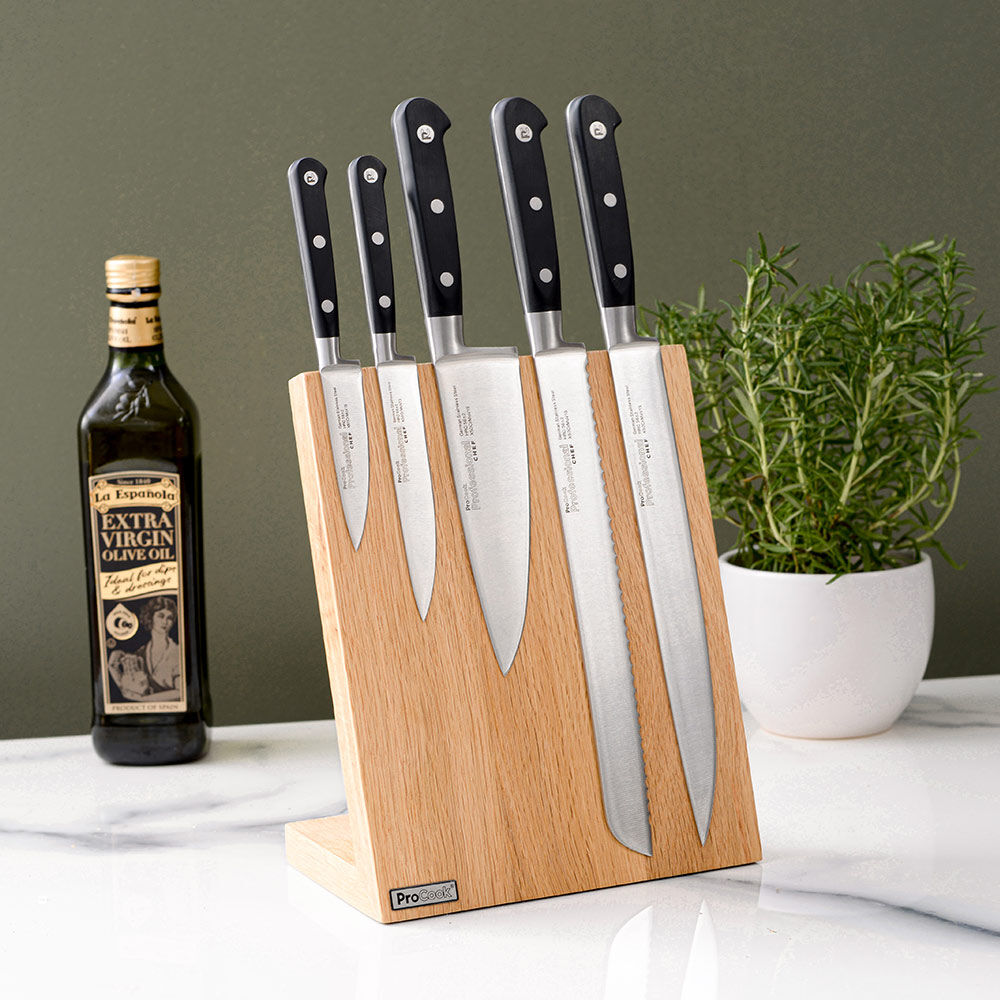 Get ready to sizzle up the BBQ season like never before with the Pro Cook's Professional X50 Chef Knife Set! This 5-piece knife set, accompanied by a sleek American oak magnetic knife block, is a must-have accessory for both seasoned chefs and aspiring home cooks. Embrace the art of culinary finesse with knives inspired by classic French styling. The set includes a 9cm paring knife, 12.5cm utility knife, 15.5cm chef's knife, 25cm bread knife, and 25cm carving knife, all thoughtfully designed to cater to every task in the kitchen. The triple rivet contoured handles and anti-slip full-length front bolster provide unparalleled comfort and control, making your cooking experience a joy. With a Rockwell hardness rating of 55±2, these knives guarantee both durability and easy sharpening, ensuring they remain your trusted kitchen companions for years to come.
The showstopper is the elegant American oak magnetic knife block that keeps your knives safe, secure, and easily accessible while adding a touch of sophistication to your kitchen. Say goodbye to traditional knife blocks, as this sleek and flat design prevents bacteria from lurking, maintaining impeccable hygiene. ProCook proudly stands by the quality of their products, offering a generous 25-year guarantee on the knives and a year on the knife block. So why settle for less when you can carve, chop, and slice with finesse using the Professional X50 Chef Knife Set!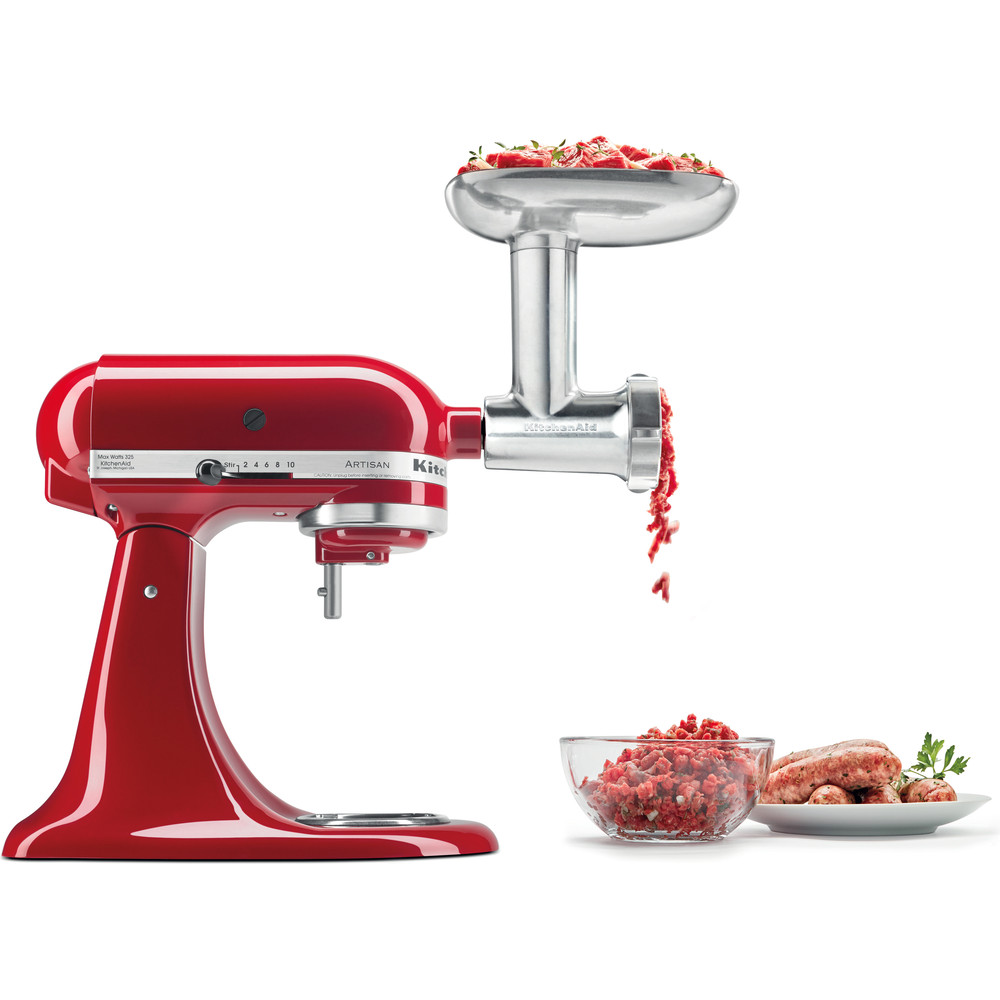 As BBQ season heats up, prepare to take your culinary adventures to the next level with KitchenAid's incredible Meat Grinder and Sausage Stuffer Set, tailor-made for all KitchenAid stand mixers. Crafted from durable metal, this attachment effortlessly transforms your trusty mixer into a powerful meat grinder and sausage maker, making your grilling escapades a breeze. Say goodbye to store-bought sausages and ground meat filled with additives, as your stand mixer churns out freshly ground meat, breadcrumbs, patés, and even cheeses with three distinct grinding plates for fine, medium, and coarse textures. With two stuffing tubes for crafting large or small sausages, and a removable food tray for easy handling, you'll be delighted watching your mixer do all the hard work.
Embrace the art of customization and infuse your recipes with unparalleled flavor combinations. The possibilities are endless as you experiment with adding fresh ingredients like parsley, garlic, and rosemary to create mouthwatering masterpieces. With the fine plate delivering smooth results for patés and spreads, the medium plate perfect for chunkier burgers and veggie patties, and the coarse plate powering through vegetables and meats alike, you'll have the ideal texture for all your culinary delights, from chilli to meat pies. Whether you're grinding meat, fish, vegetables, fruits, or even herbs, this versatile attachment elevates your kitchen prowess to new heights. And for the sausage enthusiasts, relish in the joy of crafting your own preservative-free sausages, tailor-made to your taste. Choose between the 9.5 mm for chipolatas or the 19 mm for heartier bratwursts or Cumberland sausages. Vegetarian or meat-lover, KitchenAid's Meat Grinder and Sausage Stuffer Set is your ticket to scrumptiously delectable sausages that cater to all tastes.
You can elevate your grilled meats and veggies by pairing them with the newest spicy sauces from Tracklements. Their range includes Rocket Hot Sauce, Sriracha Chilli Sauce, and Smokin' Chipotle Sauce. These vegan-rich concoctions are perfect for enhancing the taste of your burgers, tacos, meats, and fajitas.
Embark on a culinary escapade with the Napoleon NK14 Portable Charcoal Kettle Grill, the ultimate companion for BBQ season. Crafted with innovation and convenience in mind, this 14-inch diameter black porcelain enamel kettle BBQ brings the sizzle to every outdoor adventure. Whether you're planning a picnic in the park or a camping trip in the wilderness, this compact and lightweight grill delivers a whopping 150 square inches of total cooking area, ensuring you never compromise on flavor or fun. Its dual-section charcoal basket empowers you to indulge in the art of both direct and indirect grilling, allowing you to masterfully smoke and sear your favorite delicacies to perfection.
Ignite the flames of enthusiasm with the NK14's extraordinary features. The adjustable air vents grant you complete control over temperature, promising precision cooking for everything from succulent steaks to tender veggies. Its porcelain-enameled lid and bowl retain and circulate heat efficiently, infusing your dishes with a delectable smoky essence. Fearless explorers will relish the sturdy four-legged design, ensuring stability on any terrain, while the Cool Touch handle makes it easy to carry this grill wherever your wanderlust takes you. Effortless to assemble and equipped with locking lid latches, this grill assures seamless portability, so you can venture into the great unknown without worry. Plus, with the steel-plated drip pan and chrome-plated cooking grid, cleaning up is a breeze, and you'll be ready to fire up your next epicurean journey in no time. Elevate your outdoor cooking game with the Napoleon NK14 Portable Charcoal Kettle Grill, and let your taste buds rejoice in the thrill of flavor-packed discoveries.
Get ready to sizzle and tantalize your taste buds with the Chef Aid BBQ Spatula featuring a cutting-edge serrated edge! This must-have accessory is your passport to BBQ perfection. Crafted with a combination of durable iron non-stick and a rubber wooden handle, it's a breeze to grip, ensuring you have full control without the fear of getting too close to the fiery grill. No more fumbling or struggling to lift and turn your succulent delights; this spatula is your ultimate grilling companion.
But that's not all – the Chef Aid BBQ Spatula comes with an ingenious surprise. As you sizzle your way to grilled goodness, you can effortlessly crack open a refreshing beverage with its built-in bottle opener. Talk about being the ultimate multi-tasker! With dimensions perfectly engineered at L40.2 x W10 x H2.8 cm and a lightweight design of just 250g, this spatula is your ticket to becoming the BBQ maestro you've always aspired to be. Prepare to ignite your BBQ experience and elevate your grilling game to a whole new level of sizzling perfection. Embrace the thrill of outdoor cooking with Chef Aid's BBQ Spatula – the essential tool that promises to turn every BBQ session into a flavor fiesta!
Get ready to take your BBQ season to a whole new level with the Tala Meat Mallet Tenderiser – the ultimate secret weapon for mouthwatering meat dishes! Crafted with precision and innovation, this meat mallet boasts a brilliant combination of a metal and wooden end, ensuring every cut of meat is tenderized to perfection. The beechwood handle, designed to fit comfortably in your hand, features a softening wooden end that gently prepares the meat for an unforgettable culinary experience. On the other side, the sturdy metal end with its captivating intricate design guarantees flawless pounding, making your cooking process smoother and more enjoyable than ever before.
Discover the art of grilling with absolute finesse and let the Tala Meat Mallet Tenderiser become your loyal companion for all your BBQ gatherings. As you wield its 29cm x 9.5cm frame, you'll feel the perfect balance between control and power. Weighing in at just 185g, this compact but mighty tool is easy to handle, ensuring your hands won't tire during extended cooking sessions. Transforming even the toughest cuts of meat into succulent, flavorful masterpieces has never been this effortless. Elevate your grilling prowess and create unforgettable moments with your loved ones as you savor the delectable results achieved by the Tala Meat Mallet Tenderiser. Embrace the art of grilling like never before and become the culinary hero of every BBQ season!
As the BBQ season heats up, it's time to embrace the grill-tastic world of sizzling flavors and epic gatherings. With the hottest accessories by your side, you can unlock a realm of culinary creativity and take your grilling game to new heights. From innovative tools that tenderize and elevate your meats to gadgets that add a burst of smoky charm to every dish, these grill-tastic companions are here to enhance your BBQ bliss. So, gather your friends and family, fire up those grills, and let these ingenious accessories help you create moments of pure delight and gastronomic magic. Embrace the art of outdoor cooking and let the flavors unite in a symphony of taste that will leave everyone craving more. This BBQ season, let the grill-tastic gadgets be your secret ingredients to unlocking the true potential of the grill and making memories that will linger long after the embers have faded. Happy grilling!