Tech-tastic Transformations: A Round-Up of Gadgets for the Ultimate Work-From-Home Experience!
In the ever-evolving landscape of modern life, our homes have transformed into bustling hubs of productivity, where the lines between work and leisure have blurred into a seamless symphony of efficiency and innovation. Embracing this dynamic shift, we find ourselves diving headfirst into a tech-tastic revolution that has redefined the very essence of remote work. From cutting-edge gadgets that seem to defy the limits of possibility to ingenious solutions that effortlessly elevate our work-from-home experience, it's time to embark on a captivating journey through the latest and greatest inventions. So, fasten your seatbelts and prepare to be amazed as we unveil a remarkable round-up of gadgets that are primed to revolutionize your workspace and redefine productivity in ways you never thought possible!
Start your work-from-home days on a refreshing note with the AromaFresh II Filter Coffee Machine, a true game-changer in the world of home brewing. Say goodbye to ordinary coffee and hello to an extraordinary coffee experience, all from the comfort of your home office. At the heart of this exceptional coffee machine lies the integrated ceramic grinder, boasting eleven different grinding fineness settings. Whether you prefer a finely ground, aromatic cup or a coarser brew with robust flavors, the choice is yours. Experience the pleasure of indulging in a perfectly balanced, full-bodied filter coffee that suits your taste preferences like never before.
The AromaFresh II not only delights your taste buds but also offers an array of convenient features that make every coffee-making moment a joy. With its adjustable brewing strength, you have the power to customize your coffee's intensity, from mild to medium or strong, catering to your unique cravings. The innovative design of the coffee machine, adorned with sleek matt black surfaces, adds a touch of elegance to your kitchen countertop. The transparent water tank with a clear quantity scale ensures easy refilling, while the 3-in-1 limescale protection keeps your coffee machine running smoothly for years to come. And for those days when time is of the essence, the practical timer function allows you to wake up to the invigorating aroma of freshly brewed coffee. Embrace this perfect blend of technology and convenience with the AromaFresh II Filter Coffee Machine and elevate your work-from-home coffee ritual to a whole new level of satisfaction.
Meet your new work-from-home companion, the CUP Coffee to Go Tumbler, a sleek and efficient gadget designed to elevate your coffee experience while you conquer the day from the comfort of your home office. Crafted with precision, this elegant bright white tumbler boasts a trifecta of must-have features that will leave you wondering how you ever managed without it. Firstly, its leak-proof design ensures that not a drop of your precious brew goes to waste, providing a mess-free solution for your daily caffeine cravings. Secondly, the tumbler's stainless-steel construction guarantees the retention of your coffee's perfect temperature, keeping it hot for a remarkable three hours, so every sip is as satisfying as the first.
Embodying both style and sustainability, the CUP Coffee to Go Tumbler effortlessly complements any outfit, whether it's paired with a laid-back messenger bag and sneakers or a more sophisticated ensemble of high heels and lipstick. It embraces your lifestyle and empowers you to face the day on your terms, wide awake and purely focused on your goals. The unboxing experience is nothing short of extraordinary, with the tumbler nestled within a chic, completely plastic-free tube box, exuding an eco-friendly aura from the get-go. And to protect this precious gadget from any potential scratches on the go, it comes adorned with a classy microfiber cover, adding a touch of luxury to your daily routine.
With the CUP Coffee to Go Tumbler by your side, you can savor your favorite beverage, contribute to the environment's well-being, and seize each moment of your work-from-home journey in style. So, take the plunge, indulge in the aroma of freshly brewed coffee, and discover a world of convenience, sustainability, and sheer delight in every sip. Your new go-to gadget awaits, ready to infuse your daily grind with a dash of sophistication and a boost of productivity like never before.
Discover the ultimate work-from-home companion – Kindle Scribe, a groundbreaking gadget that revolutionizes the way you read, write, journal, and sketch. Equipped with a cutting-edge 10.2-inch, 300 ppi Paperwhite display, and this first-of-its's-kind Kindle offers an unparalleled reading experience with a glare-free screen, perfect for extended hours of immersion. But it doesn't stop there – Kindle Scribe goes beyond reading by empowering you to unleash your creativity directly on its digital pages. With the included Premium Pen, you can write and sketch as naturally as you would on paper, bringing your ideas to life with remarkable precision. From jotting down notes on your favorite books to creating personalized notebooks and lists, Kindle Scribe offers limitless possibilities for expression and organization.
As your all-in-one writing and reading companion, Kindle Scribe takes productivity to new heights. Seamlessly integrate your handwritten thoughts into millions of titles available in the Kindle Store, allowing you to annotate, review, and export your notes via email. Need to work with documents? No problem. Kindle Scribe supports importing documents through various methods, including the Kindle app, desktop web browser, and direct import from Microsoft Word (Microsoft 365 subscription required). With the ability to review and annotate PDF files or create sticky notes in compatible documents, Kindle Scribe streamlines your digital workflow. Plus, with regular, free software updates and features, your Kindle Scribe experience will only get better over time. Whether it's for work or leisure, Kindle Scribe ensures your comfort with adjustable warm light, auto-adjusting front light, and larger font sizes, making it the perfect companion for extended reading and writing sessions. And worry not about battery life – a single charge via USB C provides you with months of reading time and weeks of writing time, and the Premium Pen never needs charging. Embrace the future of reading and writing with Kindle Scribe, and unlock your creative genius from the comfort of your home.
In the fast-paced world of remote work, the Toucan Streaming Webcam emerges as a true game-changer. Unlock the power of seamless virtual communication with this incredible work-from-home gadget. Boasting full 1080p HD resolution at a remarkable 60 frames per second, the Toucan Webcam elevates your video calls, virtual meetings, and gaming experiences to a whole new level of clarity and smoothness. Gone are the days of pixelated, laggy video streams that hinder your productivity. With the Toucan Webcam, you'll enjoy razor-sharp visuals and uninterrupted streaming, ensuring you always put your best foot forward in every virtual interaction.
Designed with the modern professional in mind, the Toucan Webcam comes equipped with a built-in multi-directional microphone, delivering crisp audio quality for video conferencing or intense gaming sessions. Its wide 89-degree field of view ensures you capture more of the action, making it perfect for collaborative meetings or showcasing your creativity to the world. Not just a feast for your eyes and ears, this nifty gadget also offers excellent low-light performance, ensuring you look your best even in dimly lit environments. Easy to set up, the Toucan Webcam connects effortlessly to any USB port with the included cable, requiring no additional drivers or software. Its small and lightweight design, along with a flexible mount, allows for convenient positioning on your monitor, laptop, or tabletop, enabling you to create the ideal virtual workspace. Compatible with both Windows and MacOS systems, the Toucan Streaming Webcam is the ultimate companion for anyone seeking to unlock their full potential while working from home or anywhere else in the world.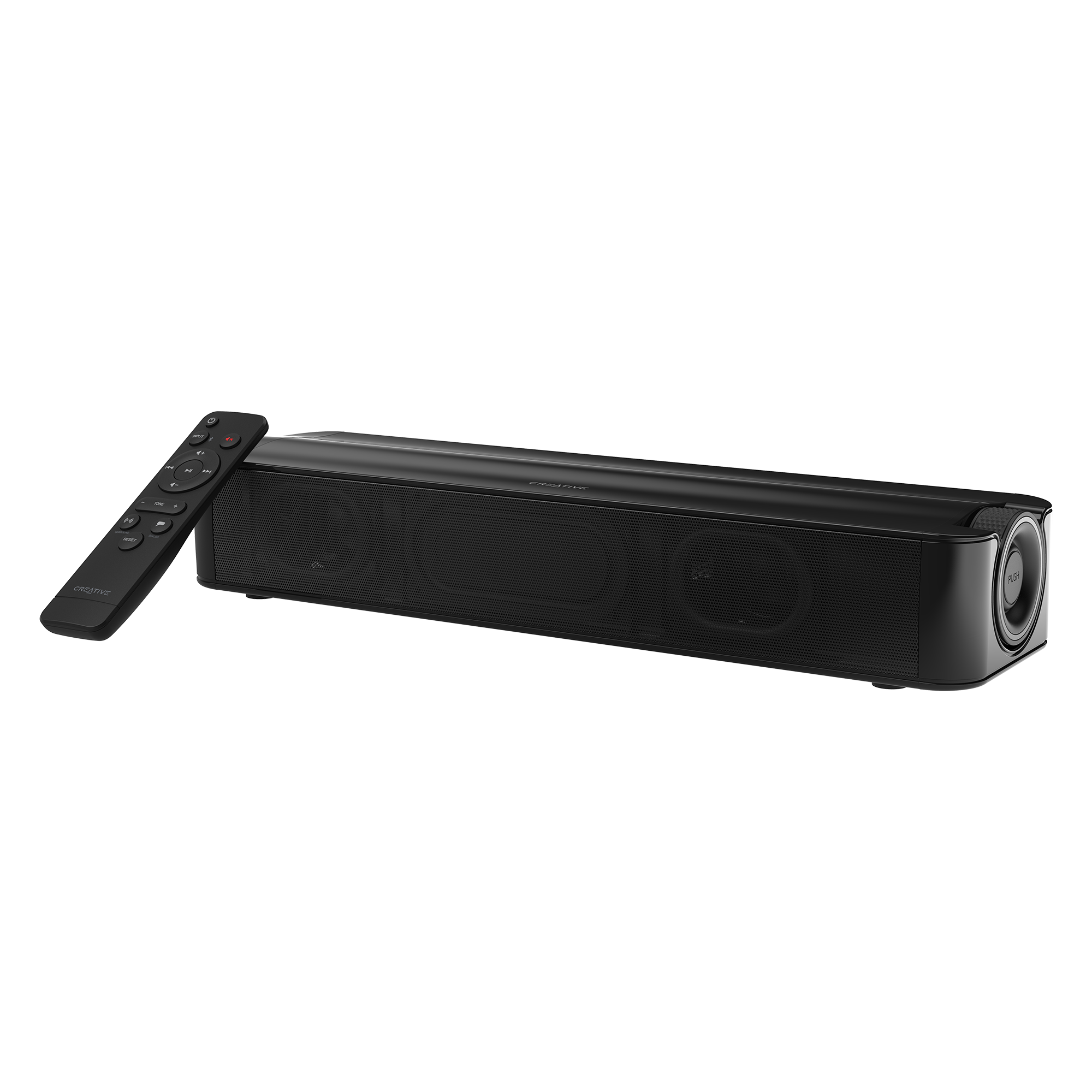 Experience a symphony of sound right at your fingertips with the Creative Stage SE, your ultimate work-from-home gadget! Crafted to perfection, this under-monitor soundbar elevates your entertainment and gaming experiences to a whole new level. Bid farewell to lackluster audio and embrace the immersive power of custom-tuned racetrack drivers and cutting-edge Sound Blaster technology. Whether you're watching your favorite movies or engaging in intense gaming sessions, the Creative Stage SE enhances every visual with a symphony of clear, punchy acoustics, delivering a breathtaking performance that leaves you captivated.
Designed with the modern work-from-home lifestyle in mind, the Creative Stage SE seamlessly blends into your setup with its sleek and compact design. No more cluttered space or tangled wires—power up easily with a single USB cable or go wireless with Bluetooth 5.3 connectivity. Its convenient under-monitor placement and multi-functional knob ensure quick and effortless control, making it a breeze to power on or adjust volume without interrupting your workflow. Unlock the true potential of your computer audio and bid farewell to basic stereo speakers. With 48W of peak power and advanced Sound Blaster audio technologies like Clear Dialog and Surround, the Creative Stage SE delivers an unparalleled audio experience that rivals a cinematic theatre. Get ready to immerse yourself in a world of crystal-clear dialogue and captivating surround sound, as you lose yourself in work, play, and everything in between. Upgrade your audio game with the Creative Stage SE and let creativity flow like never before!
Revolutionize your work-from-home experience with the Aarke Carbonator 3 – the ultimate premium carbonator and sparkling water maker that brings a burst of effervescence to your daily routine. This newest model, Generation 3, boasts a sleek and compact design coupled with top-of-the-line user-friendly engineering, making it the perfect addition to any home countertop. Elevate your hydration game with refreshing carbonated water that will keep you energized and hydrated throughout the day. Gone are the days of relying on mundane beverages; now, you can savor the fizz of sparkling water and experiment with flavors like zesty lemon, tangy lime, or indulge in all-natural, low-sugar soda syrups from Aarke Essences and Syrups, as well as Six Barrel Soda syrups, for a delightful treat that suits any season.
The Carbonator 3 is more than just a kitchen appliance; it's a statement of sustainable and quality-centric design. Unlike its plastic predecessors, this sparkling water maker is built to last, standing the test of time while minimizing its environmental impact. Its user-friendly interface ensures effortless operation, while its elegant aesthetics add a touch of sophistication to your home space. Each purchase includes the Aarke sparkling water machine, a BPA-free PET water bottle that guarantees safe and toxin-free hydration, a dry cloth for easy cleaning, and a drip tray for mess-free sparkling sessions. For a seamless sparkling water experience, the Carbonator 3 pairs perfectly with Aarke branded Renewable CO2 60L gas cylinders, as well as other screw-in cylinder systems. Say goodbye to mundane drinks and hello to your bubbly oasis – the Aarke Carbonator 3 is your ticket to fizzy refreshment and elevated home hydration, making your work-from-home days even more enjoyable and productive.
When the world shifted to remote work, we searched for the ultimate work-from-home gadget that could elevate productivity and immerse us in the perfect soundscape. Then, Skullcandy answered our calls with the jaw-dropping Crusher ANC 2 — a true masterpiece with an array of features that redefine the headphone experience. Say goodbye to distractions with its powerful Active Noise Cancelling, allowing you to turn off the world and find your focus in the midst of chaos. But that's not all! Embrace the future with Hands-Free Voice Control, and seamlessly manage your audio functions with just your voice, thanks to the ingenious Skull-iQ Smart Feature Technology.
Get ready to lose yourself in the richness of sound as Skullcandy Crusher ANC 2 unleashes its personalized touch. With Personal Sound by Mimi, a quick hearing test creates a custom sound profile tailored to your unique hearing, revealing nuances in your music that you never knew existed. And let's not forget about the iconic sensory bass experience! Crusher ANC 2 takes it to another level with adjustable Crusher Bass that can be felt as much as it is heard. Immerse yourself in the depths of sound, whether it's for music, movies, or podcasts, as the 40mm drivers expertly tuned for Skullcandy Supreme Sound deliver nothing short of audio perfection. Brace yourself for feature upgrades and constant improvements through the Skull-iQ App, ensuring that Crusher ANC 2 is not just your ideal companion now, but also a gadget that will stay loaded-er with delights for the long haul. Get ready to elevate your WFH game and redefine your auditory senses with Skullcandy Crusher ANC 2!
Transform your work-from-home environment into a haven of pure air with Daikin's Air Purifier featuring Streamer Technology – the MC55VB. Embrace the "Catch and Clean" approach, where harmful substances are effectively decomposed, leaving you with nothing but crisp, refreshing air to boost your productivity and well-being. Backed by the prestigious Institute Pasteur de Lille, this air purifier's prowess against respiratory viruses is second to none, ensuring you can breathe easy and focus on what truly matters. Its whisper-quiet operation allows you to immerse yourself in work without any distracting background noise, making it one of the most sought-after air purifiers in Europe. Say goodbye to frequent filter replacements as its high-performance electrostatic HEPA filter remains unclogged, granting you up to ten years of hassle-free maintenance and low costs.
Welcome to a world where the air you breathe is truly revitalizing. With the Daikin MC55VB Air Purifier, no space is too vast for purification, as it effortlessly cleanses rooms up to 82m², making it the perfect fit for large living areas that have become your work sanctuary. Powered by the innovative Flash Streamer technology, allergens like pollen and fungal particles are neutralized, alleviating allergy woes and providing an environment conducive to optimum productivity. Moreover, bothersome odors are vanquished, ensuring you focus solely on your tasks without any distractions. Embrace the future of air purification, as this remarkable gadget harnesses electrons to trigger chemical reactions with airborne particles, leaving you with nothing but pure, invigorating air. Get ready to embark on a journey of efficiency, wellness, and inspiration with the Daikin MC55VB Air Purifier by your side, turning your work-from-home setup into a breath of fresh air like never before.
Unveil a world of undisturbed concentration and seamless communication with the Poly Voyager Free 60+ UC Carbon Black Earbuds – the ultimate work-from-home gadget. Embracing the modern era of remote work, these in-ear wonders combine cutting-edge technology and comfort, making them an indispensable tool for the digital professional. Equipped with Bluetooth® 5.3, a three-microphone steerable array, and Hybrid Active Noise Cancellation (ANC) with Transparency mode, the earbuds effectively eliminate distractions, creating an oasis of tranquility in your home office. Advanced noise reduction ensures crystal-clear, distraction-free calls, while the discreet wireless design offers hours of comfortable use, keeping you focused and connected throughout the day.
The Poly Voyager Free 60+ UC Earbuds take versatility to the next level with easy connectivity to two Bluetooth® devices at once through multipoint technology. The convenient touchscreen charge case not only manages your earbuds' connections but also offers effortless control, including mute functions, all at your fingertips. Moreover, these earbuds are optimized for use with leading communications platforms, ensuring seamless integration into your virtual meetings. Whether you're working from home or up in the clouds, the earbuds have you covered with compatibility across Windows 11, macOS, Android™, and iOS, even on airplanes via the 3.5mm connection. Embrace productivity like never before and empower yourself with the Poly Voyager Free 60+ UC Carbon Black Earbuds – your gateway to harmony in silence, making every workday a breeze.
In this fast-paced digital age, the work-from-home revolution has ignited a remarkable shift in how we approach productivity. Thanks to an array of cutting-edge gadgets, we can now truly embrace tech-tastic transformations and create the ultimate work-from-home experience. From noise-canceling wonders that whisk us away to a world of undisturbed focus, to sleek and ergonomic designs that ensure comfort during long hours of use, these gadgets have become the unsung heroes of our remote work journey. As we continue to redefine the boundaries of work and personal life, these tech wonders stand as a testament to our adaptability and determination to stay connected, productive, and inspired, no matter where we choose to work. So, let us welcome these ingenious companions into our virtual workplaces, as they empower us to conquer challenges, unlock new opportunities, and thrive in this ever-evolving landscape.