Summer Time Sips and Bites: Unveiling the Ultimate Refreshing Gadgets for Culinary Coolness
As the sun stretches its golden fingers and the warmth of summer envelops us, our cravings shift towards the refreshing and the invigorating. It's the time for ice-cold sips that dance on our tongues and tantalizing bites that awaken the senses.

In this symphony of culinary coolness, we unveil the ultimate gadgets that transform your kitchen into a haven of refreshment. Get ready to sip and savor your way through the season with creations that blend innovation, flavor, and a touch of magic. Welcome to a world where every bite tells a story and every sip paints a memory.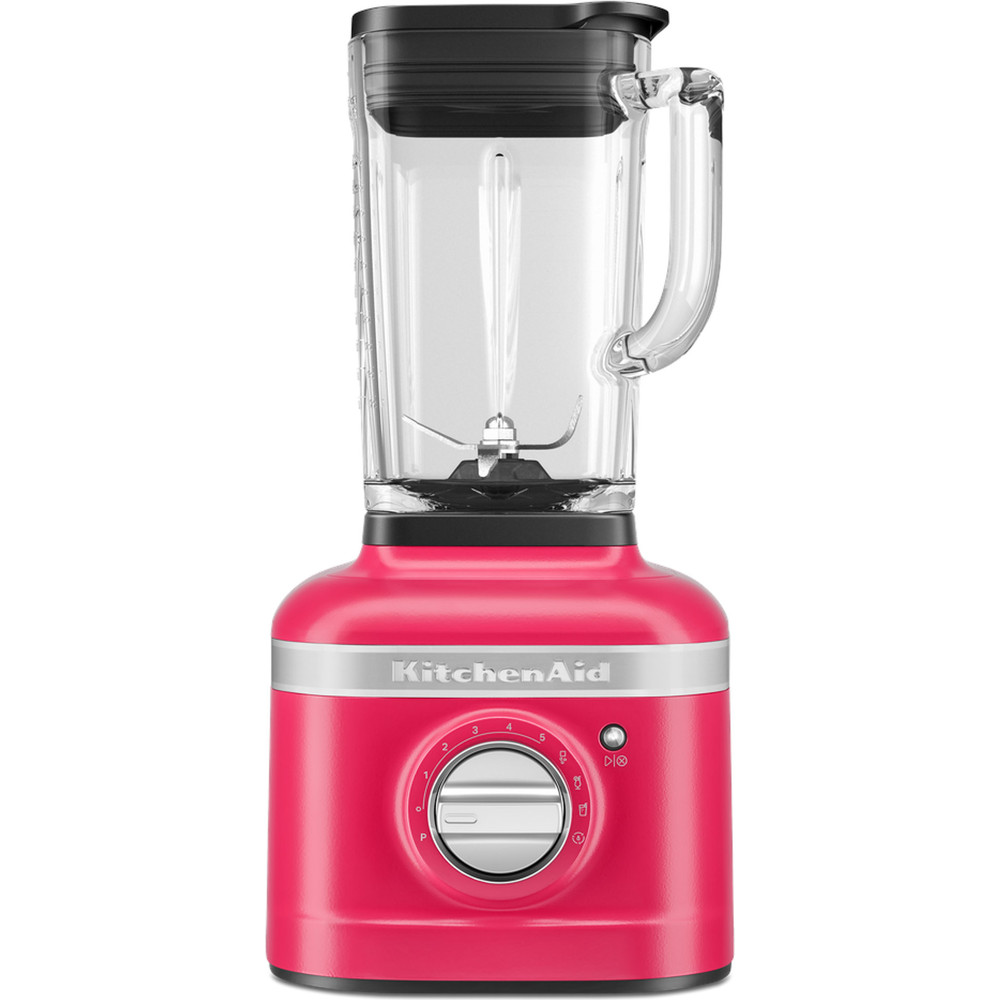 Indulge in the essence of summer with the must-have Artisan K400 Blender in Hibiscus, a culinary marvel poised to invigorate your refreshment and dining experience. As the sun-soaked days beckon for cool concoctions and delightful dishes, this blender stands as an essential companion. Its 3-part blending system, orchestrated with finesse, generates a potent vortex that masterfully blends even the most resilient ingredients. With an asymmetric blade, a ribbed jar design, and an adaptive 1.5 Peak HP Intelli-Speed motor, achieving delectable outcomes becomes effortless and exciting. The symphony of flavors created is bound to captivate your taste buds, making every sip and bite a sensation to remember.
Crafted to deliver both performance and elegance, the K400 Blender is encased in a sturdy die-cast metal base that guarantees longevity and stability. Its 1.4 L glass jar, a testament to quality, maintains cleanliness and flavor integrity. The intuitive 5-speed control, accompanied by 3 presets and a pulse option, offers a delightful canvas for crafting everything from velvety shakes to zesty soups. The innovative self-cleaning cycle ensures convenience, while the dishwasher-safe jar and lid elevate ease of maintenance. With a 5-year guarantee, this blender not only promises memorable summer delights but also enduring reliability. Unleash your creativity further with optional accessories that open avenues for personalized blends, from fresh juices to nutritious baby foods. Embrace the Color of the Year, Hibiscus, and let your culinary creations flourish with the K400 Blender at your side—a beacon of innovation and taste in this scintillating summer."


Dive into a world of culinary delight this summer with the ultimate kitchen companion: the Judge's Electricals Ice Cream Maker. Embark on a refreshing journey of crafting your very own frozen treats that tantalize the taste buds and beat the heat. Embrace the symphony of flavors as you concoct delectable ice creams, sorbets, and frozen yogurts right in the comfort of your home.
Picture this: a gleeful scene in the kitchen where kids eagerly participate in the creation of these frozen wonders. The Judge Ice Cream Maker's generous 1.5L capacity ensures there's enough for everyone to savor. With its quick and efficient operation, you'll be serving up your frosty masterpieces in just 20-40 minutes. The magic lies in its fully automatic one-touch operation, simplifying the process and allowing you to relish your creations sooner. The clear lid with an ingredient funnel adds a dash of excitement as you seamlessly infuse your mix-ins while the motor churns, promising that perfect creamy consistency. But before you embark on your frozen journey, a little patience is required – simply freeze the bowl overnight for approximately 8 hours, ensuring you're primed for a frosty adventure the next day. Transform your kitchen into a hub of frozen culinary craftsmanship. The Judge's Electricals Ice Cream Maker is not just a gadget; it's a conduit to joyful moments and memorable flavors. Celebrate the summer with your homemade delights, relishing every spoonful that speaks of your creativity and culinary prowess. Experience the magic, embrace the taste, and share the coolness – this summer, Judge's Ice Cream Maker is your passport to an extraordinary frozen escapade.
Revolutionize the way you keep your favorite drinks frosty with the So Chill Mini Fridge from Canal Toys. This innovative mini fridge isn't just a cooler – it's a statement of convenience and style. Designed for those who prioritize having their essentials within arm's reach, this mini fridge ensures that your drinks remain refreshingly chilled no matter where you are. Its cutting-edge features include a sleek moving handle for easy portability, a vision window that offers a glimpse into your refreshing collection, a removable shelf for customizable storage, and a convenient door pocket. With the added versatility of a USB power cable, you can enjoy chilled beverages both at home and in your car. Whether you're a dedicated gamer, a trendsetting influencer, a beauty enthusiast, or a busy student, the So Chill Mini Fridge is your ultimate companion, blending fashion with function effortlessly. Elevate your chilling game and make a statement with this compact marvel – a must-have for those who crave icy indulgence on-the-fly.
Designed to cater to your dynamic lifestyle, the So Chill Mini Fridge ensures that comfort and refreshment are never compromised. Picture this: a compact fridge that accompanies you on every adventure, keeping your drinks perfectly chilled and ready to quench your thirst. Imagine the envy of your peers as you effortlessly retrieve your chilled essentials from this sleek and efficient companion. Whether you're at home, deep into your gaming session, filming content for your followers, or buried in your studies, this mini fridge is your dependable partner that guarantees a refreshing escape with every sip. The So Chill Mini Fridge goes beyond being a mere appliance; it's a symbol of your taste for convenience and your demand for quality. Don't settle for lukewarm compromises – embrace the chill with style and make the So Chill Mini Fridge an extension of your personality.
Embrace the sizzle of the season with Nespresso's Barista Ice Tray, your passport to an oasis of refreshing indulgence. As the mercury climbs, this must-have gadget takes the culinary stage, promising an exhilarating symphony of flavors that dance on your taste buds. Crafted as both a kitchen essential and a coffee connoisseur's companion, the Barista Ice Tray transcends mere utility – it's a statement of artistry. Fashioned by the ingenious Frederico Peri, its elegant stripes become a canvas for innovation, seamlessly merging contemporary aesthetics with the pure delight of icy coolness.
Envision a palette of nine meticulously carved ice cubes, each weighing a perfect 30 grams. More than mere frozen water, these cubes become culinary companions, tailored to refine your every creation. Whether you're concocting vibrant iced coffees or dazzling cocktails, the Barista Ice Tray ensures balance in every sip. Standing at a sleek height of 26mm and adorned with dimensions of 146mm length and 119mm width, it's a testimony to thoughtful design that transforms kitchens into sanctuaries of innovation.Elevating your summer escapades, the Barista Ice Tray seamlessly merges style and function. Moreover, its dishwasher-resistant charm ensures effortless maintenance, letting you focus on crafting rather than cleaning. So, embark on a journey where your culinary artistry meets the icy embrace of perfection. As the sun blazes, let the Barista Ice Tray be your secret ingredient, turning scorching days into opportunities for cool, sensational creations that redefine refreshment.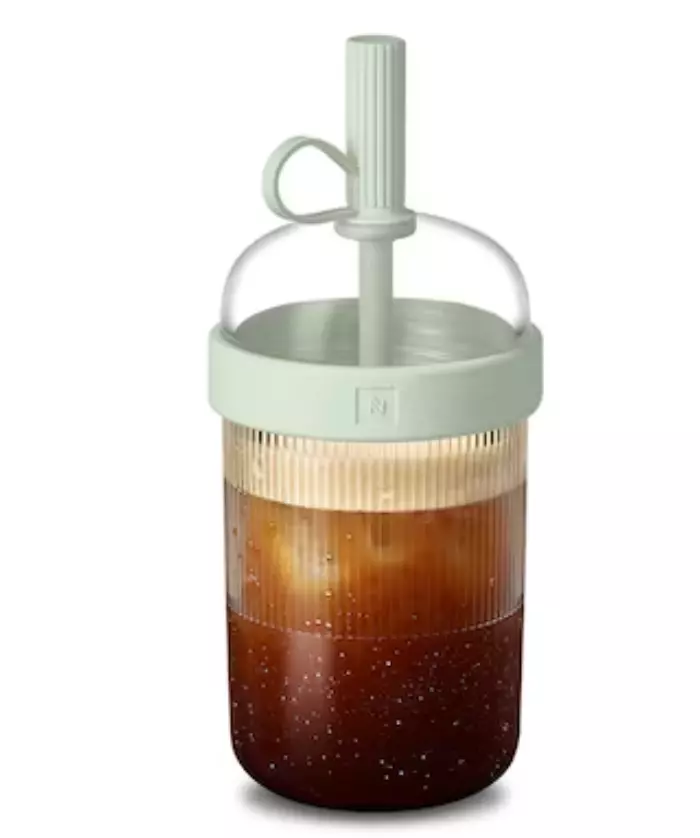 As the sun-kissed days of summer beckon, there's a must-have companion that's redefining how we relish refreshing drinks and delectable treats. Say hello to Nespresso's Nomad Tumbler, a seamless blend of innovation and aesthetics that ensures your icy beverages and delightful bites are always within arm's reach. Crafted with meticulous attention to detail by the visionary Frederico Peri, this tumbler is more than just a container; it's an accessory that exudes elegance and functionality. The transparent exterior, adorned with a mesmerizing tapestry of vertical lines, not only provides a tantalizing glimpse of the coffee concoctions within but also offers a secure grip for those on the move. A stroke of design brilliance, the Nomad Tumbler comes complete with a practical straw and cap, effortlessly merging fashion with convenience. Elevate your on-the-go style and make this tumbler your quintessential partner for every chilled coffee moment, no matter where your summer adventures take you.
The Nomad Tumbler isn't just an accessory; it's an invitation to savor the essence of summer at its finest. With a capacious 540ml capacity, this sleek masterpiece stands ready to house your favorite iced elixirs and tantalizing treats. Standing at a graceful height of 122mm (sans cap) and boasting a diameter of 92.7mm, it's a harmonious balance of form and function. Whether you're lounging by the pool, embarking on a scenic road trip, or catching rays at a sandy shore, the Nomad Tumbler is your steadfast partner in indulgence. And when the last sip is savored, there's no need to fret about cleanup; the tumbler stands strong against the rigors of dishwashers, ensuring that the beauty and brilliance of its design endure. So, as summer's warmth envelopes you, elevate your experience with the Nomad Tumbler – an embodiment of style, convenience, and the spirit of the season.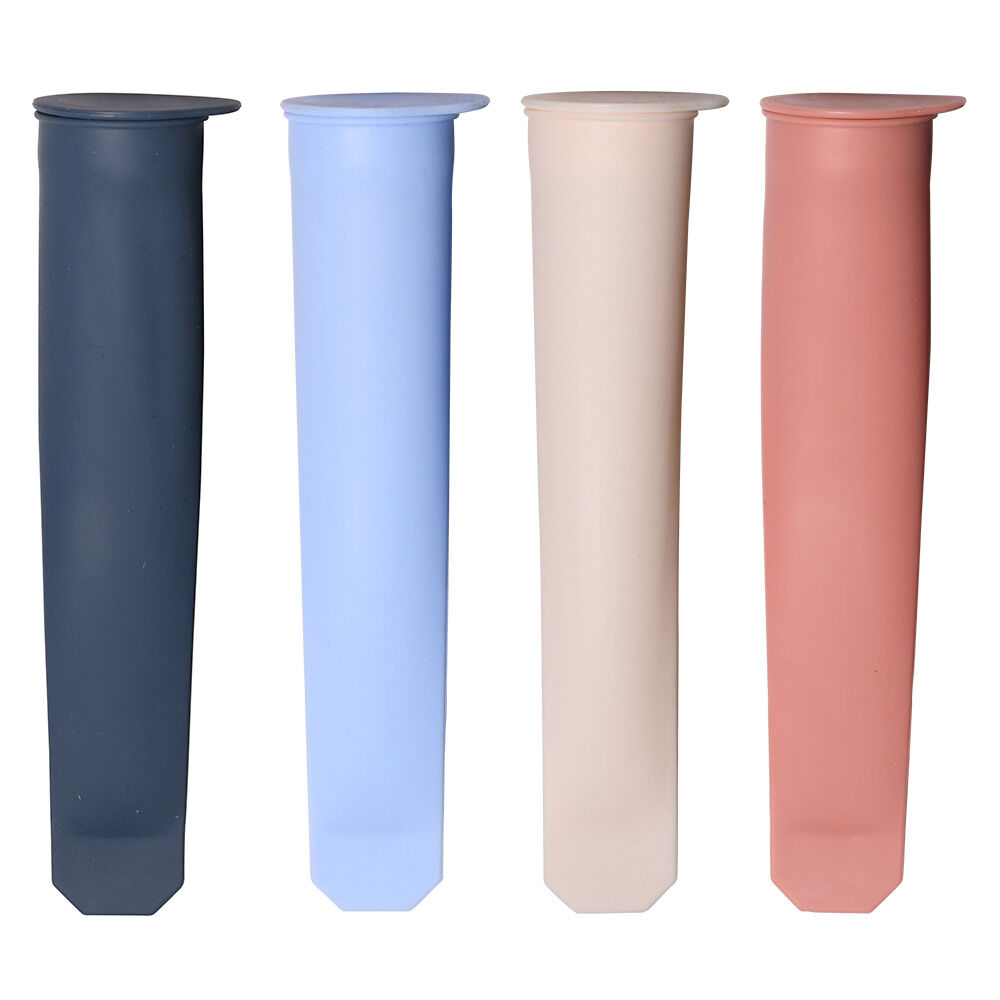 Get ready to turn up the coolness quotient this summer with a kitchen essential that's making waves – ProCook Ice Lolly Moulds. As temperatures soar, these ingenious gadgets emerge as the ultimate must-have, ready to orchestrate a delightful symphony of icy refreshments and treats. It's not just an accessory; it's an invitation to embark on a culinary adventure where each frozen creation becomes a canvas for your creativity.
Bid adieu to the sticky mess and say hello to the perfect indulgence. Designed for both novices and culinary enthusiasts, these moulds bring forth a genius push-up design, curbing those pesky drips that often rob us of the unadulterated joy of icy pleasures. Crafted from BPA-free, robust silicone, each mould becomes a vessel of your imagination – a playground for crafting delectable fruit juice-infused delights, creamy yoghurt fantasies, or even captivating cocktail-based frozen symphonies. And the best part? The story doesn't end with the filling. Toss them in the freezer, let anticipation build, and before you know it, you're savoring your homemade icy masterpiece. Worries about maintenance vanish as well, thanks to their dishwasher-safe nature, ensuring cleaning is as breezy as the summer wind.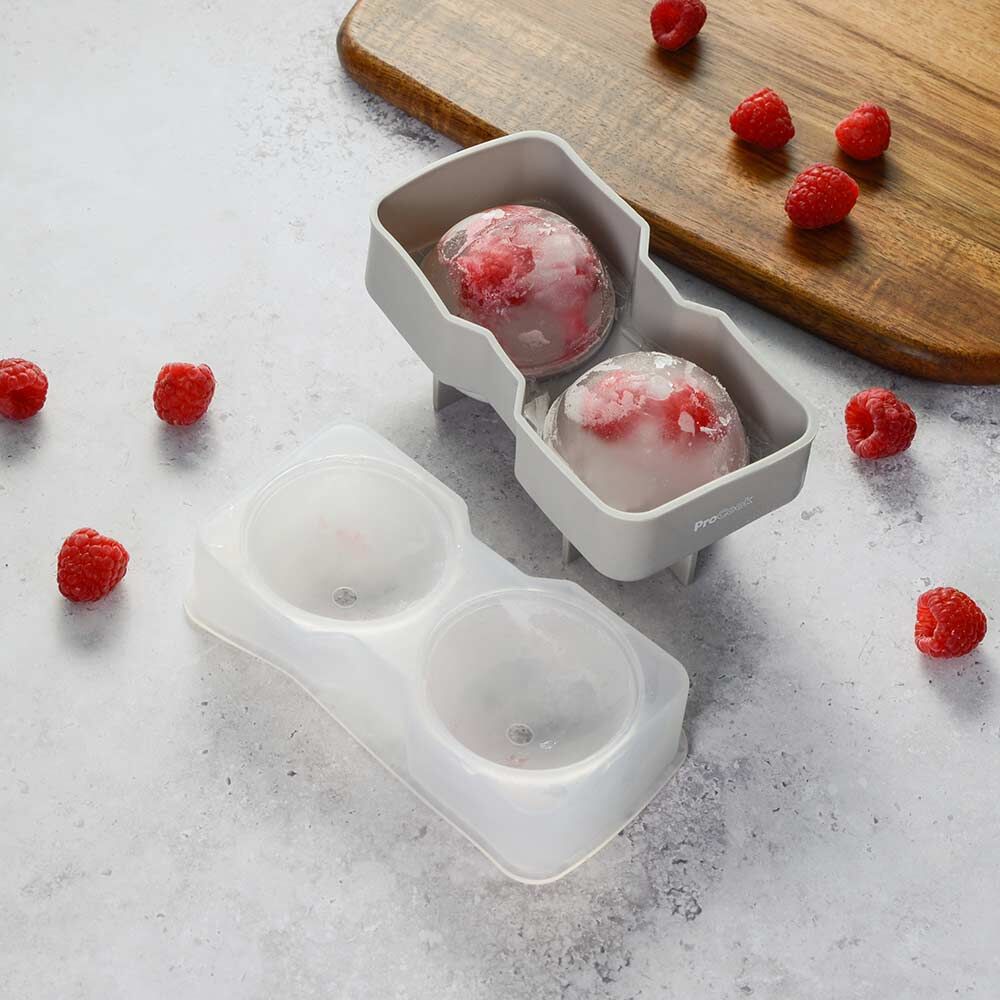 Embrace the sizzle of summer with the ProCook Ice Mould – your passport to an extraordinary cooling experience. Imagine crafting flawless 6cm diameter ice cube globes, ready to transform your beverages into refreshing havens of chill. Elevate your cocktail game by simply filling the tray to 90% capacity, allowing room for the ice to dance into its spherical form. As your mixological creativity takes flight, these frozen orbs find their home in glasses, keeping drinks at their crispest. Whether it's zesty lemonades, tantalizing cocktails, or mocktails that tickle your fancy, this dishwasher-safe gadget ensures you stay cool even as the sun blazes on.
When the sun reigns supreme, the ProCook Ice Mould emerges as your ultimate summer sidekick. Two splendid 6cm ice spheres are born from each freeze, a testament to your culinary finesse. Be it an intimate soirée or a laid-back barbecue, these spherical wonders effortlessly infuse a touch of glamour into every glass. Unleash your inner artist as you fill, freeze, and reveal – a spectacle of refreshing delight. As these icy globes melt at a languid pace, they keep your libations frosty and flavors intact, intensifying the pleasure of each sip. Elevate your summer gatherings with this ingenious tool that makes cooling an art form, one sphere at a time.
Embrace the sun-soaked vibes of the season with these innovative companions, designed to transform ordinary moments into extraordinary memories. As the temperature rises, elevate your culinary escapades with these refreshing gadgets that are sure to add a touch of coolness to your sips and bites. It's time to unlock a world of creative possibilities and savor the essence of summer like never before.