Bundle of Joys: A Delightfully Curated Gift Guide for New Parents
Welcome to a world of boundless joy and thoughtful gifting, where the laughter of newborns fills the air with pure delight. Step into the realm of Bundle of Joys, a treasure trove of heartwarming gestures crafted to embrace and celebrate the journey of new parents. Weaving together a collection of carefully curated gifts, each as unique as the little ones they welcome, this guide is a symphony of love and care.

From tender keepsakes that capture precious moments to practical wonders that ease the path ahead, we invite you to explore this delightful curation designed to spread happiness and warmth to those embarking on the extraordinary adventure of parenthood.


Welcome to the enchanting world of Voksi Move – where parenthood soars to new heights! Celebrate the joy of nurturing your little bundle of happiness with this ultimate autumn/winter accessory in the delightful shade of Sea Green Flying. Whether you're embarking on a thrilling car journey or simply running errands with your travel system, the Voksi Move ensures your precious one is wrapped in unparalleled warmth and snugness. From the moment of birth up to approximately 18 months, this super snug sleeping bag becomes your baby's cozy haven, accompanying them on every adventure throughout the chilly seasons.
Crafted with a focus on comfort and practicality, the Voksi Move boasts an ingenious design that adapts to all weather conditions. The special cord around the head area effortlessly adjusts, while the centered quick-release zip fastener keeps your little one securely cocooned. Embracing innovation, the front zip comes with a protective storm flap to shield against biting winds. Inside, the soft, woven cotton fabric caresses your baby's sensitive skin, creating an oasis of serenity. Designed for seamless integration, the Voksi Move features convenient harness openings at the back, making stroller or travel system fastening a breeze. With its duck/down filling, breathable wool, and eco-friendly materials, this versatile accessory meets the highest standards of quality and safety. So, spread your wings of parenthood and take flight with the Voksi Move – your ticket to creating treasured memories in the ethereal embrace of Sea Green Flying!
Discover the ingenious BABYZEN YOYO² stroller – a game-changer for parents on the move! Seamlessly fold and unfold this marvel of design in mere seconds, effortlessly fitting it anywhere you go. Whether you're conquering public transport, jet-setting around the globe, or dashing through the city streets, the BABYZEN YOYO² keeps up with your fast-paced lifestyle. Its versatility knows no bounds, accommodating your child's needs from newborn up to an impressive 22 kg (48.5 lbs). Boasting a lightweight frame, ultra-compact size, and exceptional durability, the BABYZEN YOYO² guarantees optimal comfort and safety for your little one every step of the way. The built-in Hytrel® elastomer suspension ensures a smooth ride, while the soft faux leather handlebar adds a touch of luxury. Embrace the freedom of movement with the BABYZEN YOYO² and take on the world with your bundle of joy in tow.
Designed to adapt and last, the BABYZEN YOYO² with its newborn pack becomes your baby's cozy cocoon during the early months. This version effortlessly transforms into a compact and lightweight unit, perfect for navigating crowded spaces or packing up for travels. The 5-point harness, flat-lying mattress, and UV-protected canopy prioritise your baby's comfort and safety. When your little one is ready to explore the world from a seated position, effortlessly switch to the 6+ colour pack, offering a comfortable cushion, multi-position reclining backrest, and convenient storage options. With a myriad of color choices for the frame and fabrics, you can customise your BABYZEN YOYO² to suit your style. Plus, with its environmentally-friendly construction, including aluminium alloy and stainless steel, this high-end stroller is not only durable but also eco-conscious. Embrace the future of strollers with BABYZEN YOYO², where style, convenience, and sustainability converge into a seamless parenting experience.
Step into a world of luxurious comfort and undeniable style with the Baby Bjorn's Baby Carrier Harmony. Crafted with the softest and most breathable mesh, this ergonomic carrier promises an unparalleled experience for both you and your baby. From the tiniest newborns to energetic toddlers, Baby Carrier Harmony is the epitome of coziness and functionality. The pressure-relieving waist belt and padded support ensure you can carry your little one for extended periods without discomfort. Embrace the joy of baby wearing with the constant feeling of closeness as the super soft mesh lovingly hugs your baby, while you create precious memories together.
Designed to adapt to your growing child, Baby Carrier Harmony offers four versatile carrying positions – from the intimate newborn snuggle to the curious outward-facing exploration and the convenient back-carrying option for the older ones. The ergonomic design ensures your baby's back, neck, and hips receive optimal support at every stage of their growth. Rest easy knowing the head support, with its three adjustable positions, keeps your baby safe and comfortable. Moreover, the unique 3D Mesh fabric is not only incredibly soft but also highly breathable, making it the perfect choice even on warmer days. Embrace the journey of parenthood with confidence, knowing that Baby Carrier Harmony has been thoughtfully crafted with love and care to provide you and your baby an extraordinary bond in the most stylish and comfortable way possible.
Discover the epitome of beauty and functionality with Kerikit's Leather Changing Backpacks – the ultimate gift for new parents! Immerse yourself in the allure of these stunning and practical backpacks crafted from genuine leather and vegan materials, catering to both your style and sustainability preferences. Whether it's a daily commute or an adventurous weekend getaway, our luxury backpacks are your reliable companion, ensuring you look fabulous and stay organized for every occasion. Embrace the joy of parenthood with our versatile range of women's real leather backpacks, and experience the seamless resolution to all your parenting needs.
Prepare to be captivated by the breathtaking charm of our leather backpacks, now improved to redefine effortless style merged with unmatched organization. A KeriKit creation like no other, this backpack boasts a distinctive top flap design, granting easy access to its well-organized interior. On top of that, concealed within is a dedicated laptop sleeve holder, accommodating laptops up to 12″ for the modern, on-the-go parent. Additionally, introducing our latest innovation – a convenient slide-over sleeve for trolley bags, making travels a breeze! Immerse yourself in the enchantment of parenthood without compromising on fashion or functionality, and embark on every adventure confidently with Kerikit's Leather Changing Backpacks.

If you're on the hunt for the perfect gift that celebrates both the tireless efforts of a busy mum and the boundless energy of her adorable toddlers, look no further! Our PERL Cosmetics Limited Edition Mum & Toddler Bundle, created in collaboration with Toddle Born Skin, is a magical gift set designed to bring joy, convenience, and protection to new parents. Gone are the days of struggling to find separate gifts for mom and the little ones, as this thoughtfully curated bundle has everything they need. Whether it's pampering mom with some well-deserved 'me-time' or keeping the tiny adventurers shielded during their escapades, this bundle is a true blessing for any family.
Embrace the joy of giving with the PERL Cosmetics Limited Edition Mum & Toddler Bundle. Busy moms often find it challenging to make time for self-care, but with this enchanting gift set, they can indulge in relaxing beauty treatments while knowing their precious toddlers are safe and protected. The bundle includes a delightful selection of premium cosmetics for mom, curated to rejuvenate and revitalize her spirits. For the little ones, it offers a range of gentle and nourishing skincare products from Toddle Born Skin, ensuring their sensitive skin stays healthy and glowing during all their adventures together. Celebrate the magic of motherhood with this thoughtful and practical gift that exemplifies love, care, and togetherness – the true essence of parenting bliss!
Are you ready to embark on a magical journey to dreamland with the most enchanting companion ever? Look no further than the delightful Ewan Snuggly Baby Comforter! Calling all devoted Ewan fans, this cuddly marvel is designed to bring comfort and joy to your little ones like never before. Crafted with the softest, snuggliest plush and silky fabrics, it's an irresistible invitation to cuddle and dream. Ewan Snuggly takes baby's sensory exploration to new heights with its endearing knotted legs, perfect for tiny fingers to embark on exciting adventures. But that's not all! The cleverly designed Velcro tail ensures that your baby's favorite dummy or teether is always within reach, providing that much-needed reassurance and security as they drift off to sleep. Plus, it can absorb the comforting scent of mom or dad, making it an even more cherished and reassuring companion.
Ewan Snuggly is the perfect size for tiny hands to hold, turning every moment into a cuddly and heartwarming experience. Whether it's nap time or playtime, this charming comforter is a source of endless joy for your little bundle of happiness. Worried about outings? Fear not! The Velcro tail conveniently attaches to buggy or car seat straps, making it the ultimate travel buddy for your baby's comfort. The best part? You can keep it squeaky clean with a simple machine wash at 40° and tumble dry. This thoughtful design ensures that your baby can enjoy countless moments of warmth and love without any worries. So, why wait? Gift the Ewan Snuggly Baby Comforter to new parents and watch their faces light up with joy as they witness the magical connection between their baby and this cuddly companion. Make dreams sweeter, nights cozier, and memories more cherished with Ewan Snuggly – the ultimate companion for your little dreamer!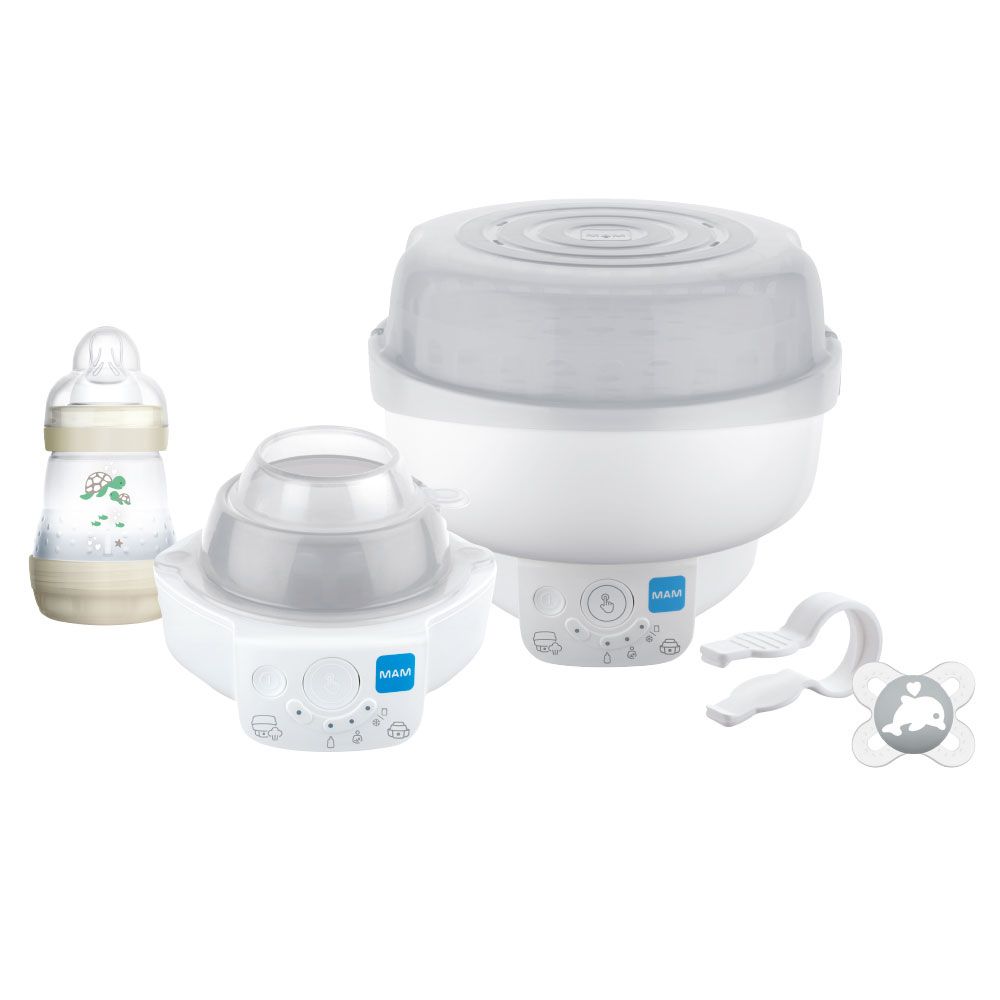 Parenthood just got a whole lot easier with the MAM Baby's Electric Bottle Steriliser & Express Bottle Warmer! This all-in-one sterilising and heating solution is the ultimate gift for new parents, offering unmatched convenience and peace of mind. With 6 innovative functions packed into one compact device, it saves precious kitchen space while ensuring your baby's feeding essentials are kept impeccably clean and warm. The MAM Electric Steriliser & Express Bottle Warmer offers both electric and microwave steam sterilising options, maintaining items disinfected for up to 48 hours. Its gentle and rapid warming feature is perfect for preserving the nutrients in breast milk and formula, catering to your baby's needs in the most efficient way possible. With a staggering 94% user satisfaction rate and a whopping 9 out of 10 users recommending it to others, this is a gift that truly keeps on giving.
The MAM Electric Steriliser & Express Bottle Warmer is designed to simplify the lives of new parents, making the daily routines smoother than ever before. The thoughtfully crafted product includes a bottle warmer cover & basket, featuring an integrated keep warm function that accommodates all bottle and jar sizes. The electric base offers three different warming functions, from gentle warming for breast milk to quick express warming and a defrost & warming combination. In addition to its stellar warming capabilities, the device doubles as a microwave/electric steriliser with two baskets for organized loading of up to 6 bottles and other accessories. The easy-to-open lid serves as a drip tray, ensuring hygienic use every time. Plus, the included tongs provide a helping hand in assembling products without compromising cleanliness. Gift new parents the MAM Baby's Electric Bottle Steriliser & Express Bottle Warmer, and they'll forever cherish this exceptional and indispensable addition to their parenting journey.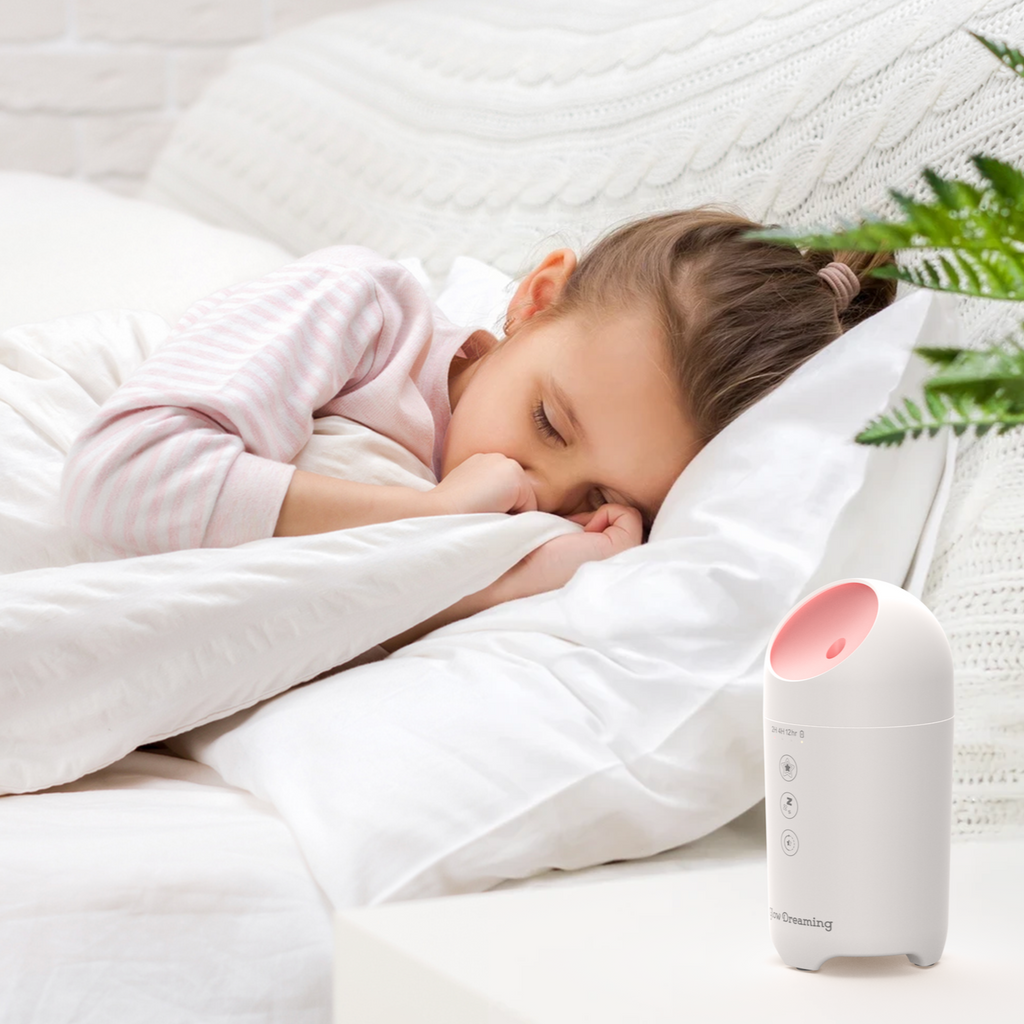 Discover the perfect gift for new parents with Glow Dreaming's Glow Travel Sleep Easy – a compact marvel that brings peaceful nights and restful days. This revolutionary sleep aid is designed to create a serene environment for babies and toddlers, making bedtime a breeze no matter where their adventures take them. Crafted with innovation and backed by science, the Glow Travel Sleep Easy boasts a range of features that promote natural sleep and ensure uninterrupted slumber for little ones. Its gentle red LED encourages the production of melatonin, the sleep-inducing hormone that prepares cells for a deep slumber. Paired with organic pink noise, this intelligent device creates a soothing soundscape that shields against unwanted disturbances and helps the brain achieve a restorative slow-wave sleep.
The Glow Travel Sleep Easy goes beyond the ordinary, featuring a scent nebulizer that requires no water and runs all night, infusing the air with calming aromatherapy to soothe the mind and nervous system. Setting up the device takes less than 60 seconds, making it a seamless addition to any bedtime routine. With custom sleep settings, weekly insights, and a wealth of sleep tips, this sleep aid empowers parents to understand and nurture their child's sleep routine. The smart sensor technology keeps a vigilant eye on room temperature and humidity, ensuring the perfect sleep environment is maintained at all times. Plus, with the innovative Green to Rise feature, older children learn when it's okay to get out of bed, bringing a sense of independence to their mornings. Illuminate the path to peaceful sleep for new parents with the Glow Travel Sleep Easy – the ultimate sleep companion for little dreamers.

Get ready to embark on unforgettable journeys with the Nipper Double V5 – the ultimate gift for new parents! This refreshed and upgraded best-selling double buggy is designed to accommodate newborns to toddlers, making it the perfect companion as your little ones grow. Equipped with technical water-resistant fabrics, extendable sun visors, and UV visors, this stroller ensures your kids are safe and comfortable on all your escapades.
The Nipper Double V5 is more than just a buggy; it's a gateway to exploration. Its 12" air-filled tires and suspension conquer bumpy terrains effortlessly, while the swivel lock front wheel adds stability during rough rides and even jogging sessions (once your child is over 6 months old). Cleaning up is a breeze, and the one-piece fold feature allows easy storage in your car boot or convenient travel on flights. With a sturdy frame and improved safety harness, you can confidently navigate new horizons, making cherished memories with your little ones in tow.
So, if you're seeking adventure, freedom, and convenience as you embrace parenthood, the Nipper Double V5 is your ideal partner. Unleash your spirit of exploration and create countless joyful moments with your family, wherever the road takes you. Parenthood just got a whole lot more exciting!
Introducing the ultimate game-changer for new parents – Nuby's RapidCool™ Portable Baby Bottle Maker! A dream come true for busy moms and dads, this innovative device cools baby formula milk from boiling to the perfect temperature in just 2 minutes*, all while adhering to NHS guidelines for safe bottle preparation. No more fumbling with complex setups or worrying about getting the feed just right – RapidCool™ has you covered!
Picture this: your little one cries out for nourishment, and you can respond like a superhero, thanks to the speedy magic of RapidCool™. No need for cold-water baths or waiting around for a made-up bottle to cool down. With just a few easy steps, you can have a 120ml feed ready to go in record time. Boil fresh water, measure formula powder, add hot water to the RapidCool™, mix in the formula powder, and voilà! In only 2 minutes*, the digital display will flash the green Nuby logo, indicating the safe and perfect feed is ready to be poured into your sterilized baby bottle.This travel-friendly lifesaver easily fits into most nappy change bags, and the best part? No power supply is needed! Whether it's day or night, the RapidCool™ operates silently, ensuring a stress-free feeding experience anytime, anywhere. With its versatile design catering to 90ml-240ml (3oz-8oz) feed sizes, you can trust that your baby will be well-fed as they grow. Say goodbye to formula feeding woes and embrace the convenience and confidence of RapidCool™ – the smartest way to make every feeding a breeze!
In the heartwarming journey of parenthood, every moment with the little ones is a precious memory to cherish. With our delightfully curated gift guide for new parents, you'll discover a world of thoughtful treasures designed to make their parenthood adventure even more joyous. From innovative essentials to cozy comforts, these handpicked gems are sure to bring smiles to their faces and add a sprinkle of magic to their bundle of joys' early years. Embrace the joy of giving and celebrate the new parents in your life with thoughtful gifts that capture the essence of love, care, and boundless possibilities. After all, there's nothing more special than welcoming the newest members of the family with a heart full of love and a bundle of thoughtfully chosen delights. Happy gifting and may the journey of parenthood be filled with love and laughter!