Seaside Chic: Unveiling Summer's Hottest Must-Haves for Sun, Sand, and Surf!
As the sun-kissed days of summer beckon, it's time to set our sights on the enchanting allure of the seaside. Amidst the rhythmic crashing of waves and the soft, warm embrace of sand, a new season of beach adventures awaits us. Picture yourself strolling along the shoreline, basking in the golden glow, and feeling the invigorating sea breeze on your skin.

But to truly make the most of this coastal escape, we present a treasure trove of the hottest must-haves: a curated collection of products and accessories designed to elevate your beach experience to unparalleled heights of style and comfort. From trendy beachwear to ingenious gadgets and everything in between, let us whisk you away on a journey to discover the essence of "Seaside Chic" – where sun, sand, and surf intertwine with boundless imagination.

With Prada Candy Eau de Parfum, your beach escapade will never be the same again. Prepare to be captivated by an explosive symphony of scents, as this audacious fragrance weaves a tale of shocking pink and gold that perfectly complements the sun-kissed shores. Enveloping you in its alluring aura, this perfume boasts a daring blend of White Musks, noble Benzoin, and a tempting touch of Caramel. The result? A truly unique signature scent that will leave everyone under its spell.
As you embark on your seaside adventure, let the heart of Prada Candy EDP take you on an unforgettable olfactory journey. Delighting your senses, a cocktail of Musk, Benzoin, and Caramel notes dances harmoniously, forming an addictive and sensual experience reminiscent of warm, balsamic nuances, akin to vanilla-infused honey. Notably, the infusion of Laotian Benzoin, sourced from the mystical forests of Laos, provides an overdose of richness that lingers enchantingly on your skin. Carry the 80 ml bottle with you, and allow this magical aroma to become an essential part of your beach bag, enhancing every moment of your sun-soaked paradise.
Dive into a world of aquatic elegance with Sutton Swimwear's revolutionary creation, the CORAL prescription goggles! Whether you're planning a thrilling beach vacation or seeking to enhance your swimming performance, these goggles offer the perfect blend of fashion and functionality. Boasting a captivating mirror finished design, the CORAL goggles are set to make a splash among swimmers looking to make a stylish statement. Beyond their chic appearance, these goggles are an ideal companion for those who enjoy swimming outdoors in sunlit waters, be it in open-air pools, the vastness of open water, or the thrill of triathlons. With FINA approval, Sutton Swimwear has crafted a masterpiece that caters to both fashion-conscious swimmers and performance-oriented athletes.
Equipped with prescription lenses, the CORAL goggles provide a clear vision-correction solution for both nearsighted and farsighted swimmers. The tinted and mirrored finish not only adds a touch of sophistication but also shields your eyes from the glare of the sun, ensuring uninterrupted focus on your aquatic adventures. The thoughtful design extends to the inclusion of different-sized interchangeable nose bridges, guaranteeing a comfortable and secure fit for every swimmer. With a choice of two trendy colors, you can express your personality while enjoying unparalleled visual acuity. The CORAL goggles come pre-assembled and are conveniently stored in a sturdy hard plastic case, ready to accompany you on all your swimming escapades. Experience the perfect fusion of style and performance with Sutton Swimwear's CORAL – the ultimate must-have accessory for beachgoers and swimmers alike.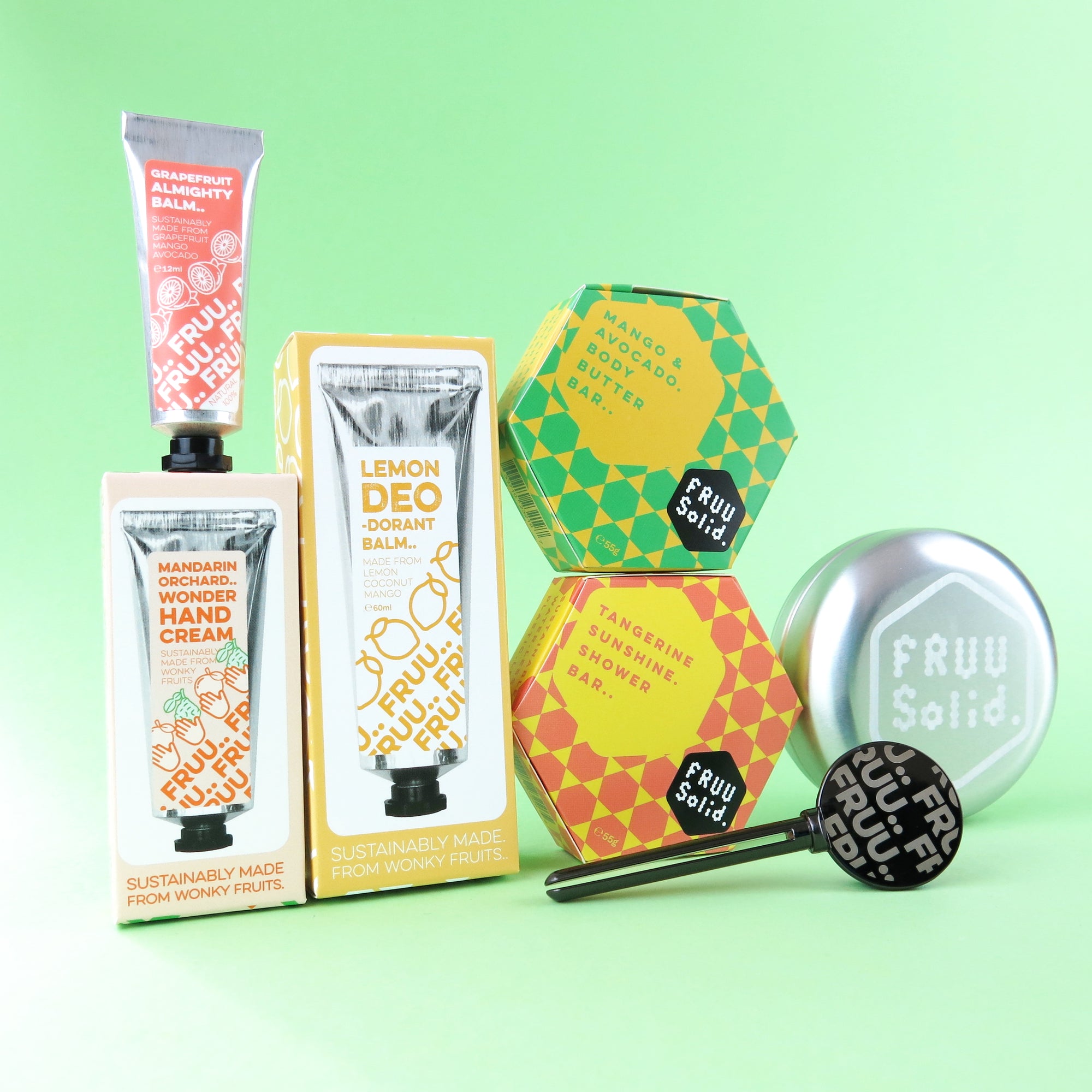 Experience the ultimate beachside indulgence with Fruuu Skin's sensational ULTIMATE SUMMER BUNDLE, carefully crafted to keep you naturally refreshed and protected all summer long! Embrace the goodness of wonky fruits and bask in the joy of a vegan and cruelty-free collection, lovingly handcrafted in the heart of London. This sensational bundle is not only a treat for your skin but also a delightful gesture towards the planet. So, get ready to embark on a journey of fruity enchantment as you explore the array of sensational products designed to make your beach trip extraordinary!
Dive into the invigorating Lemon Deodorant Balm, boasting a creamy, non-greasy formula infused with the rejuvenating scent of fresh lemons to keep you feeling and smelling divine during those sun-soaked days. After a day of adventures, indulge in the Grapefruit Almighty Balm, Mandarin Orchard Wonder Hand Cream, and Mango Body Butter, enriched with natural butters and oils to deeply nourish and protect your skin from the elements. Not to forget the refreshing Tangerine Sunshine Shower Block, a zesty shower bar that cleanses without stripping your skin of its precious moisture. With a convenient turn-key and solid tin, this bundle ensures easy storage and a fuss-free experience, so you can fully immerse yourself in the joys of summer without a care in the world! Embrace the fruity freshness, cherish your skin, and make your beach trips extraordinary with Fruuu Skin's ULTIMATE SUMMER BUNDLE!
Indulge in the essence of sun-kissed luxury with Versace CÉDRAT DE DIAMANTE, the perfect companion for your beach getaway. Infused with the tantalizing zest of Italian lemon, this fragrance transcends the boundaries of traditional citrus aromas, radiating an efflorescent allure that embodies the vibrant spirit of the Mediterranean. Conjured by the visionary perfumer Marie Salamagne, Cédrat de Diamante artfully weaves in notes of pink grapefruit and natural woods, creating an olfactory symphony that dances playfully on your skin under the caress of the summer sun. As you take in the breathtaking seaside vistas, let the aromatic cedarwood and vetiver notes envelop your senses, elevating your beach experience to new heights of sophistication.
Part of the illustrious Atelier Versace fragrance line, Cédrat de Diamante is a testament to the brand's commitment to craftsmanship and artistic expression. Housed in a sculptural glass bottle, engraved with the fragrance's name, it exudes elegance and allure even before the first spritz. Enclosed in packaging adorned with the iconic Atelier Versace logo, it's a true masterpiece, reflecting the essence of the scent within. Whether you're strolling along the sandy shores, taking a refreshing dip in the cerulean waves, or sipping cocktails by the beachside, Cédrat de Diamante will be your olfactory partner-in-crime, adding an extra touch of allure and sophistication to every moment of your sun-drenched escape.
Embrace the epitome of beauty and sustainability with JEM + BEA's latest innovation, the Evolution Vamp bottle by One Green Bottle. Quench your thirst in style as this stunning vessel revolutionizes the way we hydrate on the go. With all the cutting-edge thermoregulation and temperature performance of the revered Life collection, the Evolution Vamp boasts an impressive 24-hour hot or 12-hour cold retention, encased in a sleek and captivating design. Ideal for busy parents, this perfectly sized bottle effortlessly slips into your Jem + Bea bag, ensuring you stay refreshed throughout the day.
Crafted from triple-wall stainless steel 304 construction and vacuum insulated, the Evolution Vamp guarantees a condensation-free exterior, keeping your hands dry and your drink at the perfect temperature. Emphasizing their commitment to your well-being and the environment, One Green Bottle ensures the Evolution Vamp is toxin, BPA, and BPS free, delivering safe and sustainable hydration for your everyday adventures. Experience a leakproof journey with the insulated screw cap, thoughtfully color-matched to the bottle, accompanied by a reusable, matching straw. Choose Vamp, a captivating hue that adds a touch of elegance to your hydration ritual. With a capacity of 500ml, this stunning bottle stands at a height of 26cm and a diameter of 7.5cm, making it the ideal companion for your active lifestyle.
Experience the thrill of the waves with the Wave's Wildcat Purple Surf Package – an exceptional choice for beach enthusiasts seeking an unforgettable surf experience. As the smallest and lightest board in our lineup, the Wildcat packs a powerful punch, designed to satisfy the tastes of avid wave hunters. Crafted with our renowned Wave Composite Laminate Technology, this board stands as a true testament to durability and maneuverability, having braved the untamed waters of the North Sea with unwavering strength.
The Wildcat's fishtail design ensures peak performance in the surf, catering to both seasoned wave riders and those looking to elevate their surf game. Don't be fooled by its size; this board is a force to be reckoned with, embracing safety and stability through features like the UV-stabilized resistant coating, diamond grooved EVA non-slip foot pad, and PVC rail for enhanced rigidity. Unlock the full potential of your surfing abilities and ride the tides with confidence, as the Wildcat Purple Surf Package promises to make your beach trip an extraordinary adventure.
Included with the package are essential accessories, such as the color-coordinated aluminum telescopic paddle, quick-release detachable fin secured with Wave's Quick Lock Technology, dual-action pump for effortless inflation, and a storage backpack for easy transportation. Safety remains paramount with the coiled ankle leash, offering peace of mind and ensuring your connection to the board throughout your exhilarating surf sessions. So, seize the opportunity to embrace the waves, seize the thrill, and let the Wildcat take you on a journey of surf serenity, as you embark on a beach trip like no other this summer.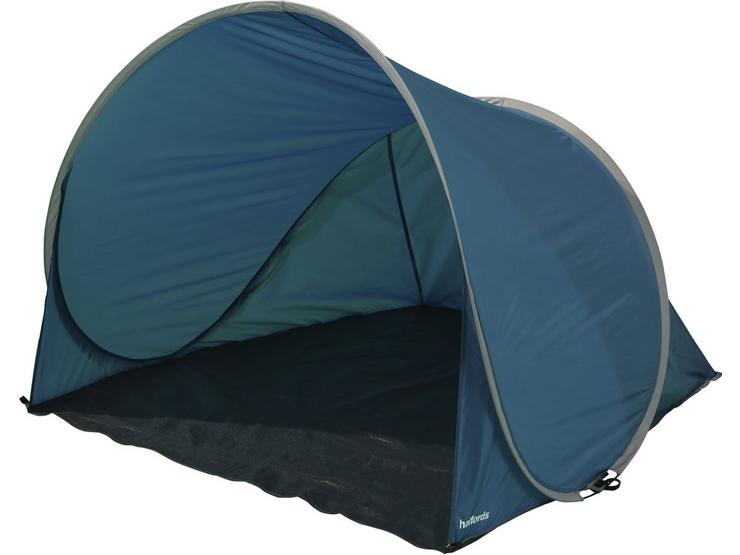 Get ready to soak up the sun and make the most of your beach trips with the Halfords Beach Shelter – a must-have companion for your summer adventures. Vibrantly designed in a stunning bright blue color with a captivating yellow trim, this beach shelter ensures you'll effortlessly spot your prime spot by the waves. No more wasting precious minutes struggling with complicated setups; the Halfords Beach Shelter boasts a remarkable 60-second pitch time, allowing you to swiftly transform your beach experience from packing to relaxing. Whether you're a sunbather, beachcomber, or water enthusiast, this beach shelter is your ultimate ticket to spending more time enjoying the sun, sea, and sand.
Standing at a maximum height of 115cm and boasting an interior space of 150cm x 150cm at maximum dimensions, the Halfords Beach Shelter provides ample room for you and your loved ones to unwind and savor the coastal beauty. Worried about the scorching sun? Fear not, as this beach shelter is equipped with a reliable 30+ UV rating, offering you a cool and shaded retreat. Its thoughtful sand pockets further enhance stability, ensuring your beach haven stays secure even in breezy conditions. And for your peace of mind, Halfords provides a generous 2-year guarantee, making sure you can enjoy countless beach days with confidence. So, pack your sunscreen, beach towels, and favorite snacks – with the Halfords Beach Shelter, it's time to bask in the sunshine and embrace the carefree spirit of summer like never before!
Embrace the allure of architectural brilliance with Cubits' Belvedere sunglasses – an epitome of power and creativity specially crafted for your sun-kissed beach adventures. Its distinctive hexagonal and angular silhouette effortlessly reimagines a timeless classic, setting you apart as a trendsetter wherever you roam. The bold graphic lines and sculptural keyhole bridge exude an air of confidence, perfectly balanced with elegantly tapered temples that ensure a comfortable fit for all-day beach enjoyment.
Cubits leaves no stone unturned when it comes to quality and craftsmanship. Meticulously designed, the Belvedere showcases premium cellulose acetate, harmoniously fused with pin-drilled signature Cubitts rivets and 2/3 charniere hinges, boasting Teflon-coated screws for added durability. You can savor the crystal-clear views and superior protection offered by ZEISS ClearView Lenses, enhanced with DuraVision® coatings to shield your eyes from the sun's rays. As you venture towards the water's edge, rest assured your Belvedere shades are safely stowed in an ultra-strong grooved aluminum protective case, a true testament to Cubitts' commitment to the finest materials and subtle design details. Step into the spotlight of seaside elegance and make your beach trip an enchanting display of style and sophistication with Belvedere.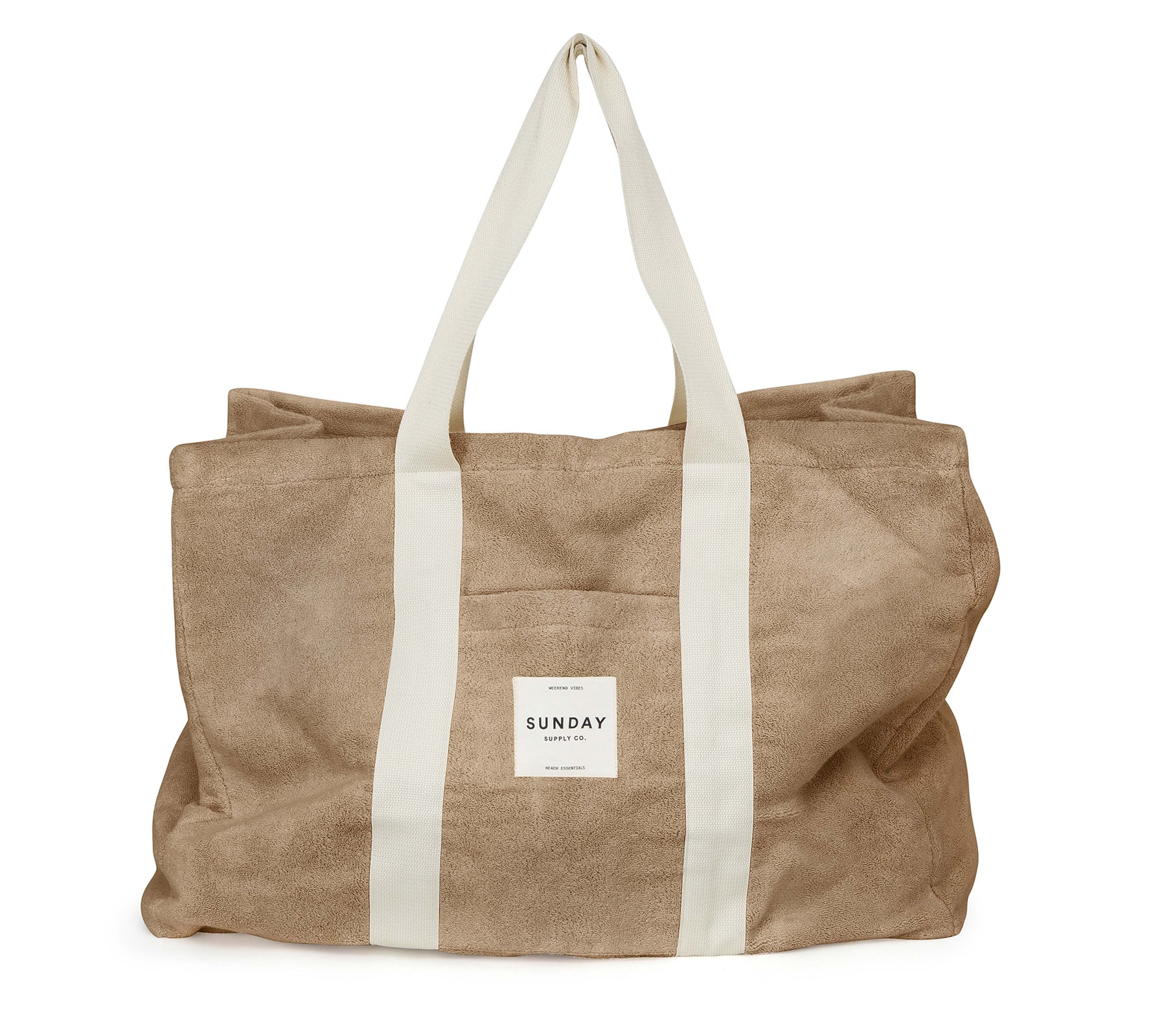 Step into a realm of sundrenched splendor with Sunday Supply's Husk Towelling Beach Bag – a powerful and architectural marvel that redefines classic beach elegance. Experience the allure of its hexagonal and angular shape, boasting graphic lines and a sculptural keyhole bridge, perfectly balanced with gracefully tapered temples. This is not your average beach bag; it's a style statement that exudes sophistication and adventure. Crafted with meticulous attention to detail, the bag features a 100% terry towelling outer, ensuring a soft and durable construction that can withstand every beach escapade. Its oversized carry-all shape, measuring 55cm x 45cm x 23cm, offers maximum storage capacity, ready to accommodate all your summer essentials and more.
Prepare to embark on a journey where style meets functionality – the ultimate beach bag tailored for your summer lifestyle. From family-sized beach towels to lunch boxes, sunscreen, swimmers, and more, Sunday Supply's Husk Beach Bag has been meticulously designed from the ground up to cater to your every need. Its heavy-duty cotton canvas lining and premium YKK zip hardware ensure enduring quality and reliability. The convenience of an internal zipped storage pocket adds further ease to your beach adventures. Whether you seek to blend into the sandy landscapes or stand out with natural tones, this beach bag is available in six signature colors, each bearing the unique logo embroidery. So, pack your essentials and embrace the sun-soaked shores with the Husk Towelling Beach Bag – an essential summer companion that epitomizes beach-ready elegance.
Embark on a sensational beach escapade with the ultimate companion – the Hopper Flip® 12 Soft Cooler by Yeti. This tough-as-nails, leakproof wonder is specially designed to carry the day with you, making it an indispensable addition to your summer adventures. Its wide-mouth opening allows for effortless loading, letting you pack up a delectable lunch and chilled beverages for you and your favorite beach buddy. Whether you're lounging in the golden sands or splashing in the sparkling waves, this cooler keeps everything fresh and icy-cold throughout the day. Embrace portability like never before and venture out onto the trail or cruise the waters, knowing that the Hopper Flip® 12 has your back!
Savor the freedom of carefree beach days with the Hopper Flip® 12 Soft Cooler, an epitome of durability and innovation. This cool bag is the answer to all your on-the-go chilling needs, without any pesky leaks to dampen your spirits. Its compact and cubed body offers easy-to-carry convenience, while the extreme insulation ensures that your favorite snacks and drinks remain refreshingly chilled for hours on end. Bid farewell to warm sandwiches and lukewarm sodas – the Hopper Flip® 12 keeps your treats in peak condition, so you can focus on creating unforgettable memories with your beach buddy. Prepare to embark on a chill-filled journey, where every moment is made cooler with the trusty Hopper Flip® 12 by your side.
As the sun sets on our Seaside Chic journey, we find ourselves captivated by the allure of summer's hottest must-haves for sun, sand, and surf. These enchanting essentials breathe life into our beach outings, infusing each moment with style and grace. From the gentle caress of warm sand beneath our feet to the exhilarating embrace of the ocean's waves, these carefully curated companions elevate our seaside experiences to new heights. Embracing the spirit of adventure and the pursuit of relaxation, we are reminded that it's not just about the destination; it's about the journey. So, as we revel in the sun-kissed days and moonlit nights, let us carry the essence of Seaside Chic with us, embracing the carefree spirit and boundless joy that summer brings. Until we meet again in the realm of sun-soaked reveries, we bid adieu to this delightful exploration, eager to return to the shorelines and create new memories with our treasured summer companions.